Games
Published March 7, 2019
Noble Warrior Hero Captain Marvel Enters the Contest
Plus the Battlerealm: Under Seige event quest is on now!

She's not going to fight your war. She's going to end it in Marvel Contest of Champions!
The cosmic 4-star character Captain Marvel, the all-around powerhouse champion who gradually taps into new powers as she takes on more damage, makes her way into Battlrealm today. Her ability to absorb Energy and convert it into her Binary Ignition form turns her into an Indestructible damage dealer/wrecking ball just when she needs it most with a mix of Armor Break stacks and plenty of Energy Damage. Her advanced Kree physiology provides full immunity to the Poisons of the Battlerealm.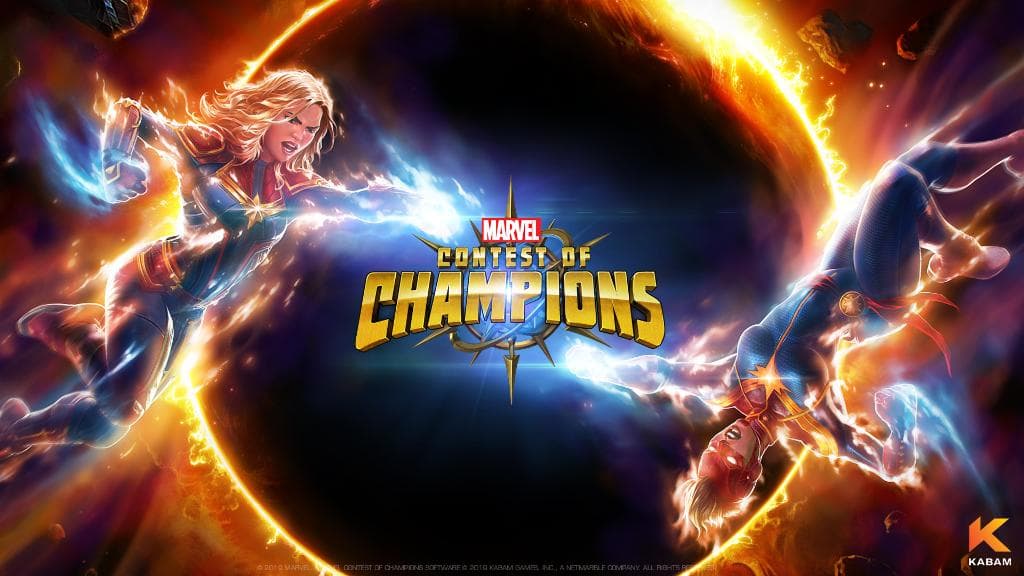 The damage dealer is no pushover when it comes to defense. The extremely durable Champion can access her powerful Binary Ignition with the help of her opponent's attacks. Pair the Captain with partners in S.H.I.E.L.D. like Nick Fury; Marvelous Champions like Captain Marvel (Classic) or Ms. Marvel; or those in a Fan Club like Ms. Marvel (Kamala Khan).
On the flip side, Mystic Champions that nullify Buffs pose a significant threat to Captain Marvel by being able to effectively remove the Buffs that make Binary Ignition so powerful while Champions that steal, drain, lock, burn, or otherwise manipulate power will be able to keep Captain Marvel from activating Binary Ignition where she is considerably weaker.
After crash landing on Earth without any memory of her past, Air Force pilot, Carol Danvers slowly uncovers the events of her past. Rescued by the Kree and reborn as a noble Kree warrior, Carol learns to control her new powers under the guidance of Mar-Vell, commander of the Starforce. When she finds herself on Earth again, Carol Danvers becomes one of the universe's most powerful heroes when the Earth is caught in the middle of a galactic war between two alien races.
Captain Marvel's ability kit focuses on three Specials and a Signature Ability. Tearing through the toughest defenses, Captain Marvel unleashes two powerful beams of cosmic energy, or "Photon" Blasts, before leaping in for an Earth shaking punch. With a graceful flurry of powerful kicks and punches known as Skrull Slayer, Captain Marvel sends her foes back with a pair of well-placed cosmic beams. Harnessing the power of a Space-faring Binary Star, Captain Marvel sends her foes into orbit before burying them in cosmic energy. With the signature ability, Binary Durability, Captain Marvel is able to withstand the most powerful attacks if players opt to wait and build over 20 Energy Charges and activate Binary Ignition at just the right moment.
Recommended Masteries include Enhanced Fury, Liquid Courage, and Stupefy. Taking the Enhanced Fury Mastery into a fight will greatly multiply Captain Marvel's damage. This mastery will also increase the amount of Energy Damage dealt in Binary Ignition. Since Captain Marvel is immune to poison, Liquid Courage will grant her bonus Attack without needing to withstand Poison damage. Whereas Stupefy will maximize the stuns she has access to with her Super Strength ability and her Special Attack 2, Skrull Slayer.
As part of the v22.0 update, available as of yesterday, March 6, Marvel Contest of Champions kicked off BATTLEREALM: UNDER SEIGE.

With fears of a clandestine Skrull invasion, Captain Marvel reaches out to the Summoners of The Contest, hoping to unveil the shape-shifting aliens and a put a stop to their plans. Entering the Forbidden Territories, they find another version of Carol Danvers, a Captain Marvel of another universe, who has lost her memories upon entering The Battlerealm and brims with cosmic power. With the help of Nick Fury, the three must trust each other to uncover the true threat lurking beneath the surface.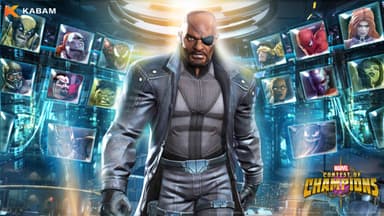 NICK FURY'S RECON INITIATIVE
The Battlerealm is full of countless Friends and Foes, and Nick Fury wants to know everything about all of them! Fury is looking for a group of remarkable Summoners to infiltrate The Battlerealm as his eyes and ears.
Join him in a month long Event to gather Intel on the Champions of The Battlerealm by taking specifically Tagged Champions through weekly Quests. Assist Nick Fury in gathering Intel, and trade that Intel for rewards such as Catalyst Fragments, Crystal Shards, and Hero Crystals. Assist him in all of his recon missions, and you will have enough Intel to trade for a 5-Star Awakening Gem Crystal. For more details, head over here.
Kick the Contest up a notch with the addition of Captain Marvel today, and the one and only Nick Fury on March 21!
Stay tuned to Marvel.com for Marvel Games news and interviews and follow Marvel Games on Twitter for more!
The Hype Box
Can't-miss news and updates from across the Marvel Universe!