Games
Published March 27, 2018
Entering Contest of Champions: Sabretooth
Logan's fiercest foe makes his way into Battlerealm!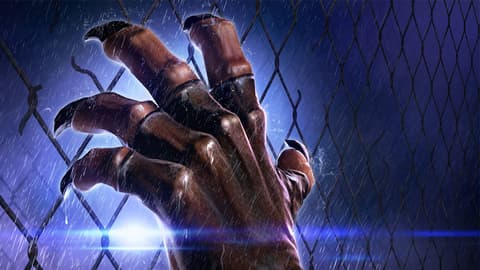 Sabretooth's been sharpening his claws and finally makes his first feral foray into "Marvel Contest of Champions." We talked to Kablam Art Director Gabriel Frizzera and Lead Character Artist Gene Campbell about Wolverine's arch enemy, what he's capable of, and what exactly he's doing in the Contest!
 Marvel.com: Loving all the mutants that are finding their way to Battlerealm recently. Any reason for the X-Gene immigration?
Gabriel Frizzera: This latest wave are more refugees than immigrants, I would say. Somewhere in the space-time labyrinth of the Battlerealm there's a dark future where a corrupt mutant elite dominated the Contest and enslaved everybody, using a new breed of Sentinels to do their bidding… and their future conflict has spilled into our present.
Marvel.com: And y'all have picked one of the most vicious X-foes out there, the deadly Sabretooth. Why does this maniac deserve a spot on the roster?
Gene Campbell:  For a long time now, Sabretooth has been one of the most highly requested characters from our player base. We knew he'd be a popular addition, but we needed to wait for the right time to introduce someone of his caliber to the Battlerealm. We knew we would need an aggressive character to upset and disrupt some of the more prominent figures in the Contest, and in Victor Creed, we found the perfect Champion for that job.
Marvel.com: Like Bishop before him, I'm getting a very 90s Victor Creed feeling here. What was important to the team in bringing Sabretooth to life?
Gene Campbell: When we think of Sabretooth here at Kabam, everyone fondly remembers watching the 90's X-Men TV series every Saturday morning when we were young. For us, this is the quintessential version of Sabretooth that we need to represent. The ferocious, vicious psychopath that was a constant threat to our childhood heroes. We hope this version triggers the same sense of nostalgia to all the Sabretooth fans in the Contest.
Marvel.com: How does he play? How did you make him feel like Sabretooth?
Piero Herrera: His entire kit is based on Furies and Bleeds. A simple concept, but combined with Persistent Variables this means he will get more and more furious and deal a lot more damage as he knocks out more opponents. Player will be rewarded by hunting mutants while playing with Sabretooth, his special attacks feel very ferocious with long jumps and boulder throws, and last but not least his Bleed effects will also scale with his Fury bonuses, making special attacks extremely powerful.
Marvel.com: He gains passive regeneration stacks? How does he cash out and get that sweet sweet healing?
Piero Herrera: Actually, those Regeneration stacks will start healing right away, over a long period of time and based on the damage Sabretooth takes from a hit. The only way to completely stop his ability is by inflicting a Heal Block, or if players are feeling adventurous, reversing his heal effect will also work.
Marvel.com: You guys also gave him cold immunity, which means he'd be a pretty decent pick into characters like Iceman and… Who else freezes their foes?
Piero Herrera: Currently, this is just going to be useful against Iceman! A lot of player are currently fighting against Iceman in Alliance Wars, making Sabretooth a really good option not only because of his utility, but also because of his damage potential when all of his Fury Buffs are charged up.
Marvel.com: Typically a loner, does he have any good synergy bonuses?
Piero Herrera: You bet he does! A lot of his utility comes from his synergies that he will be able to get when paired up with Champions like Scarlet Witch, Magneto, Old Man Logan, Black Panther and Killmonger. He will be able to bypass effects like Black Panther's Stun Reflection ability and also will prevent other Champions like Kingpin and Agent Venom from shrugging off debuffs. Please read more about those synergies in Sabretooth's Champion Spotlight in-game.
Marvel.com: And when do we get to unleash his animal fury on the Contest?
Piero Herrera: This beast will be unleashed on March 29! Check your in-game messages for more information about this awesome addition to the Contest.
Stay tuned to Marvel.com and @MarvelGames on Twitter for more "Marvel Contest of Champions" news and interviews!
The Hype Box
Can't-miss news and updates from across the Marvel Universe!