Games
Published March 2, 2017
Entering Marvel Contest of Champions: Archangel
The X-Men's winged warrior flies into battle!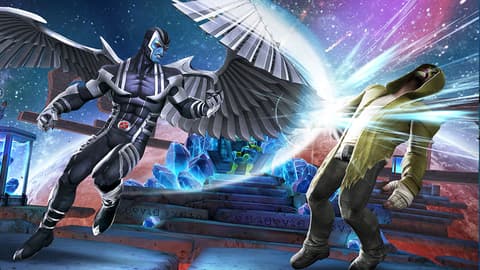 Something wicked this way comes. Armed with razor-sharp wings and deadly neurotoxins carried on the wind by the one and only Warren Worthington III, Archangel swoops into "Marvel Contest of Champions" ready to eviscerate his foes. We talked with Kabam Art Director Gabriel Frizzera and Character Designer Simon Cameron about the Angel of Death and how he fits into the Collector's grand scheme.
Marvel.com: The Horsemen of Apocalypse usually come in sets of four. Is Archangel just the first in Taneleer's collection?
Gabriel Frizzera: He's the first in "a" collection, but not Taneleer's. As our players probably noticed, the Collector's worst nightmare is returning to The Contest: En Dwi Gast, The Grandmaster. He favors ruthless killing machines as his Champions, and Archangel definitely fits the bill. To challenge the dominion of the Collector over the Battlerealm, he puts together a team of "X-Enforcers," mind-controlled versions of X-Force. They're assassins aiming to disrupt the Collector's Contest, and hunt new recruits for the Grandmaster's ranks. Check out who their first target is in our brand new motion comic!
Marvel.com: Warren Worthington's alter-ego here looks much more menacing than the blue and purple Archangel that I grew up with. This is his X-Force outfit right?
Gabriel Frizzera: Yup. We love Rick Remender's run [on UNCANNY X-FORCE], and you can't get much more iconic than the black-and-white matching uniforms of that team. We used the Archangel design from that comic, which has a lot of reflective silver details that look great in the game. We even added a couple of extra sharp edges here and there to make him look more menacing.
Marvel.com: And let's talk a little about Archangel's kit. A big part of his gameplay seems focused on the Neurotoxin in his wings. What exactly does Neurotoxin do to your opponents?
Simon Cameron: Archangel's Neurotoxin comes in two main varieties: pre and post Signature unlock. Pre-unlock is one of his best sources of damage; additionally, as a passive it's also impossible to get rid of early once it's in place and the short stun gives you an opening to start your next combo. Post-Signature unlock becomes a powerful debuff, reducing your opponent's Ability Accuracy and acting as a Heal Block.
Marvel.com: And how do his other abilities—Bleed, Poison, Stun—round out his style?
Simon Cameron: Archangel's Bleed and Poison abilities provide a lot of damage to his opponents and acts as the resources he uses to create Neurotoxins. His Stun abilities give him windows to land additional combos and heavy attacks safely to help keep his Bleed and Poison stacks in place.
Marvel.com: Characters with wings seem like they'd be difficult to animate in game. Does Warren only break out his wings during his special moves?
Gabriel Frizzera: No, sir! He flies during the whole fight. Unlike Falcon—who collapses his wing quite a bit in the movies—Archangel is known for using his wings as both propulsion and weapons most of the time. With that being said, we decided to go for it and have his wings be as large and imposing as they are in the comics. He slices and blocks with the wings and shoots metallic blades from it. Doing so created a new set of technical challenges—like the wings being so large they sometimes would crash through the camera—but in the end the animation team managed to make him one of the most unique-looking Champions in the game, and very effective too.
Marvel.com: And what can you tell us about the teammates he should take into battle with him? A lot of the original X-Men maybe?
Simon Cameron: Some original X-Men, some X-Force members, some who were both!
Marvel.com: And last but not least, when do we get to break him out of a crystal?
Simon Cameron: Archangel will be coming to The Contest today! Be sure to check your in-game messages and announcements to find out when.
Stay tuned to Marvel.com for more "Marvel Contest of Champions" news and interviews.
The Hype Box
Can't-miss news and updates from across the Marvel Universe!