Games
Published December 23, 2016
ENTERING MARVEL CONTEST OF CHAMPIONS: HOWARD THE DUCK
Howard the Duck Brings the Weird to the Battlerealm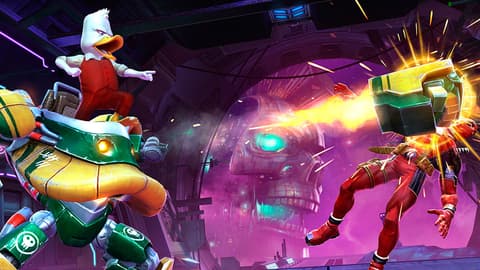 Just when you think the Collector couldn't make "Marvel Contest of Champions" weirder he goes and recruits a cartoon duck to handle his less-than-vital backend operations. As you can probably imagine, Howard the Duck has better things to do than be someone's lackey. We talked to Kabam Art Director Gabriel Frizzera and Game Designer Justin Ostensen about the Contest's first feathered fighter and how the short-tempered duck's leaving his mark on Battlerealm.
Marvel.com: Howard the Duck is an… Interesting character. Unique. Some might even say one of a kind. Would the Collector consider him a special edition waterfowl?
Gabriel Frizzera: I think he considers Howard more of a jack-of-all-trades employee. The Collector put him in charge of endless menial tasks that the Deadpooloids are too stupid to do, like organizing his crystal collection and filing catalysts by class and rank.
Marvel.com: I gotta ask though, how is this guy going to hold his own out there with the Hulks and the Thanos'?
Gabriel Frizzera: I think Howard himself initially doubted his skills as a fighter, until he retrofitted an ISO-Loader Suit into a powerful mecha battle armor. Now he stands 9-feet tall armed to the teeth so he probably could go a few rounds against the best Champions in The Contest…that is if the mech's arms don't fall off first, of course.
Marvel.com: How did the team come up with the ISO-Loader? It looks absolutely perfect for Howard.
Gabriel Frizzera: I was trying to come up with the oddest combination of heroes to fight together in our holiday story quest… I already knew we were going to do Hyperion, so I challenged myself to come up with another character that would be weird but strangely fitting as his buddy. So I thought of Howard the Duck. I know there was a lot of resistance in putting what is essentially a cartoon duck in a mostly serious fighting game, so I took that as a challenge. I wanted the lovers of "badass" characters and mecha robots to find Howard the Duck irresistible. The ISO-Loader looks pretty powerful but at the same time has the giant duck bill which can break apart, so it rides that line between serious and ridiculous that makes a character attractive. By the responses we got so far, I think we convinced many haters that Howard can be pretty awesome as a fighting character, without being overly cartoony or breaking the fiction.
Marvel.com: Let's talk about his abilities. Mash All The Buttons! doesn't sound like the most useful of attacks.
Justin Ostensen: Well, when all of those buttons are all set to cause destruction and fix up the ISO-Loader, it can certainly be a helpful ability. Basically, whenever the ISO-Loader starts to become too badly damaged, Howard will frantically mash the buttons on the console. This can either cause the ISO-Loader to go into its Self-Repair routine and fix up some damage, or let loose a massive Thunderquack to deal a large burst of Energy Damage over time.
Marvel.com: And Howard's breaking out the Quack-Fu right? How does that help him out in fights?
Justin Ostensen: We wanted to tie Howard's abilities not only to his legendary Quack-Fu, but also to his infamous temper. Basically, as Howard lands hits on his opponent and he himself gets hit, he builds up his temper gaining boosts to his Attack and Critical Damage stats. But, if the player plays too defensively and doesn't stay aggressive, Howard will cool off and lose his stacks of Quack-Fu. Gotta stay angry when you're fighting with Howard!
Marvel.com: I love that Howard gets bonuses when he's fighting with Rocket. Woodland creatures need to stick together huh?
Justin Ostensen: Well, not to split hairs, but technically Howard is just from another universe. I'd say their friendship in The Contest is more about small Champions wanting to be taken seriously. And with his massive B.F.G. to settle a few scores, Howard is definitely going to accomplish that goal.
Marvel.com: Is there anything else you want to tell us about Howard?
Justin Ostensen: Keep your eyes peeled on in-game messages to see when you can grab Howard and his Mech Suit in Contest of Champions!
Stay tuned to Marvel.com for more "Marvel Contest of Champions" news and interviews.
The Hype Box
Can't-miss news and updates from across the Marvel Universe!