Games
Published December 8, 2016
Entering Marvel Contest of Champions: Hyperion
Celebrate Two Years of Marvel Contest of Champions with Howard and Hyperion's Holiday Hijinks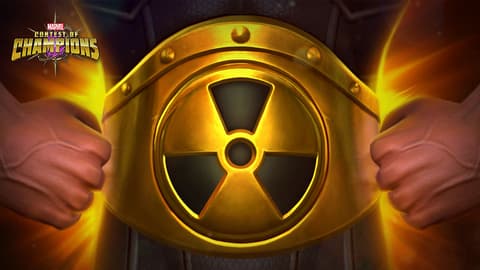 "Marvel Contest of Champions" turns two! We've gotten two years of repulsor blasts, Hulk smashes, Asgardian thunderbolts and the stray chimichanga on Battlerealm and it's been a wild ride. The team at Kabam, Art Director Gabriel Frizzera, Marketing Associate Vincent Huynh, and Game Designers Dominic O'Grady and Simon Cameron, dropped by to tell us what's in store for players to celebrate the big two year anniversary
Marvel.com: Hey gang you've got some fun stuff coming up for players. An anniversary, a new character, and some special rewards for Marvel Insiders. Can we get a tl;dr?
Vincent Huynh: That's right, we've got lots going on this year for our two-year anniversary! This Thursday, Hyperion will be entering "The Contest." You can also take a look at him in our new quest that's up and running, Howard and Hyperion's Holiday Hijinks that goes until January 4, 2017. By completing this quest, you will earn Marvel Insider points based on what difficulty setting you play at. Use these points to redeem a limited time exclusive in-game reward! (See below for more details).
For our Two Year Anniversary, we're also teaming up with Marvel to give out a FREE month of Marvel Unlimited! Explore the Marvel Universe with thousands of digital comics including the entire Contest of Champions comic book series! This offer is only valid from December 9 to the 11 so make sure to check your in-game mail for details on how to redeem it. The Collector also wants to celebrate this big milestone and will be handing out some gifts to players as well including a 3-Star Groot! Log in this Saturday to claim your gifts!
Marvel.com: How does it feel having hit the big two-year mark? That's an awesome milestone! Congrats!
Dominic O'Grady: It feels really, truly awesome. To be able to work on a game this popular and special for this long, to see it grow and transform and expand its audience more and more is a very special and humbling feeling. We're so grateful to all our players for coming on this crazy ride with us, and we're not planning to stop it any time soon.
Gabriel Frizzera: It's really unbelievable how fast we have grown in only two years. I still remember sitting in a room with a few more people to work on the pitch for the game, and thinking "It's Marvel! Don't screw this up!" It feels like ages ago when I think of everything but it's only been two years ago since we launched. We still have so many plans and stuff we want to create… We're having so much fun and can keep doing this for years to come!
Marvel.com: What can you tell us about the new quest players will get a crack at?
Gabriel Frizzera: It's called Howard and Hyperion's Holiday Hijinks (yay for alliteration), and it's a buddy road trip featuring a very odd couple indeed. The Collector gave everyone a holiday break, except for Howard the Duck, who's organizing the Collector's crystal collection… Needless to say, he's not thrilled about it. That's when Hyperion shows up. He needs Howard's detective skills to help him find his home dimension, which might still exist in the Battlerealm. Hijinks ensue!
Marvel.com: Ok now onto Hyperion. The guy's a seriously heavy hitter and an extremely rare specimen. Elder of the Universe or not, has the Collector bit off more than he can chew picking up one of the last Eternals?
Gabriel Frizzera: Hyperion is one of the most powerful characters in the Marvel universe. I've always been a fan since that original Avengers story where they met the Squadron Sinister. Since then, the character has gone through many incarnations and the recent comic run focused on his soul-searching gave more depth to a character that could easily be only defined by his powers. I think he's a mighty addition to The Contest.
Marvel.com: Let's talk about Hyperion's look. He's sporting his current comic outfit right? Any special "Contest of Champion" details here?
Gabriel Frizzera: He's inspired by the current look, but we added some trims and details to break the spandex a bit. I think one of the strengths of his costume is the Silver Age look, symbol of the innocence and high morals Hyperion has at his core (until he gets angry, then he can be very morally dubious indeed). So I insisted we had some old-fashioned details like strongman bootlaces, and the boy scout well-kept hair.
Marvel.com: Can we get an ability breakdown for this guy. What can he do? What's his play style like?
Simon Cameron: As an Eternal, Hyperion's incredible powers come from his body's ability to store and convert cosmic energy, which gives him a very high natural resistance to Energy based attacks. It also makes him extremely powerful if his charge is high. But he can be weakened (relatively speaking) if you can make him drain his charge. To reflect this in game, Hyperion generates Cosmic Charges, which he will convert into Power Gain buffs.
However, if his Power is already full, Hyperion instead keeps his Cosmic Charges, gaining passive bonuses to both Attack and Physical Resistance. His third Special Attack also allows him to enter Cosmic Overcharge. While he's overcharged he constantly gains power, allowing him to access his first and second Special Attacks, while keeping all three possible Cosmic Charges active!
Marvel.com: And can you tell us a little about the Marvel Insider rewards players can earn?
Vincent Huynh: Players who are also part of the Marvel Insider loyalty program can earn points for completing our latest quest, Howard and Hyperion's Holiday Hijinks! From December 7 to January 4, players can earn 2,500 points completing the Beginner difficulty, 5,000 points for completing the Normal difficulty and 7,500 points for completing the Heroic difficulty!
All players have to do is sign into Marvel Insider and enter their player name into the corresponding activity. Once the quest wraps up, points will be awarded in the following weeks! On the rewards side, we're also launching an exclusive in-game reward that can be redeemed for 125,000 points.
The reward will consist of:
1x 3-Star Memory Lane Crystal (this will give you one of the Champions released in 2016!)
10x Crystal Shard Crystals
2x Energy Refills
2x Champion Boosts
5x Level 3 Health Potions
10,000 Gold
For those who are not yet part of the program, there's still time to join to get your points!
Marvel.com: Anything else that we need to know?
Vincent Huynh: We just want to take the time to thank all our fans for playing the game. We wouldn't be able to get to this special two-year milestone if it weren't for our loyal fans. We're working everyday to try and make this game better so it can be enjoyed for more years to come. We have a lot in store for the future so stay tuned!
Stay tuned to Marvel.com for more "Marvel Contest of Champions" news and interviews.
The Hype Box
Can't-miss news and updates from across the Marvel Universe!