Games
Published July 12, 2019
Entering Marvel Contest of Champions: Spider-Man (Stealth Suit)
Your friendly neighborhood Spidey in his 'Spider-Man: Far From Home'-inspired suit is playable now!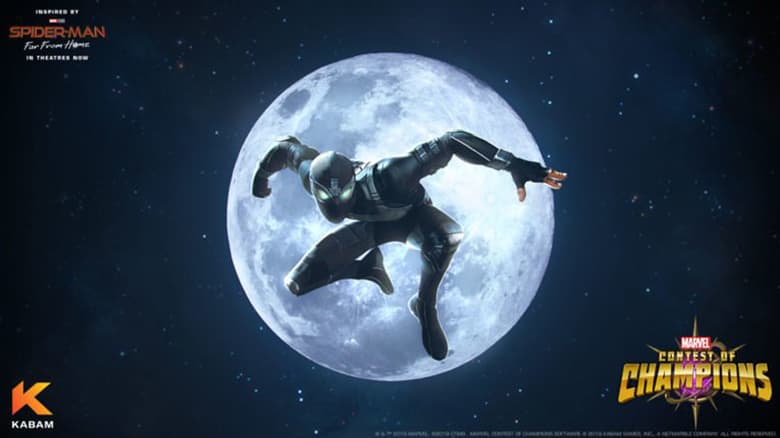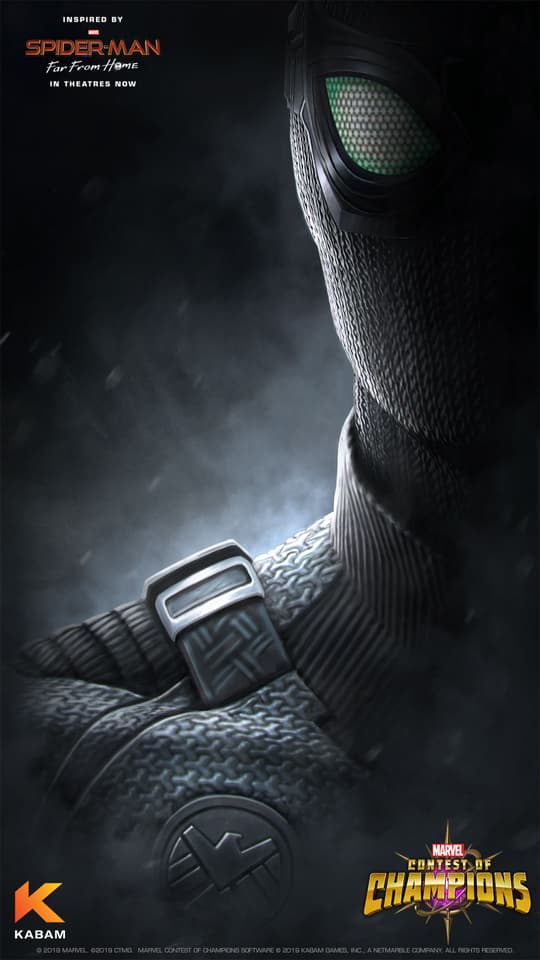 Traveling light (without The Suit made by Tony Stark), Peter Parker is in Europe with his Midtown High School classmates — when Nick Fury shows up looking for Spider-Man (Stealth Suit). Elemental Creature attacks have been going on throughout Europe and a closer investigation into these attacks is needed.
Spidey is given his own tactical Stealth Suit, made for him by the very same S.H.I.E.L.D agent who outfits Nick Fury, Maria Hill, and the rest of the team.
Spidey has been given some cool new gadgets and tech to make this Stealth Suit a powerful weapon against his opponents. The mechanics of his suit include ending combos in a Light attack or utilizing Special 2 allows Spider-Man to throw unique Debuffs on his opponent while dishing out damage.
Depending on the Web Cartridge players bring into a fight using the Pre-Fight Ability will allow Spider-Man to shut down powerful defensive abilities such as Unstoppable and Evade, stop Defensive Power Gain, or increase Critical Damage.
Since Web Cartridges are limited, you will want to strike fast and end the fight quickly — or you can use Special Attack 3 to reload.
As a Skilled character class, Spidey's basic abilities include Pre-Flight Ability, Evade, Enervate, Slow, Vulnerability, and Precision.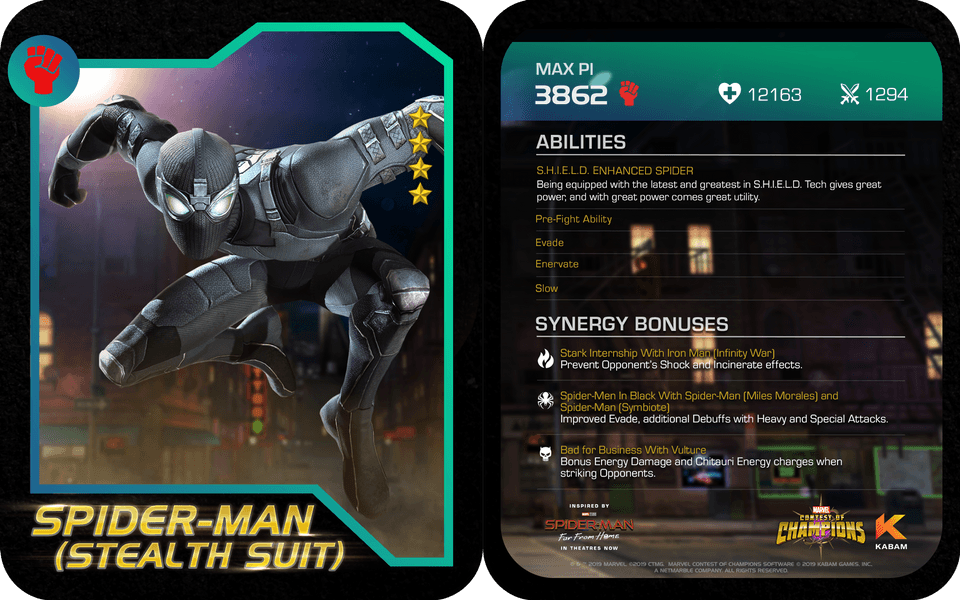 Peter's Stealth Suit begins a fight with a Spider-Sense Charge that grants him a Passive 70% chance to Evade income Basic Attacks when not Blocking.
Spidey's Strengths include Utility, which allows Spider-Man (Stealth Suit) the ability to bring one of three unique abilities into a fight. Access to a Slow Debuff shuts down opponents who Evade or become Unstoppable. The Enervate Debuff stops the enemy from gaining Power when struck and the Vulnerability Debuff can be used as a significant damage boost. Using his Spider-Sense, Spider-Man (Stealth Suit) has a high chance to Evade incoming Basic Attacks; this ability goes on a cooldown but can be reactivated using Special Attack 1 giving him a reliable way to avoid damage.
His weaknesses include Champions that can ignore Evade effects with True Strike and True Accuracy have an easier time dealing damage to Spider-Man (Stealth Suit). Also, opponents who can reliably Purify Debuffs with limit Spider-Man (Stealth Suit)'s damageas he needs to replace the Debuffs on his Opponent in order to booth his damage output.
The S.H.I.E.L.D. Web-Shooters, which are a Pre-Fight Ability, gives Spider-Man (Stealth Suit) 1 Persistent Charge which can be consumed before the fight to load either a Tranquilizer, Web-Foam, or Flash Bang Cartridge into his web-shooters. Only 1 type of cartridge may be loaded, and he starts the fight with 5 Charges of his loaded Web Cartridge. If no Cartridge is loaded, Spidey brings in Flash Bang Web Cartridges by default.
Peter's kit includes three Specials and one Signature Ability. Stealth With A Kick reactivates Spider-Sense if it is on Cooldown. If Spider-Sense is not on cooldown, gain a Precision Passive increasing Critical Rating by 8000 for 20 seconds. Special 2 S.H.I.E.L.D Web Slinger's last two hits of this attack expend a Web Cartridge Charge to inflict a Web Cartridge Debuff, which have a 250% duration. The duration increase lasts until a Web Cartridge Debuff expires. Debuffs that are replaced do not expire. Special 3 Lights Out gains back all spent Web Cartridge Charges. Spidey's Signature Ability, S.H.I.E.L.D. Enhanced Spider, increases the Potency of Fury Passives by 30%.
Receive Synergy Bonuses when you use Bad for Business with Vulture, Spider-Men (Stealth Suit) in Black with Spider-Man (Symbiote) and Spider-Man (Miles Morales), Stark Internship with Iron Man (Infinity War), and Culture Shock with Electro.
Recommended masteries include Glass Cannon, Assassin, and Despair.
Spider-Man (Stealth Suit) is available for downloading now on Marvel Contest of Champions on iOS and Android devices!
Stay tuned to Marvel.com for Marvel Games news and interviews and follow Marvel Games on Twitter for more!
The Hype Box
Can't-miss news and updates from across the Marvel Universe!