Games
Published December 8, 2017
Entering Marvel Contest of Champions: Taskmaster
The prodigious savant of mnemonic talents tears up the Battlerealm.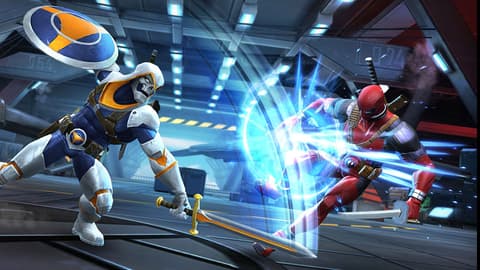 Taskmaster brings both swords, a shield, and a whole lot of photographic reflexes to Battlrealm ready to kick hero butt. Ol' Tasky's not worried about being on Battlerealm, his skills let him go up against the toughest heroes the Contest has to offer. We talked to Kabam Art Director Gabriel Frizzera and Character Designer Simon Cameron about Taskmaster and what he brings to "Marvel Contest of Champions." Read on to learn more!
Marvel.com: Firstly, let's talk a little about what the Taskmaster is doing in the contest. He's not really a go getter unless there's money involved. Is someone else behind his appearance?
Gabriel Frizzera: Not that the Taskmaster had any choice. Like all of M.O.D.O.K.'s associates, he was once captured in a crystal by the Collector, but forgotten in a backroom somewhere in the Battlerealm. When M.O.D.O.K. freed him, he promised lots of units and gold, but also a regular job in a top-notch Hotel/Spa/Boot Camp for Champions. It beats being forced to fight in The Contest, he thought.
Marvel.com: Tasky looks really cool here in the white, blue, and orange. He's always had a fairly consistent costume, what did the team do to set him up for "Contest of Champions"?
Gabriel Frizzera: We looked at different inspirations. His costume is definitely one the most iconic in the Marvel Universe, with the skull mask, hood and the orange-white-blue colour scheme. But there has been some pretty cool updates in recent years, especially from animated shows that made him more tactical and armored. We wanted to keep him as classic as possible but add some of the modernized elements, so we kept the cool palette, but removed the "pirate boots" and the cape, which in our opinion would just get in the way of some of his acrobatic moves. His mask is also more angular and less of a literal skull.
Marvel.com: Taskmaster is, in a lot of cases, defined by his foes. He can mimic their moves, allowing him to pick them to pieces at his leisure. Did you guy give any extra thought to the kind of animations Taskmaster would have at his disposal?
Gabriel Frizzera: For sure! This was a chance to pay homage to some of the other Champion's favorite moves. We lifted some of the coolest animations in the game and blended them together, so when you see him use weapons, he's mimicking the Punisher, or Moon Knight, for example. When he's using martial arts, it's most likely from Black Panther or Iron Fist, or other iconic fighters in the game. It was a lot of fun to make a "collage" of moves and see them come together in a seamless moveset.
Marvel.com: Let's talk a little about his key abilities like Exploit Weakness, and Intuitive Pattern Recognition. What does he do?
Simon Cameron: Exploit Weakness is one of Taskmaster's main abilities. Every few seconds the last unique attack Taskmaster's opponent attempted is set as his target (the attack doesn't have to have hit, just been attempted). Then to trigger Exploit Weakness, you need to land that same attack back on the opponent within a short window. Triggering Exploit Weakness does Direct Damage to the target, as well as giving Taskmaster a short window to safely trigger his Heavy Attack, instantly resetting his Exploit Weakness target. If his Signature Ability, Intuitive Pattern Recognition, is unlocked he also places Concussions Debuffs on his target when triggering Exploit Weakness.
Marvel.com: And what about Photographic Reflexes and Learn the Foe? Those sound perfectly built for Taskmaster.
Simon Cameron:  Photographic Reflexes gives Taskmaster the ability to reduce his opponent's Offensive Ability Accuracy as he observes them performing different attacks, and reduce their Defensive Ability Accuracy by performing different attacks. While Learn the Foe gives him increasing resistance to Debuffs for each one that triggers on him in a fight
Marvel.com: What kind of characters do we want on his team?
Simon Cameron: Taskmaster loves to team up with other skill Champions. He has synergies with the likes of Crossbones, Moon Knight, Winter Soldier, and Hawkeye.
Marvel.com: And lastly, when do we get to pick him up for ourselves?
Simon Cameron: Taskmaster's already in the game! Grab him now!
Stay tuned to Marvel.com for more "Marvel Contest of Champions" news and interviews and follow us on Twitter @MarvelGames!
The Hype Box
Can't-miss news and updates from across the Marvel Universe!