Games
Published February 2, 2017
Entering Marvel Contest of Champions: The Hood
Parker Robbins brings his wicked wardrobe to Battlerealm!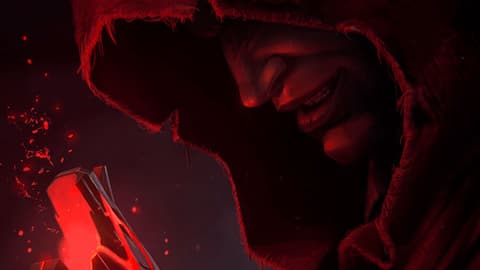 Something wicked this way comes, and his name is Parker Robbins.
As if the denizens of Battlerealm didn't have enough to worry about, now The Hood, an emissary of a mysterious evil benefactor, plans to cause even more trouble in "Marvel Contest of Champions." We talked to Kabam Art Director Gabriel Frizzera, Champion Designer Simon Camerson, and Marketing Specialist Vincent Huynh to get the skinny on the Hood's plans.
Marvel.com: The Hood's been flying pretty low under the radar since his ILLUMINATI shenanigans. Why'd the Collector want to pick up Parker Robbins?
Gabriel Frizzera: The Collector has nothing to do with the Hood's presence in the Battlerealm. He kind of came on his own free will. He's on a mission for his master, a god-like entity with an appetite for multiversal conquest. He's coming to spoil the Collector's party, and The Hood is the first wave.
Marvel.com: Ooohhh sounds ominous! By the way I am loving the way Parker's guns look here! Hellfire infused pistols have never looked cooler.
Gabriel Frizzera: Thanks! We wanted to make those pistols look special. We are familiar, through comics and movies, with what happens to a person when possessed by a demon. But what happens when guns get possessed? What happens when an object originally created to cause harm and destruction becomes infused with even darker powers? So we melted it, twisted it and added pulsing arteries and magma until it looked like an object forged in the depths of hell.
Marvel.com: And the team has overloaded Hood with some serious abilities. Does he have more than the average Champion or am I just seeing things?
Simon Cameron: He certainly has a number of abilities at his disposal, but not an untoward number of them. A number of his abilities have secondary effects, which trigger when abilities expire. He can also trigger Invisibility in a number of ways. All in all, while there may be a fair amount of text on his bio card, he's far from the most complex character in the game, and we think he'll be pretty easy to pickup and play.
Marvel.com: And holy—what is this team up with Dormammu? Resurrect non robot Champions?!
Simon Cameron: Dormammu has often worked from behind the scenes. Whether he's empowering agents to do his bidding because he feels the task isn't sufficiently important to warrant his attention, or because he's been bound never to return to Earth; we're looking at you Doctor Strange. We're representing this in The Contest by giving him a chance when teamed up with the correct Champions, to resurrect any non-robot villain Champions when they're knocked out of a fight.
Marvel.com: What can you tell us about his play style? How are we fighting with Parker?
Simon Cameron: Well he's a Mystic, and like most Mystic Champions he's well equipped to fight opponents who use a lot of buffs with both Stagger and Fate Seal. His special attacks all have various debuffs, and his heavy attack allows him to refresh their timers, so you'll likely want to land some Heavies to keep them rolling.
Also his Invisibility makes a big difference, both increasing his Critical Damage, and giving his opponents a chance to miss with their attacks, which doubles against ranged attacks. This is great because it doesn't break his animation the way an Evade does, allowing him to charge through most ranged attacks in relative safety.
Marvel.com: Anything else you can tell us?
Gabriel Frizzera: Our new event, "Dawn of Darkness," is a direct sequel to the mystic event from last November, "Conclave of Sorcerers." Doctor Strange is regrouping the Illuminati to create a final solution to stop Thanos from creating an entirely new set of Infinity Stones. He intends to be prepared for when the Mad Titan shows up next. But for that end, Strange has a plan so dangerous in mind, he doesn't dare tell his closest allies… a plan that will involve a cat-and-mouse game with one of his most dangerous enemies, one of the most powerful mystic beings in existence.
Vincent Huynh: "Dawn of Darkness" has just kicked off and is ready to play now until March 1! Help Doctor Strange take on The Hood and his overlord from spreading evil and destruction across the Battlerealm. Check out our latest Motion Comic here to find out which demonic figure The Hood is bound to serve.
Stay tuned to Marvel.com for more "Marvel Contest of Champions" news and interviews!
The Hype Box
Can't-miss news and updates from across the Marvel Universe!