Games
Published January 4, 2018
Entering 'Marvel Contest of Champions': The Sentry
Robert Reynolds (and The Void!) are now unleashed in Battlerealm!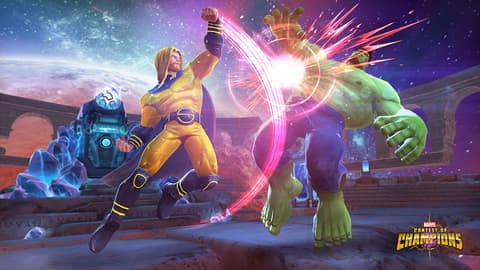 Ever wanted to harness the power of a million exploding suns? Well the awesome crew over at Kabam has unearthed The Sentry from the depths of Battlerealm and starting this week players can pit Bob Reynolds against all comers in "Marvel Contest of Champions." We talked to Kabam Art Director Gabriel Frizzera and Game Designer Erich Kohlweg about The Sentry and all his insane abilities, so keep reading gang!
Marvel.com: We've had a few serious powerhouses enter the Contest, but I can't think of anyone I'd rather not have fighting under my roof than Robert Reynolds. What was the Collector thinking?
Gabriel Frizzera: The history of the Sentry in the Battlerealm is older than it seems. When the Collector came to the Battlerealm to build a new Contest of Champions under the Maestro's patronage, he brought along a group of twelve legendary warriors, plucked from as many different universes. Among this first batch of mind-controlled Champions, one was by far the most powerful: Robert Reynolds, also known as The Sentry. In the first test-run of The Contest, Reynolds easily defeated all the other contestants, with such violence and abandon that surprised even the vicious Maestro. In time, Reynolds became the Collector's most trusted agent, helping him in many tasks suited to his amazing powers. But in one of those missions, he got lost and never came back, until now, many years later. To learn more, check out our brand new Motion Comic!
Marvel.com: Well at least he'll get to say he grabbed up a limited edition, very rare, bearded Sentry in great condition before the Golden Guardian brings Battlerealm down around his ears.
Gabriel Frizzera: Actually, this version of the Sentry might be even more damaged than the one we know from the comics. He spent almost 35 years lost in the depths of the Battlerealm, although his mind cannot recall much of what happened. He seems even more unbalanced than usual, his empty glowing eyes staring into the shifting horizon like twin suns. But he looks every bit as strong as he once was, maybe even more. And deep inside of Robert Reynolds disturbed psyche, The Void patiently awaits. The Contest holds its breath…
We know the Sentry is a well-loved character by our fans, so we have been thinking about introducing him and the Void to the game for some time… which turned out to be very timely since he's also making his long-awaited return to the comics in the pages of DOCTOR STRANGE, by the capable hands of Donny Cates and Gabriel Walta! We swear this is pure coincidence, but you know, great minds think alike!
Marvel.com: What did the team need to do to bring Sentry to life in game? Both from a visual standpoint, but also in tackling Bob's dual nature as both Sentry and the Void?
Gabriel Frizzera: Visually we did some exploration on how damaged this version of the Sentry would appear. Initially we went with a more disheveled look, with a longer beard, ripped clothes made of many alternate version of the Sentry, and even Iso-crystals growing from his armor like barnacles. But the guys at Marvel Games thought that we should go with a more classic version, since this version could be the first time a lot of fans would be introduced to the Sentry, and we didn't want to cause any confusion. So we cleaned him up, but we kept the beard to represent his years lost in the Battlerealm. As far as his connection with The Void, we wanted to try something we've never done before. Beyond the unique synergy between the two characters, in his Special 3 Attack, Sentry literally becomes the Void, and vice-versa. Players will want to chase after both characters to build a truly powerful team!
Marvel.com: Ok let's get into his kit! How is he channeling the power of a million exploding suns here?
Erich Kohlweg: For Sentry, we wanted to mix lore with mechanics. Being so powerful, yet unstable, his abilities are tied to his State of Mind. To maintain his composure and state, a combo needs to be carried on and when it's lost so goes his State of Mind and potential abilities. However, with limitations to his strength, when he enters the optimal state, it's sure to make an explosive impact.
Marvel.com: It seems like you can just go crazy with Sentry, because even if you drop a combo, you have a chance to go indestructible. Couple that with the Fury and Regeneration, and Sentry feels like a hero you really don't want to mess with.
Erich Kohlweg: When Sentry gets going, you don't want to be on the receiving end of his attacks. Not only is he able to build up his damage output through his Special Attacks, but he's able to sustain a lot of damage. Losing a combo has a chance to trigger his Signature Indestructible, negating all damage for a short period. In addition, when Sentry's health is low, his Special 3 Attack can provide him with Regeneration.
Marvel.com: Who does Sentry fight best with?
Erich Kohlweg: Sentry can go toe to toe with Hulk making them quite the Rivals. As a friend of the Avengers, Sentry can pair up with Black Widow, Vision, Hawkeye, and Captain America. However, there is no one else than his other half, Void. They bring the best (and worst) out of each other. While paired with Void, Sentry's Special 3 Attack activates one of Void's abilities. Opponent's become inflicted with Fear of the Void which combines Agility, Fatigue, and Petrify Debuffs, as well as increasing Sentry's Attack Rating for a period. I can't go into detail here but don't forget that Synergy Bonuses can go both ways, keep an eye out when Void enters the Battlerealm!
Marvel.com: When can we harness Sentry's awesome might for ourselves?
Erich Kowleg: Sentry will enter The Contest on January 4. Look out for in-game announcements on where to obtain him!
Stay tuned to Marvel.com for more "Marvel Contest of Champions" news and interviews.
The Hype Box
Can't-miss news and updates from across the Marvel Universe!