Games
Published December 16, 2016
Happy Second Anniversary to 'Marvel Contest of Champions'
The Marvel mobile hit celebrates two years of excellence!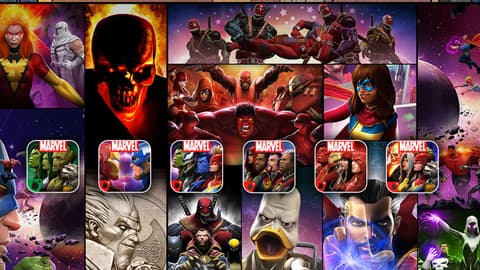 The end of the year looms nigh over "Marvel Contest of Champions" and all of Battlerealm. The Kabam crew's been hard at work crunching the numbers to pull some awesome data for their two-year anniversary. Wondering how many hours players around the world have been duking it out? Or how many heroes Taneleer Tivan's collected since the game started? Let's dig in!
First, how much time do you think you've spent playing "Contest of Champions"? One hour? Two? Maybe 10? Well across the globe players put in some serious time cracking skulls, with a whopping 957 million hours logged.  And in that time players opened 7.3 billion—that's right billion with a "b,"—crystals and unlocked everything from gold to catalysts to Champions.
Speaking of Champions, the Kabam team has released 80 butt-kicking heroes and villains over the past two years, including everyone from the Uncanny X-Men to the Inhumans to the Avengers to cosmic threats like the Mad Titan Thanos. We've even seen entirely original Champions hit the battlefield. No doubt somewhere The Collector's smiling.
With 574 thousand alliances containing Summoners from 243 countries, you can bet those Champions get their exercise—24 billion battles-worth to be more precise. Spider-Man's swung into 1.45 billion different battles on his lonesome, dispensing killer one-liners and web-fisted justice. Captain America slung his shield in 575 million fights, while the feisty Rocket Raccoon blasted bad guys in 309 million melees. Black Bolt, King of the Inhumans, made sonic mincemeat of 547 million offenders while Storm brought the lightning down on just as many.
While you probably haven't sent your Champions into a million fights, I bet you have a go-to hero, a fighter you can rely on to get the job done even with the chips down. For players getting busy with the 5-Star heavy hitters, Scott Summers, Cyclops, proved the Champion serving up the pain most often. Doctor Strange got called into action most for the 4-Stars, with Colossus, Wolverine, and Spider-Man (Classic) rounding it out for the 3, 2, and 1-Star fighters respectively.
Whew! It's been an awesome two years in "Marvel Contest of Champions" and I can't wait to see what Kabam brings us next year! See you on Battlerealm folks!
Check out "Contest of Comments"  the post-game Show where you stay on top of all things "Marvel Contest of Champions!"
Stay tuned to Marvel.com for more "Marvel Contest of Champions" news and interviews!
The Hype Box
Can't-miss news and updates from across the Marvel Universe!