Games
Published February 13, 2020
Hydra has Invaded MARVEL Future Fight
The new characters are now available in hit RPG mobile game!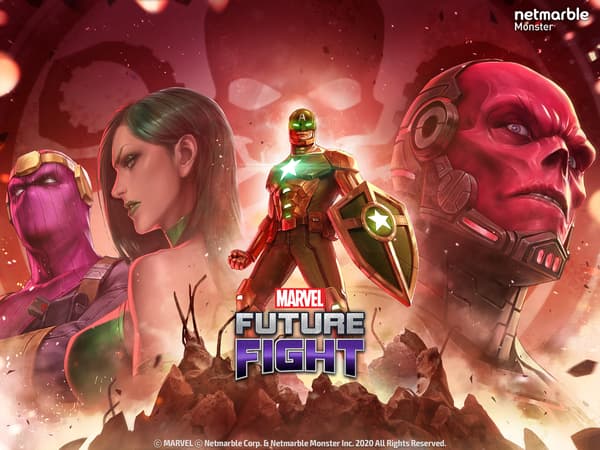 Hey Marvel Insiders – did you know reading this article could earn you 250 points?  All you need to do is sign in or join now before you keep reading!
There are some new faces in MARVEL Future Fight, but we're not dealing with an all-hero team this time. Hydra is invading! With the v580 update Baron Zemo, Viper, and Taskmaster are making their debut in the RPG mobile game.
Additionally, via a reality warp, Captain America has transformed into a villain with his new Hydra Supreme Uniform. There are also brand new Hydra uniforms for Red Skull (Hydra Armor), Doctor Octopus (Superior Octopus), and Crossbones (Secret Empire).
Along with their release, Taskmaster, Baron Zemo, and Viper will have their potential unlocked, as will Doctor Octopus and Sin. Plus, Red Skull and Doctor Octopus will have Awakened Skills!
If that's not enough, Winter Soldier has been prepared to receive a Tier-3 upgrade in order to take on this villainous organization.
Baron Zemo's ability is agility with a Leader Skill of World Conquest and Passive Skill with Blood Blade; Viper's ability is poison with Toxic Queen as her Leader Skill and Snake Skin as her Passive Skill; and Taskmaster's Ability is Weapons' Master, using his Photogenic Reflexes as his Leader Skill, with his Passive Skill being Absolute Dodge. 
Additional updates include the ability to select matching time zones and upgraded Rank Rewards. Players can also take on the enhanced Frost Beast experience the Danger Room without a breakout system with a variety of new cooperative elements!
MARVEL Future Fight celebrated its fourth anniversary with over 100 million players across the world. The game is currently available worldwide in the App Store® and Google Play™.
For more information, please visit http://marvelfuturefight.netmarble.com.
The Hype Box
Can't-miss news and updates from across the Marvel Universe!