Games
Published November 18, 2016
Marvel Games Presents: Black Bolt
The super sonic king of the Inhumans makes his voice heard across Marvel games!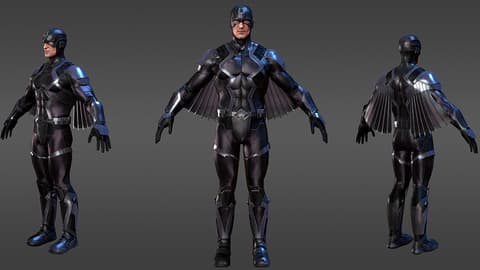 With over 75 years of rich history, the Marvel Universe has produced countless memorable heroes and villains. On a regular basis, Marvel Games Presents will highlight these characters' histories as well as shine a spotlight on their current gaming appearances.
Today, the spotlight falls on the leader of Marvel's next television stars, the Inhumans, Black Bolt!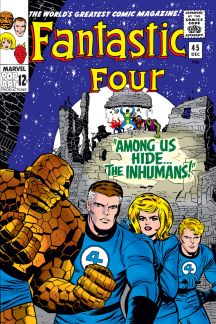 MEET BLACK BOLT
Exposed to the power-granting Terrigen mist while still an embryo, Blackagar Boltagon developed the ability to manipulate electrons in addition to a destructive sonic force unleashed by even a whisper of his voice. A silent and thoughtful leader, Black Bolt would become king of the Inhumans, ruling alongside his queen, Medusa, and the rest of the royal family.

MARVEL CONTEST OF CHAMPIONS
"Black Bolt is a fascinating character. He is the embodiment of duty and responsibility as a monarch, choosing to restrain his awesome power and only using it as a last resort. In a world where we see our leaders becoming pettier and more egotistic by the day, Blackagar Boltagon represents the purest idea of an enlightened ruler, one who sacrifices for his own people." – Gabriel Frizzera, Art Director on "Marvel Contest of Champions"

MARVEL FUTURE FIGHT
"It was difficult for us to bring the King of the Inhumans, Black Bolt, into our game. The concept of his voice being destructive was interesting, but it also made it difficult to envision and realize into 'Marvel Future Fight.' The effort that went into the character is why I have a particular affection for Black Bolt.
"When we first started developing Black Bolt's skill set, our primary objective was to show the players the magnanimity of his position as King of the Inhumans and the destructive capabilities of his voice as expressed in the original comics. From design to character animation, we persistently adjusted his skill composition and effects to create the Black Bolt we have now. Since then, we have been collecting feedback from our users and have adjusted the range and distance of Black Bolt's Quasi-sonic Scream attacks and also reduced the cool down time so players can get more of the percussion feel. To increase his [ability to survive], when Black Bolt advances to Tier-2, he now becomes immune to damage while using the Quasi-sonic Scream. Also, to show that sound waves are on the most part unavoidable, we added the 'Ignore Dodge' buff to the skill. These changes will showcase a Black Bolt that aligns more closely with the original comics.
"As the person in charge of the development team for 'Future Fight,' my hope and pleasure would be to know that our players felt absolute power while playing this character. Furthermore, we plan on improving many of the characters to be more similar to the original comics and to be even more exciting to play. Look forward to seeing what lies in the future for 'Marvel Future Fight.'" – Doohyun Cho, Dev Director of "Marvel Future Fight"

MARVEL HEROES 2016
"Silent and Stoic. There is not that much more to say about Black Bolt. I think the coolness of the All-New All-Different costume speaks for itself and I am proud of the attention the artist put into this model. I am hoping our fans are speechless when they see Black Bolt in action.  Also, Black Bolt destroys things with his voice. 'Nuff Said." – Chris Frenton, Art Director of "Marvel Heroes 2016"
MARVEL PUZZLE QUEST
"Black Bolt is a really strong 5-star character in 'Marvel Puzzle Quest'. He has a Quasi-Sonic power that will destroy part of the board with a whisper or the entire board with a scream causing massive damage when it is built up. But be careful with his passive ability as it can cause a ton of damage if not closely monitored!" – Josh Austin, D3 Go! Producer on "Marvel Puzzle Quest"



MARVEL TSUM TSUM
"His skill will be focused on his most devastating power – his quasi-sonic voice. The animation will be destructive!" – NHN PlayArt Corp., "Marvel Tsum Tsum"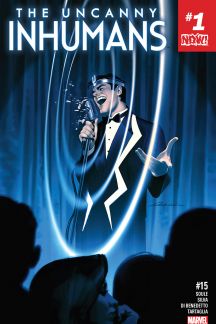 MORE BLACK BOLT
Follow Black Bolt's ongoing adventures in UNCANNY INHUMANS, issue #15 currently on sale!
The Hype Box
Can't-miss news and updates from across the Marvel Universe!