Games
Published May 24, 2017
Marvel Super Heroes Assemble to Battle Kang in Lego Marvel Super Heroes 2
Travel to Chronopolis and more with Lego Marvel Super Heroes 2 this fall!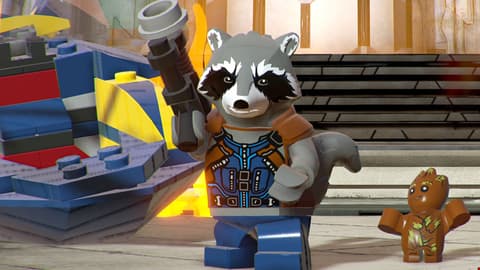 As previously announced last week, Warner Bros. Interactive Entertainment, TT Games, The LEGO Group and Marvel Entertainment announced "LEGO® Marvel Super Heroes 2," will be hitting shelves later this year. The all-new, original adventure and sequel to Lego Marvel Super Heroes brings together iconic Marvel Super Heroes across different eras and realities to battle the time-traveling conqueror, Kang!
Players can call upon heroes like Star-Lord, Spider-Gwen, Gladiator Hulk, Cowboy Captain America, and more, to go head-to-head in an epic battle across Chronopolis, an open world hub where all of Marvel realities like Wakanda and The Old West to New York City in 2099 and Sakaar converge. "LEGO Marvel Super Heroes 2" features a four-player multiplayer mode that allows friends and family to play competitively or unite cooperatively as a team.
"LEGO Marvel Super Heroes 2" picks up where the story ended in the first game with the Guardians of the Galaxy's arrival just as the Avengers defeated Galactus. Players will remember from the tag that Nick Fury thanks the Guardians for showing up despite not needing their assistance. However, Star-Lord replied they're on Earth for an entirely different reason. AVENGERS veteran Kurt Busiek has co-written the story for the game.
During a demo game play at a press preview event, TT Games' Head of Design Arthur Parsons revealed the game opens moments before the Guardians landed on Earth  in the Milano. Their trip disrupted, the Guardians must battle a Celestial that Kang saved from the end of time. The Guardians' only shot at beating the Celestial involves manipulating time. Parsons stressed the vital theme seen throughout the game is time — characters running out of time, characters coming from different periods of time, things being manipulated in time, etc. While players can manipulate time for their advantage, it can also be used against you by Kang and other enemies.
What's a LEGO game without its charm and playfulness? Fans will delight in the fact that several characters will have quirky features. Two noteworthy features we saw during the presentation included Star-Lord's Walkman, once played mid-battle, stops everything resulting in a Guardians dance break, while Spider-Gwen can bring in her drum set for a mini rock-out.
"LEGO® Marvel Super Heroes 2" will be available starting November 14, 2017 for PlayStation®4, Xbox One®, and PC. The game will be released for Nintendo Switch™ later this year.
Stay tuned to Marvel.com and @MarvelGames and @LEGOMarvelGame on Twitter for the latest on LEGO® Marvel Super Heroes 2!
The Hype Box
Can't-miss news and updates from across the Marvel Universe!