Games
Published September 26, 2019
'Marvel's Avengers' Character Outfit Spotlight: Black Widow
Plus, get a look at the alternate Classic outfit!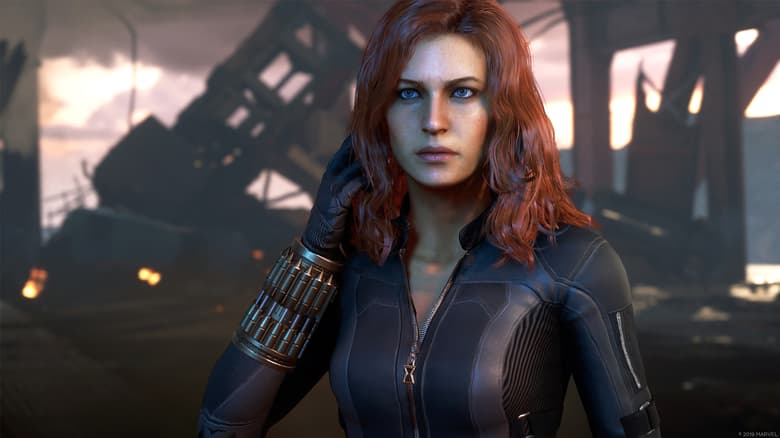 Created by Stan Lee, Don Rico, and Don Heck, Natasha Romanoff made her debut in TALES OF SUSPENSE #52 in 1964. The gifted spy is more than worthy of her moniker, Black Widow.
In Black Widow's character spotlight, we took a look at how Laura Bailey approached the super spy in her performance and how the Crystal Dynamics' combat design team approached her mechanics.
Now let's take a look at how Crystal Dynamics approached Black Widow's iconic look in Marvel's Avengers. Natasha's mainstay silhouette has evolved over the years since its debut with new equipment and embellishments. Not only is her uniform sleek and stylish, but it's also tactical.
"Black Widow is a super spy, and her outfit is designed around her gadgets and her strong need for agility," explained Tore Blystad, game director at Crystal Dynamics. "She has more gadgets than any other hero in the game and they all need to be properly incorporated into her suit."
Natasha's weaponized gauntlets – called Widow's Bites – and circular belt design are directly inspired by iconic Marvel art, but with a tactical execution.
Where the design most differs is the suit itself, which is a two-piece garment rather than the classic catsuit. It also features light reinforcement in areas such as the knees and elbows, includes holsters for her twin pistols and batons, and finishes with practical footwear.
ALTERNATE OUTFIT: CLASSIC
It's time to revisit the origins of Black Widow's most iconic ensemble.
While Natasha swung into the scene in TALES OF SUSPENSE #52 in 1964, in a look that would be unrecognizable today with her finely tailored clothing and expensive jewelry, she didn't dawn her classic black suit, Widow's Bite Gauntlets, and gold belt until THE AMAZING SPIDER-MAN #86 in 1970. Romanoff designed the new outfit herself, "in keeping with the swinging seventies" and "with the modern image of the new Black Widow" in mind.
It was a no-brainer for Crystal Dynamics to include Widow's most iconic look, inspired by BLACK WIDOW #4 (2010), as an in-game unlockable outfit in Marvel's Avengers. Drawing from over 80 years of Marvel history, Marvel's Avengers will include a wide array of iconic outfits from Marvel lore, as well as all-new designs. Some outfits – like Widow's classic catsuit - can be earned and unlocked in-game, and others will be purchasable in the marketplace. Outfits are purely cosmetic, and don't impact gameplay, meaning you can wear any outfit at any time.
From Marvel Games, Square Enix, and Crystal Dynamics, Marvel's Avengers is an original, story-driven, third-person action-adventure game, the definitive Avengers gaming experience will allow you to rebuild and reassemble Earth's Mightiest Heroes. It features a cinematic single-player campaign with Hero Missions and co-op Warzone missions. Assemble a roster of Avengers, customize them to harness their unique powers, and go online in four-player co-op Warzones to defend Earth from escalating threats. Marvel's Avengers will release simultaneously for the PlayStation®4 computer entertainment system, the Xbox One family of devices including Xbox One X, Stadia, and PC.
Reassemble and Embrace Your Powers on May 15, 2020! Play the Beta first on PS4. Pre-Order for Beta Access!
The Hype Box
Can't-miss news and updates from across the Marvel Universe!