Games
Published November 30, 2017
The Pet Avengers Enroll at 'Marvel Avengers Academy'
Marvel's mightiest animals take on Tiger Shark in the mobile game!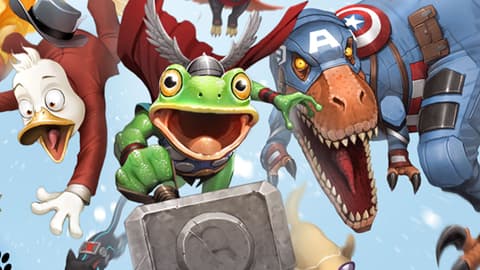 Our favorite batch of lovable critters come to "Marvel Avengers Academy"!
The villainous Tiger Shark has teamed up with Fin Fang Foom and the Lemurians to launch an attack against the school. The Pet Avengers and their human—or humanoid—counterparts need to band together if they'll have any chance of defeating this terrifying trio.
We grabbed some time with Allen Warner, Lead Narrative Designer at TinyCo, to find out who's joining the Academy, which heroes will see some surprising changes, and just how our team will bring the fight to Tiger Shark.
Marvel.com: The Pet Avengers are invading campus! What brings our heroes' lovable companions to Avengers Academy?
Allen Warner: The classic villain Tiger Shark is angry about not getting accepted to Pet Avengers Academy, so he turns his frustration and rage into a revenge plot against both the Pet Avengers and Avengers. His fellow underwater villains the Lemurians have been without a leader since [the Avengers captured Attuma], so they decide to join Tiger Shark's cause to get revenge and free their former leader. Tiger Shark knows that they're outmatched, but he evens the odds by waking Fin Fang Foom, who is eager for his own revenge against the Avengers.
Marvel.com: Which fan-favorite animal heroes—both familiar and new—will we see as Tiger Shark wages his war against the Avengers?
Allen Warner: So many amazing animals and animal-themed heroes. New characters will include Hairball, Throg, Redwing, Firebird, Zabu, and Howard the Duck. For those counting at home, that's a kinetic-powered cat, a frog with the powers of Thor, a telepathic bird, a sabertooth tiger, a surly alien duck, and a classic hero who was tutoring students at Pet Avengers Academy when Tiger Shark and the Lemurians attacked. I can't even begin to tell you how amazing all of these characters look, and how fun their stories and unique animations are. This was a huge task for our animation team in particular because of all of the unique and varied body types these animal heroes have, and they absolutely knocked it out of the park. It's such a fun lineup, and I think it's a really great fit for a holiday event.
In addition to these new characters, we'll be bringing back an array of awesome animal and animal-themed heroes, including Lucky, Cosmo, Lockjaw, Black Panther, Squirrel Girl, Devil Dinosaur, and many, many more.
Marvel.com: Meanwhile, the Avengers currently attending the Academy will need to gear up like their pet friends if they hope to win this battle. What new suits will we see throughout this fight?

Allen Warner: We did something a little different this time to celebrate the Pet Avengers theme. There will still be some really fun winter-themed outfits for Wasp and Loki, but there will also be some outfits that are unlike anything we've ever done before. For both helpful and mischievous reasons, Loki uses his sorcery to transform some of our heroes into actual animals. I can promise that no one has ever seen these heroes like this before, and our concept artists created some amazing designs. These animal "outfits" will be for Black Widow, Loki, Iron Man, Captain America, and Black Panther. There will be new stories about their adventures in their animal incarnations, and fun new animations that celebrate their classic traits and powers combined with their new animal forms.
You can also expect the return of some of our coolest animal-themed outfits from the past, including Cap-Wolf, Cat Loki, and the always awesome Penguin Falcon.
Marvel.com: Where will Tiger Shark, Fin Fang Foom, and the Lemurians set up to bring the fight to our heroes?
Allen Warner: The villains will be hanging out around the conquered Pet Avengers Academy, which is of course, designed for our animal heroes. It's a really cool design, and feels appropriately fun and festive for the holidays. We'll also be covering the entire playspace in snow like we did for last year's winter A-Force event.
Marvel.com: This event will wrap up 2017 for "Marvel Avengers Academy." Can you give us any hints as to what 2018 has to offer?

Allen Warner: As always, you can expect us to celebrate the major Marvel movie releases, including "Black Panther" and "Avengers: Infinity War," along with plans to showcase some of the major events and characters from the comics, and other big surprises. By the end of the Pet Avengers event, it will be clear who's coming to Avengers Academy, and it will change everything…
For all the latest news and updates on "Marvel Avengers Academy," visit Marvel.com and follow us on Twitter @MarvelGames!
The Hype Box
Can't-miss news and updates from across the Marvel Universe!