Games
Published June 19, 2017
Three New Faces Join 'LEGO Marvel Super Heroes 2'
The upcoming game adds two Inhuman powerhouses plus a symbiote soldier!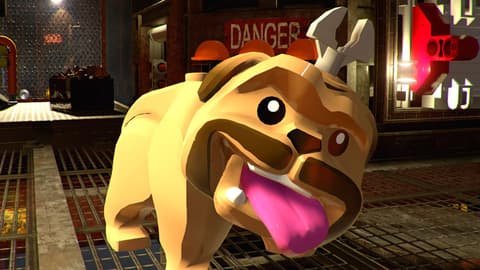 At E3 2017 last week, our friends at TT Games revealed some new playable characters joining the roster of "LEGO Marvel Super Heroes 2." Agent Venom, hot off his run as a member of the Guardians of the Galaxy, will help players in the game's open world, while Inhuman favorites Lockjaw and Medusa will play into the game's story. Fans of these heroes—and how can you not be a fan of LEGO Lockjaw? He's adorable!—will surely be excited to play them in-game, so we wanted to get some more details, straight from the source.
We grabbed a few minutes during the gaming convention's madness to speak to Arthur Parsons, Head of Design at TT Games, and gather what new info we could.
Marvel.com: Agent Venom is back from outer space! How does the symbiote-powered, former military man factor into "LEGO Marvel Super Heroes 2?"
Arthur Parsons: Agent Venom is a great character to bring to the "LEGO Marvel Super Heroes 2" roster. You'll encounter him in the Chronopolis Open Hub World as part of the free play quests. Being an expert marksman, Flash Thompson is an awesome character to play as in the game, especially due to his super-human strength and skilled combat abilities. He may also have a trick or two that we hope to share with players later on.
Marvel.com: Alongside Agent Venom, a couple of Inhuman favorites were just revealed. Getting to play as Lockjaw is a brand new kind of experience for Marvel fans. What is he like in the game? Does the character have any special abilities?
Arthur Parsons: Lockjaw's LEGO character is adorable, definitely a favorite of mine. The animation team at TT Games has given him a real personality so it's great to bring him into the LEGO Marvel videogame series for the first time ever. He's able to teleport, which is really useful at different points in the game, especially given the emphasis on time all throughout "LEGO Marvel Super Heroes 2."
Marvel.com: The Inhuman Queen Medusa—to whom Lockjaw owes his allegiance—is sure to get players excited. What role does she have to play in the game?
Arthur Parsons: Medusa plays an integral role in the game as players will need to travel to Attilan as part of the story campaign. I can't say anymore right now, since I don't want to spoil anything, but it is exciting to bring another great Marvel character to the series for the very first time.
Marvel.com: What will the experience be like for those who choose to play as the red-haired heroine from Attilan? Does she have special character abilities?
Arthur Parsons: Medusa is an amazing character to play as. Her red hair is the key of course, and she's able to control her flowing locks to great effect. I think everyone is going to love seeing just what her hair can do in game.
Marvel.com: Will we see other Inhumans in "LEGO Marvel Super Heroes 2?"
Arthur Parsons: Well, given that we are going to Attilan as part of the story campaign, and with Lockjaw and Medusa as playable characters, it could well be the case that other Inhumans may make an appearance in the game. For now though, everyone will have to wait and see!
"LEGO Marvel Super Heroes 2" hits consoles on November 14, 2017—until then, stay tuned to Marvel.com and our social channels for all the latest news!
The Hype Box
Can't-miss news and updates from across the Marvel Universe!