Gear
Published May 14, 2019
Hasbro Offers Infinite Power With 'Avengers: Endgame' Toys
Marvel Studios' 'Avengers: Endgame' stars join classic comic characters in latest Marvel Legends wave from Hasbro, plus more!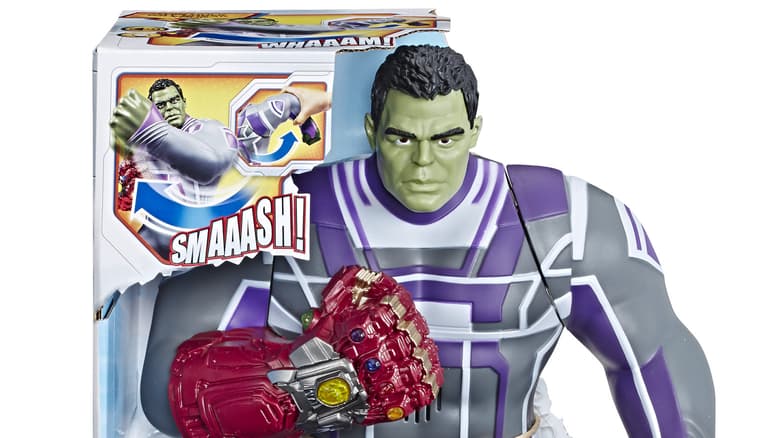 With Marvel Studios' "Avengers: Endgame" already achieving legendary status between its box office success and the way it tied up a decade of storytelling (while setting the stage for even more), it seems fitting that many of the film's characters will join the hallowed ranks of Hasbro's Marvel Legends.
Earlier this year at New York Toy Fair, Hasbro showed off the comic-based takes on Loki, Beta Ray Bill, Rock Python, and Union Jack plus the Marvel Cinematic Universe Shuri figure, though we didn't know at that time how accurate it would be to "Avengers: Endgame"!
Newly revealed additions from the film include War Machine and Rescue, and even bigger news came in the form of the Build-A-Figure: Hulk. The Jade Giant might not be a stranger to the Marvel Legends line, but this is the first time the smart version from the film will make its plastic debut from Hasbro! The Legends will be available this summer at all major retailers and run around $19.99. Get them all to create Hulk!
But that's not all -- Hasbro also showed off a pair of other toys that will come out this fall. First up, check out the collector-oriented Marvel Legends Series Avengers Power Gauntlet. As with the Infinity Gauntlet based on Thanos' fancy hardware in Marvel Studios' "Avengers: Infinity War," this one also features moveable fingers and a variety of lights and sounds from the film. The collectible can be pre-ordered right now for $99.99 on Hasbro Pulse.
Finally, younger fans can recreate that fateful and oh-so-satisfying "Avengers: Endgame" snap with the Power Punch Hulk 14-inch figure! With this figure, the smartened-up Hulk comes with the new Infinity Gauntlet and sports his purple and grey suit. Boasting a pull-back-and-punch action feature, this smashing toy also features 20-plus sounds and phrases from the film and light-up effects on the glove itself! Available at major retailers, you can pick Power Punch Hulk up this fall for around $39.99.
See more of the new Hasbro Marvel Legends Series in the gallery below, and stay tuned to Marvel.com for more news about Marvel toys and gear!
The Hype Box
Can't-miss news and updates from across the Marvel Universe!