Gear
Published November 30, 2022
Holiday Gift Guide 2022: Jewelry, Pins, and Accessories
Snag these stocking stuffers now!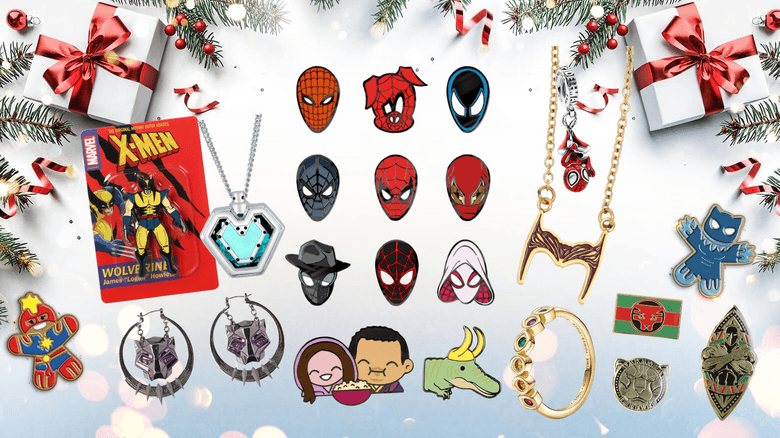 Looking for a sparkly stocking stuffer or some bling that packs a big punch? Dive into a wide assortment of Marvel jewelry, pins, and other accessories that are perfect to gift to a loved one (or yourself) this holiday season.
Whether you want to proudly share your Marvel love on your sleeve, or find something with subtle Marvel touches, find new, exciting, and shiny gifts to give below! 
Know those Marvel emojis you love on social media? Well, now they can be yours in real life. Earlier this year, 100% Soft launched an ever-expanding line of Marvel emoji pins, and it continues to grow with each new Disney+ series and MCU title! Pick up your favorite characters — Doctor Strange, She-Hulk, Ms. Marvel, and more — plus other fan-favorite characters who need some love, too, like Morris, Meik, and K.E.V.I.N. 
Wakanda Forever! With the blockbuster movie now in theaters, channel your inner warrior and/or genius inventor with brand-new statement pieces from RockLove Jewelry. Looking for more Marvel? Shop all your favorite heroes (and some villains) now featuring the likes of Doctor Strange, Groot, Alligator Loki, and more! 
Discover brand-new Pandora necklaces, rings, and charms featuring Black Widow, Iron Man, Black Panther, and more. And, if you feel your Spidey-sense tingling, it's because a brand new wave of Spider-Man items have arrived featuring the web-slinger in all his sparkling glory. 
Shopping for a way to showcase your favorite Marvel characters and shows? Find dainty necklaces and earrings along with a wide variety or pins and other accessories at Hot Topic now (plus, everything is on sale right now, too!). 
A Scarlet Witch crown? Moon Knight earrings? A Daredevil necklace? Find all those items and more now at BoxLunch, along with so many exclusive items you can only find here. Find full matching sets for characters and Disney+ series now — and snag everything on sale, too. 
Find exlcusive, vintage-like accessories (along with cool clothing, hats, and more) now at Heroes and Villians. Come for the wide arrangement of X-Men lapel pins, stay for the Avengers varsity sweaters. 
Want to stay on top of everything in the Marvel Universe? Follow Marvel on social media—Twitter, Facebook, and Instagram—and keep watching Marvel.com for more news!
The Hype Box
Can't-miss news and updates from across the Marvel Universe!