Gear
Published October 16, 2020
Shop Marvel: Everything You Need For A Ghoulish Halloween
Packed with scares, candy, and costumes!
Candy? Check. Masks? Check. Costumes? Check. Costume t-shirts? Check. Marvel? Check! If you're looking to add some scary flair from the Marvel Universe into this year's spooky season, we've got everything you need to make Halloween 2020 a frightful one! Or, simply just a fun one filled with all your favorite Marvel characters.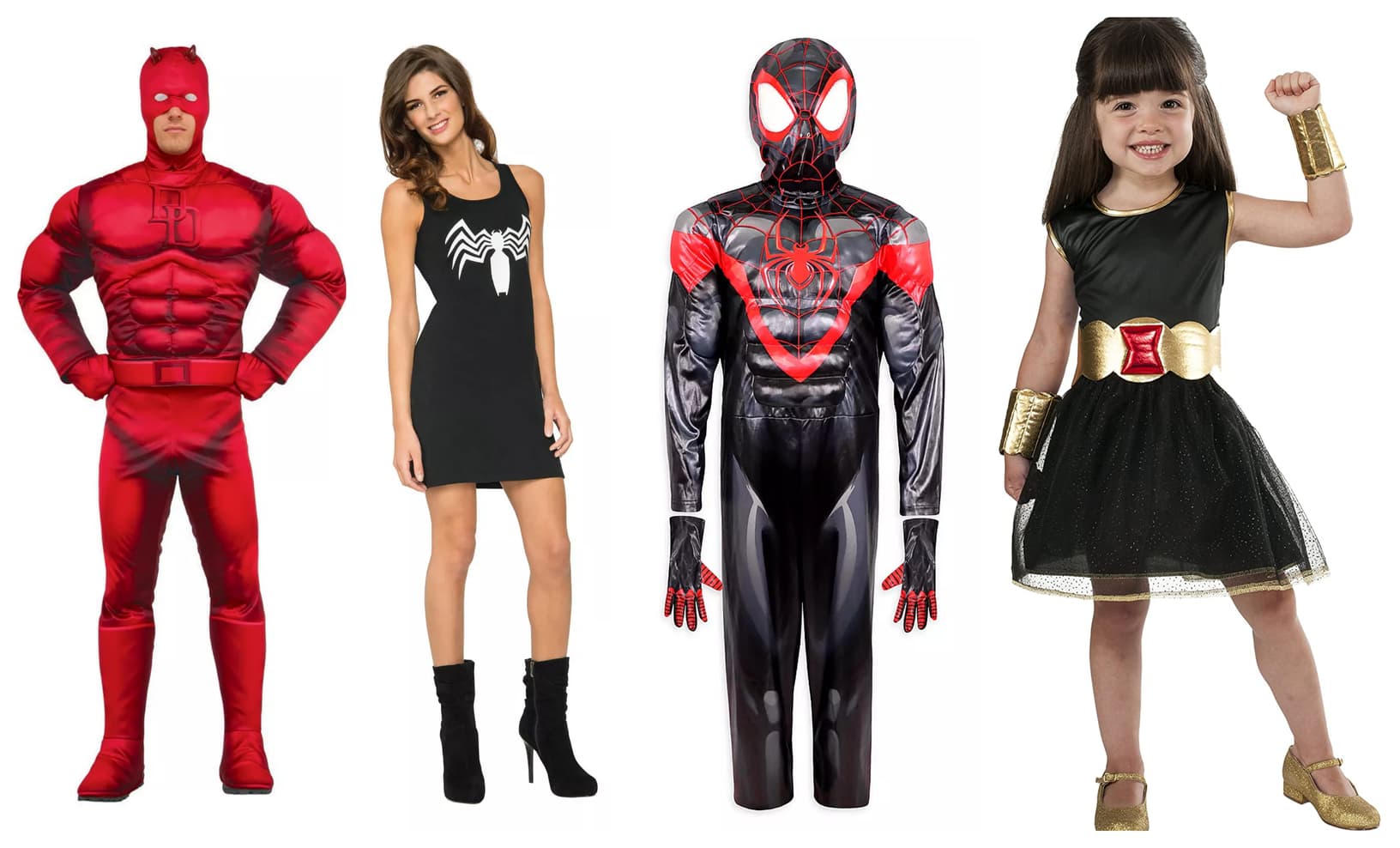 There are dozens upon dozens of costumes for all heroes, big and small! For kids, there's a huge selection of outfits to choose from, including Black Panther, Ghost-Spider, Teen Groot, Miles Morales, Venomized Captain America, Ms. Marvel, and even a Black Widow Fancy Dress Up Costume for a fun twist on Natasha Romanoff's iconic look. 
For adults, pick up Spider Gwen, Shuri, Deadpool, Daredevil, and Thanos, or even something more minimal like a Venom Tank Dress.

Don't want to commit to a full costume but still want to dress up? There are dozens of different character costume t-shirts, like Spider-Man Costume T-Shirt, Iron Man Armor Costume T-Shirt, Wolverine Costume T-Shirt, and Rogue Halloween Costume. Want to make it obvious you're wearing a costume (even though you're not wearing a costume)? Snag a shirt that literally says "best costume ever" featuring Black Widow, Spider-Man, and Scarlet Witch.
Want to skip the costume all together, but still celebrate Halloween? You'd be surprised how many pumpkins can be worked into a Marvel shirt, like Venom Pumpkin Cut-Out Hoodie, Hydra Halloween Pumpkin Tee, Avengers Happy Halloween Pumpkins Sweatshirt, Ghost Rider Happy Halloween Tee, Spider-Man and Iron Man Halloween Pumpkins, and Guardians of the Galaxy Silhouette Halloween T-Shirt. You also can't go wrong with the Marvel logo designed for the holiday, including Marvel Brick Bones and Marvel Melting Logo!

The Hype Box
Can't-miss news and updates from across the Marvel Universe!