Gear
Published February 25, 2021
Shop Marvel Must Haves: 'Agatha All Along'
The 'WandaVision' nosey neighbor is in the spotlight now!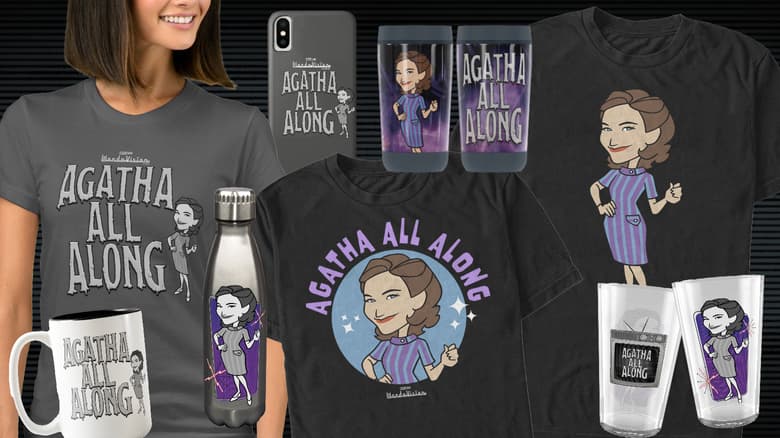 Welcome to Marvel Must Haves, your best destination for all new exciting and epic products out of the Marvel Cinematic Universe! Phase 4 of the MCU kicks off with Marvel Studios' WandaVision and each week through the run of the series we'll be bringing you brand new apparel, accessories, toys and more based on and inspired by the show. Dive into what's new this week, and don't forget to share what you must have on social with #MarvelMustHaves!
For anyone who has had the ridiculously catchy tune of "Agatha All Along!" stuck in your head for the past few days (and counting), you've come to the right place. Hot off the press from Westview, New Jersey, a brand new bevy of Agatha merchandise has arrived, celebrating everyone's favorite naughty nosey neighbor. 
In Episode 7 of Marvel Studios' WandaVision, "Breaking the Fourth Wall," it's revealed that — cue the music! — it's been Agatha all along messing up things in Westview. The friend Wanda Maximoff and Vision had come to be known as "Agnes?" It's just a cover. She's really Agatha Harkness, another "magic" girl just like Wanda. 
With a ridiculously snappy theme song (If Wanda can have so many, Agatha can have one!), viewers learn just what's really been going on this whole time. And Agatha killed Sparky, too! 
Dive into the new batch of Agatha items below, and apologies in advance for the earworms. Having trouble viewing the image gallery? Click here. 
Stay tuned for more #MarvelMustHaves! 
Looking for more Marvel Must Haves? Shop Season 1 of WandaVision here! 
Looking for more WandaVision? Follow @WandaVision on Twitter, WandaVisionOfficial on Facebook, and WandaVision on Instagram! 
Want more exciting information about Phase 4? Find the latest Marvel Cinematic Universe news right here — and stay tuned for more!
This is just the beginning of the Phase 4 news. Stay tuned to Marvel.com for more details! And be sure to follow Marvel on Facebook, Twitter, and Instagram.
The Hype Box
Can't-miss news and updates from across the Marvel Universe!