Movies
Published February 5, 2019
Looking Back at 1944's 'Captain America' Movie Serial
75 years ago, Cap became the first Marvel character to make the leap to live-action!

Our ongoing celebration of Marvel's 80th Anniversary includes looking back at memorable TV and film adaptations of Marvel characters through the years, and when it came to seeing a Marvel hero brought to life outside of comics, it was none other than Captain America who paved the way! 
This week marks the 75th anniversary of "Captain America," a live-action serial from Republic Pictures which debuted on February 5th, 1944 and served as the first-ever on screen adaptation of a Marvel Comics character, back when Marvel was still called Timely. Like other serials of that era, "Captain America" was released in short weekly installments that played in movie theaters, with the 15 chapters -- most of which were around 15 minutes long -- adding up to around four hours of content. 
Though produced during World War II, the serial did not put Captain America into a wartime scenario like the comics did. Indeed, most of the familiar elements of Cap from the comics were altered, as we met District Attorney Grant Gardner (Dick Purcell) – rather than Army soldier Steve Rogers – who also secretly fought crime as the hero known as Captain America.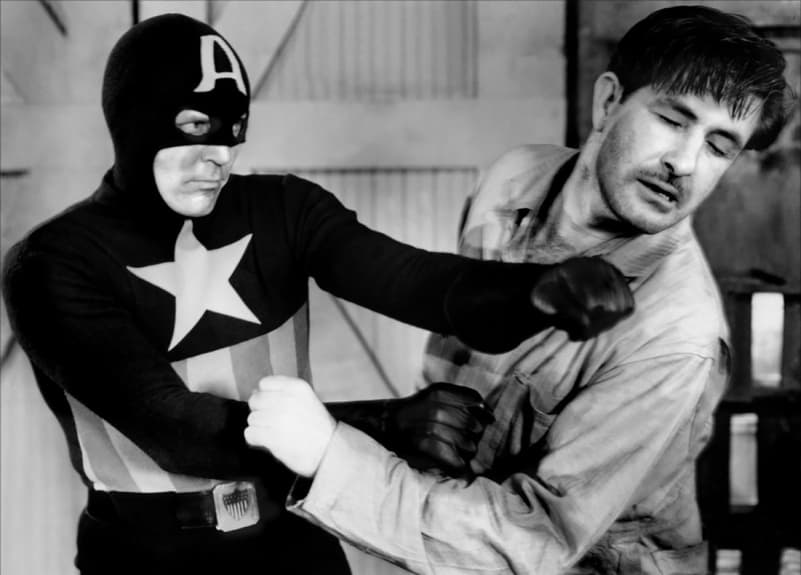 Dick Purcell as the title character -- seen here taking out a bad guy -- in "Captain America" (1944) by Republic Pictures Corporation, © Melange Pictures, LLC
Though his secret identity was changed, the costume Grant wore was recognizably Cap, albeit with some variations. Most notably, this Captain America didn't carry his shield, though eagle-eyed viewers might note the symbol on Cap's belt buckle is similar to the original triangular shield Captain America carried in the comics, prior to the introduction of his more familiar circular shield. Also of note is that this Captain America is seen riding a motorcycle during the opening credits of the serial, well before a motorcycle would become frequently used by Cap in the comics. 
Over the course of the story, Grant is asked by the Mayor (Russell Hicks) to investigate a series of deaths where each person is found clutching a small scarab, leading Grant to also use his Captain America identity to take on the forces of the man behind it all, Dr. Cyrus Maldor, AKA The Scarab (Lionel Atwill). In typical serial/cliffhanger fashion, episodes tended to conclude with either Captain America or someone close to him – like Grant's secretary, Gail Richards (Lorna Gray) – in a precarious situation and seemingly close to death's door, before the next installment reveals how they survive, as Cap continues to fight on.  
While certainly making some huge diversions from the source material, "Captain America" was well regarded among serials of its time and was given a second run through movie theaters again in 1953. While more faithful adaptations would take a while to appear, "Captain America" secured its place in history as the first example to prove that Marvel characters could make the leap to live-action and grab an audience's attention just as they did in the comics. And for that, we thank you, Grant Gardner! 
Make sure to check out more about Marvel's 80th Anniversary!
The Hype Box
Can't-miss news and updates from across the Marvel Universe!