Movies
Published June 2, 2023
'Spider-Man: Across the Spider-Verse': The Directors on Miles and Gwen's Importance
Directors Joaquim Dos Santos, Kemp Powers, and Justin K. Thompson talk about the Spideys.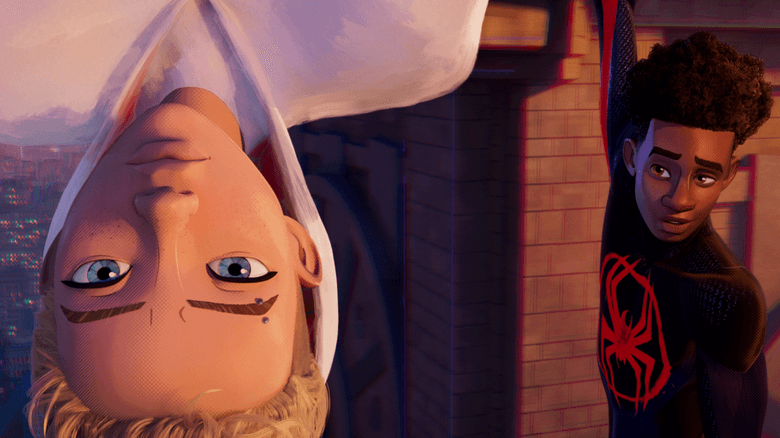 Miles Morales is swinging into theaters again with Spider-Man: Across the Spider-Verse, and he's not alone. He's once again joined by a plethora of other Spideys throughout his journey to save the day (and the Multiverse).
In this next chapter of the Spider-Verse saga, after reuniting with Gwen Stacy, Brooklyn's full-time, friendly neighborhood Spider-Man is catapulted across the Multiverse, where he encounters a team of Spider-People charged with protecting its very existence. But when the heroes clash on how to handle a new threat, Miles finds himself pitted against the other Spiders and must redefine what it means to be a hero so he can save the people he loves most.
And as for who viewers love most? That's Miles himself. Speaking to Marvel, the film's trio of directors — Joaquim Dos Santos, Kemp Powers, and Justin K. Thompson — know that Miles is a very special character to many, especially since younger generations have grown up knowing him as Spider-Man more than anyone else wearing the mask.
"To my son, Miles is the first Spider-Man that he really knew and cared about…My son, who's 15 now, that's how he met Spider-Man is through Miles," Powers explains. "He's their everything. And you never forget that and trust me. I don't think any of us haven't been reminded of it on an almost daily basis for the past several years."
Santos acknowledges that Miles took this mantel over from Peter Parker, the first Spider-Man to appear in early Marvel comics. But with Miles, "he's become sort of the figurehead of this movement that I don't know happens with any other superhero where you're allowed to transpose yourself into this character. Peter wore the mask. So any kid could wear the mask and pretend to be [Spider-Man]. Miles has allowed anybody to see themselves as Spider-Man, truly, with the mask on, with the mask off. It's super special, and it's something that I think we've said it a few times here, but we shouldn't take for granted."
Miles, however, isn't the only Spidey with a huge focus, and fan base, in the movie. Santos describes Gwen Stacy's Spider-Gwen as taking "the world by storm."
"I can remember there was a specific moment where artists were posting a lot of art on social media, and I don't know what happened, but my entire social media got flooded with Spider-Gwen imagery," he recalls. "I was like, what the heck is going on right now? So I had to crack the book open and get to sort of understand this sort of sliding door story of how Gwen becomes Spider-Woman."
In the film, the filmmakers were very conscious of how Gwen's story parallels Miles in many ways, serving as a mirror at times for Miles. As Thompson adds, "The idea that they have this very similar background, they parallel each other so much that they wind up relating to each other."
In the first film, Spider-Man: Into the Spider-Verse, the two different Spideys meet each other and over the course of the movie form a deeper connection. Now, separated by Multiverses, both Miles and Gwen, "long for that connection" as Thompson explains.
"Even though it's been a year and a half, and they're dimensions away from each other, they're the only one person in any dimension who can understand them," He continues. "I think, having those same experiences helped sort of guide the relationship between Miles and Gwen through the film. that only one person in any dimension can understand them. Having those same experiences helped sort of guide the relationship between Miles and Gwen through the film."
But still, want more Spideys? Like Spider-Punk, Spider-Man India, Cyborg Spider-Woman, Spider-Man 2099, Peter B. Parker, and dozens more? The good news is that Miles and Gwen are just two of the web-slingers viewers will meet in the film.
"You fall in love with these characters, that's the goal. There are versions of this film where we spend way more time or not enough time [with other Spider-Men]. Hopefully, you know, we've done a good enough job — and I believe we have — to allow people to want to see more stories in those places. It's all in service to Miles for this film. But I think all those worlds that we travel to have legs of their own. I mean, we literally created six different films in one film here."
Swing back into the Multiverse. Spider-Man: Into the Spider-Verse is now playing exclusively in theaters!
The Hype Box
Can't-miss news and updates from across the Marvel Universe!