Movies
Published January 25, 2018
The Ten Biggest Things We Learned on Set of Marvel Studios' "Black Panther"
Get ready for T'Challa's royal arrival on screen on February 16!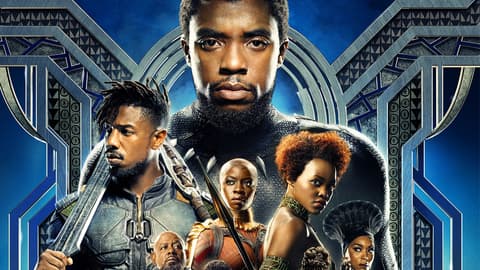 T'Challa first appeared in the pages of Jack Kirby and Stan Lee's 1966 FANTASTIC FOUR (#52). Now, the heir to the Wakandan throne gets ready to take center stage in the Marvel Cinematic Universe in next month's Marvel Studios' "Black Panther."
Last year, Marvel.com had the opportunity to visit the "Black Panther" set, and we saw and learned tons of incredible information surrounding our Wakandan king T'Challa, the women that make up the Dora Milaje, our main antagonists, and Wakanda itself.
Here are the 10 biggest things we learned about "Black Panther" from our set visit!
The Marvel Cinematic Universe "Black Panther" is based on Christopher Priest and Ta-Nehisi Coates' comics runs.
"Black Panther" continues exactly where "Captain America: Civil War" left off.
"Black Panther" explores what happens when T'Challa returns home, how does Wakanda cope with the loss of T'Challa's father, King T'Chaka, and if T'Challa is ready to be the king of Wakanda
Expect to see and learn about the Dora Milaje (the "Adored Ones") or as "Black Panther" Executive Producer Nate Moore describes them, "an all-female Seal Team Six," led by Okoye (Danai Gurira).
In fact, Chadwick Boseman wants you to know that there are no damsels in distress in this film.
T'Challa's 16 year old sister Shuri may very well be the smartest person in the world, and she heads up Wakanda's technology. Tony, did you hear that? Step up your game!
The independent African nation, Wakanda, is the most technologically-developed city in the world. Its advancements is due in part to Vibranium, their knowledge of handling Vibranium, and their isolation from the rest of the world.
There is no shortage of James Bond-like action in this film. Lupita Nyong'o even handles her own stunts giving heavy Judo and Jujitsu influences to Nakia's fighting style.
Can we expect any of our Avengers popping up on screen? According to Moore, "There's so many characters in the Black Panther world that we wanted to explore, we didn't want to rely on cameos from other movies."
As for our antagonists, filmgoers can expect to learn more about Ulysses Klaue's relationship to Wakanda and Erik Killmonger's vision for Wakanda's power and legacy.
We'll be exploring more secrets and insights of Marvel Studios' "Black Panther" in the coming days and weeks leading up to its theatrical release!
Get your tickets now for "Black Panther" and stay tuned for even more royal action in the coming days and weeks!
If you're interested in learning more about Wakandan architecture and Marvel Studios' "Black Panther," pick up MARVEL'S BLACK PANTHER: THE ART OF THE MOVIE in stores February 13. Go behind the scenes with exclusive concept artwork and in-depth analysis from the filmmakers in this keepsake volume!
"Black Panther" hits theaters February 16! While you await the King, follow @theblackpanther on Twitter and like Black Panther's official Facebook page!
The Hype Box
Can't-miss news and updates from across the Marvel Universe!