Podcasts
Published July 22, 2019
Listen to Chapter 4 of 'Marvel's Wolverine: The Lost Trail' for Free Today
Get a recap of the previous episodes before diving into the latest chapter!
Every Monday, new episodes of Marvel's Wolverine: The Lost Trail are released for free! To mark each new episode, we're doing recaps and updating a map from last week's chapter.
But first, listen to the latest episode of Marvel's Wolverine: The Lost Trail right now! Get lost in Chapter 4, "Into the Swamp," below, then keep reading for more insights on previous episodes.
For a look at where we were before episode 4, we deputized Marvel.com writer (and first-time listener) Amanda Ames to keep up with the action as it's released. Get caught up on Chapters 1 and 2, then get a look at what went down in Chapter 3 below...
With Weapon X in hot pursuit, things in the bayou continue to rev up as new threats take to the streets.
Agent Peirce isn't letting Logan slip through her fingers this time around. Not only does she have a tracker on Marcus, she's also set the Cold Blooded on a warpath loaded with quite the arsenal of tranquilizer darts. She wants her prey captured, and she wants him alive. And to make matters worse, the Whisper Man is still on the wind and he may be more connected to Weapon X then we initially thought. New evidence continues to surface as our pair of backwater detectives begin to decipher Maureen's notes...but something lurks in the mud down below.
Can we clear the waters long enough to find our missing persons? Here's what we know so far:
Logan and Marcus make a house call to speak with Roxanne Guma, whose husband, Matthew, vanished nearly four months ago—right around the time all the disappearances started happening. It turns out a familiar face, or should we say voice, visited Matthew just before his disappearance...only this time Logan recognizes the description—it's Jason Wyngarde. 
While Logan can't remember how he knows our whisper man, he does know Wyngarde means bad news. Roxanne explains that Wyngarde wanted Matthew to build a complex to house mutants and humans alike, and though her husband refused the offer, she found hundreds of blueprints for a compound called Green Haven in his office after he disappeared into the bayou.
With the threats piling up, Logan makes the executive decision to push Marcus into the wind, taking his reluctant companion to the Jolly Roger to meet with the Flamingo, a friendlier blast from Logan's past who agrees to smuggle Marcus out of New Orleans. But the quiet operation turns into an all out brawl after the Cold Blooded and Agent Peirce arrive. The pair narrowly escape, none the wiser to the tracker placed on young Marcus.
Can Logan evade Weapon X long enough to find Green Haven, or will he slip into the quick sand surrounding him? It's time for our two investigators to get to the center of things. It's time to buy a boat.
Here's a rough sketch of where the journey has taken us so far...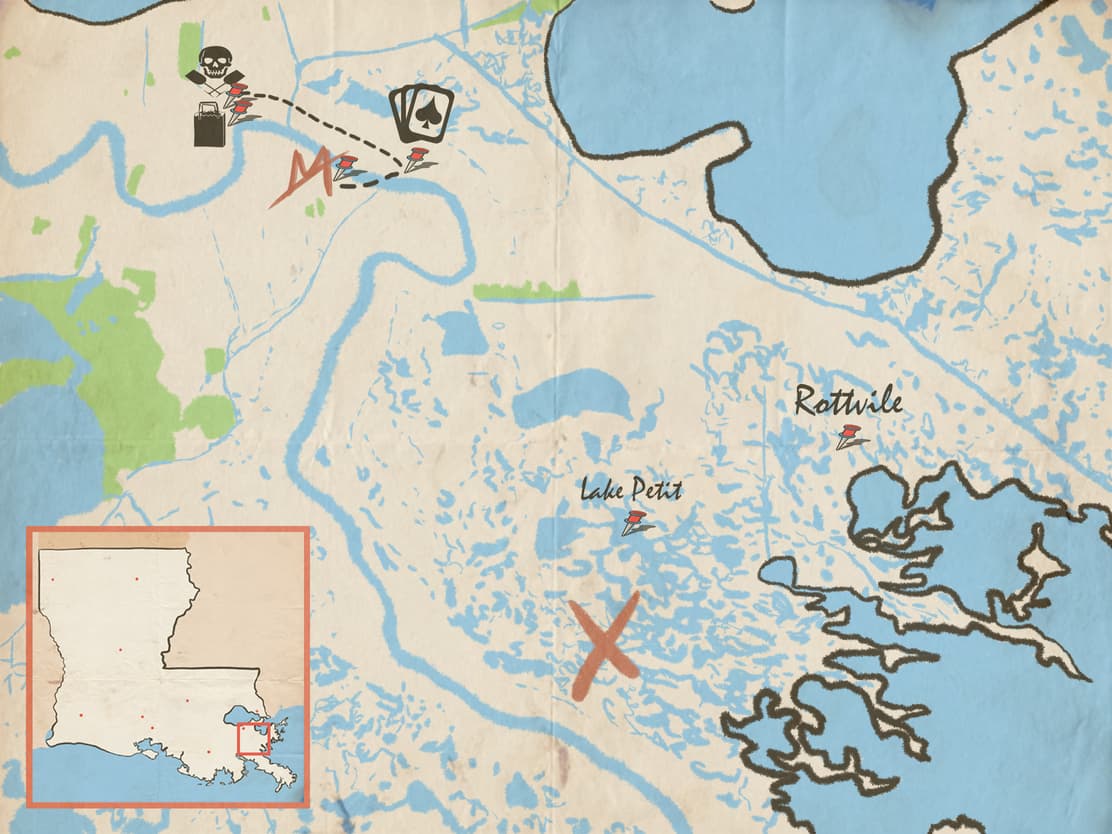 The Hype Box
Can't-miss news and updates from across the Marvel Universe!