Podcasts
Published June 24, 2021
Getting to Know Cora, the Rigellian Recorder of 'Marvel's Wastelanders: Old Man Star-Lord'
Series scribe Benjamin Percy presents a behind-the-scenes look at the new character!
In a post-apocalyptic future, Marvel's Wastelanders: Old Man Star-Lord finds Peter Quill and Rocket a little paunchier, a little slower, and a lot saltier than they were during the glory days of the Guardians of the Galaxy.
They quickly discover the Earth isn't what it used to be either, when they crash land 30 years after all the world's Super Villains seized control. The former Guardians are accompanied by a Rigellian Recorder, affectionately dubbed "Cora," who documents their mission to find the Black Vortex—an ancient relic reported to yield cosmic powers—before guillotine collars bestowed upon them by the Collector snap their necks.
In the barren, desolate wasteland of the mid-west as controlled by Doctor Doom, they encounter the ageless telepath Emma Frost, outlaw Ghost Riders, and the bloodthirsty Kraven the Hunter. Who will find the Black Vortex first and what will be the price of its power?
Cora, the Rigellian Recorder responsible for documenting our heroes' exploits, has emerged as both a fan favorite and a fascinating enigma crucial to the story of Old Man Star-Lord, thanks in no small part to actor Nadine Malouf's brilliant portrayal of the character. And, according to writer Benjamin Percy, Cora plays several significant roles.
"The rookie perspective is something that I think is especially helpful in the audio frame," he begins."Think about the rookie perspective in other stories—Harry Potter is not a wizard when his story begins. Luke Skywalker is not a Jedi at the beginning of Star Wars. And Ethan Hawk is a fresh-faced cop, partnered with a grizzled veteran, in Training Day.
"And that's because there's a lot of stuff that needs to be explained. And exposition can be hazardous to storytelling—especially audio storytelling, because you rely so heavily on dialogue. So, because characters like Harry Potter and Luke Skywalker know nothing about Hogwarts or The Force or whatever, you've got this curiosity driving them. And they will learn at the same time that the audience learns.
"Something very similar is happening in Old Man Star-Lord, in that we're going to be introduced to a post-apocalyptic Earth. And everything we know about the Marvel Universe has been turned on its head. And the story of Quill and Rocket begins in space. And until they arrive on Earth, when the base lands at the end of the first episode, they have no clue what's happened to our planet.
"So the audience is going to be learning about the new rules of this world as they learn. It's an organic delivery system. And the Recorder is at the heart of this."
Rigellian Recorders have long documented the history of the mighty Marvel Multiverse; they first appeared in the pages of Stan Lee and Jack Kirby's THOR #132 in the mid-1960s. Since then, they've wandered the cosmos as objective observers in search of knowledge. Like Uatu the Watcher, but with wires and plugs.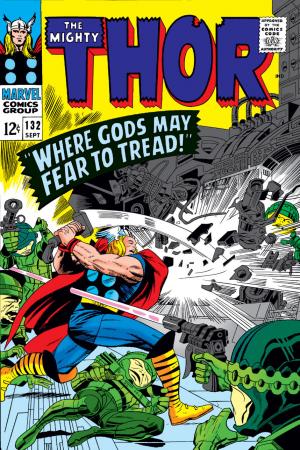 "For those who don't know," Percy fills us in, "Rigellian Recorders are a race of sentient robots. And they're charged with exploring territories and chronicling information about them. And, we'll see if this stays true, but they appear to have no moral stance. 
"They're not meant to change history. They're to observe it in the making. So they latch onto those that they view as game changers, for good and for evil, so they can be privy to wars and scientific breakthroughs or artistic geniuses or geopolitical machinations."
The observational attribute inherent to this decades-old Marvel mainstay made their inclusion as an audience proxy in Old Man Star-Lord a no-brainer.
"So, Cora. In my head, from very early on, I was hearing her voice—and the actor [Nadine Malouf] did such a brilliant job with this—as being rather androgynous, and the personality being rather dorky and completely earnest in her curiosity, unable to detect sarcasm or irony. I just thought, 'What if this Recorder latches onto Quill because Quill does all that self-mythologizing?'
"And when he looks back on the Guardians of the Galaxy, he's kind of like Gloria Swanson in Sunset Boulevard, looking back with nostalgia on what he was. And so the Recorder Cora will identify Quill as a hero, in part because he's pronouncing himself a hero, as a world changer, as an active author in history. And he's going to really embrace the fact that she wants to hear his story."
Listen to the first five episodes of Marvel's Wastelanders: Old Man Star-Lord with SiriusXM, Pandora, Stitcher, Apple Podcasts, Spotify, Pocket Casts, or wherever you get your podcasts! And stay set for new installments of the show, plus interviews with its cast and creators, every week on Marvel.com!
The Hype Box
Can't-miss news and updates from across the Marvel Universe!