Podcasts
Published October 28, 2021
Marvel Entertainment's Original Podcast Series 'Women of Marvel' Returns For The Fall Season on October 28
All-new season focuses on the theme of adaptation and the changing face of fandom!
The Women of Marvel are assembling once again! Marvel Entertainment's original podcast series, Women of Marvel, returns for its Fall season on Thursday, October 28.

In the weekly series, hosts Ellie Pyle, Angélique Roché, and Judy Stephens conduct interviews to spotlight the impact that diverse female voices have on Marvel's storytelling across mediums.

The theme of the Fall season, "Adaptation & Evolution," explores how Marvel's tales have adapted into a growing assortment of media, reaching larger and more diverse audiences. And like the world outside our windows, the stories – and their storytellers – are changing with the times. The new season will cover the literal adaptations of our stories into different media and the evolution of the Marvel Universe. 
Women of Marvel's upcoming season explores topics including mystics in the Marvel Universe, how to break into comics, and the history of genre and gender representation in comics. The episodes feature an impressive lineup of guests including comic writers and editors Bobbie Chase, Linda Fite, Jeanine Schaefer, Lauren Bisom, Sarah Brunstad, Ann Nocenti, Alyssa Wong, Jo Duffy; authors Jean Thomas, Nic Stone; cosplayers and content creators Stella Chuu, Divinity Noria; SDSU Professor and co-leader of Comics@SDSU Beth Pollard; the Director of Education at the Salem Witch Museum Rachel Christ, and more.
The 8-episode weekly series is produced by Alexis Williams, Jasmine Estrada, and Isabel Robertson. New episodes are released every Thursday. You can listen to Women of Marvel on the SXM App, Apple Podcasts, Stitcher, or wherever you listen to podcasts.
Want to stay on top of everything in the Marvel Universe? Follow Marvel on social media—Twitter, Facebook, and Instagram—and keep watching Marvel.com for more news!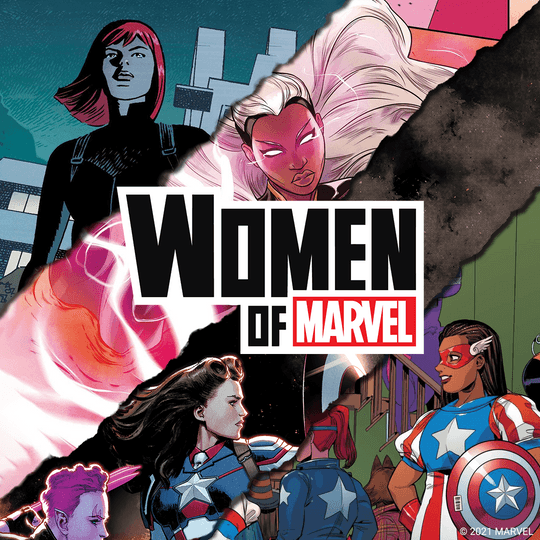 The Hype Box
Can't-miss news and updates from across the Marvel Universe!