Podcasts
Published November 13, 2020
This Week in Marvel Swings into 'Marvel's Spider-Man: Miles Morales'
Yes, they talk about the cat. (How could they not?)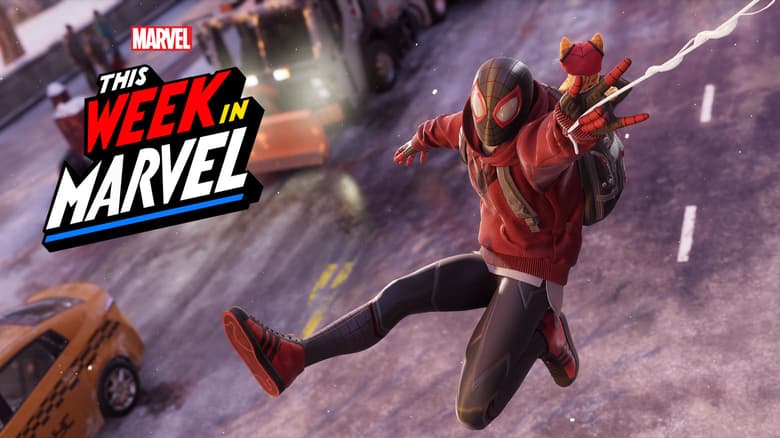 This week was a BIG week at Marvel, which means there's only one podcast that can bring you everything you need to know -- This Week in Marvel is at your service, Marvelites! Ryan "Agent M" Penagos, Lorraine Cink, and James Monroe Iglehart are all together to celebrate the arrival of Marvel's Spider-Man: Miles Morales on PS5! While there is much discussion about Miles' feline friend Spider-Cat, the hosts also welcome the game's main writers -- Evan Narcisse, Mary Kenney, and Ben Arfmann -- to share how they crafted the story.
Here's a bit of what they had to say:
Ben Arfmann: "Spider-Man, Pete, has always been my guy, and I think that's why I empathize with Miles so much because we both grew up in a world where we were looking up at Peter Parker and aspiring to be a hero like him."
Evan Narcisse: "I'm a big jazz head, and what surprised me about being on this side of video games is how improvisatory it is. You know these different departments really have to play off each other, in a deeply connected way."
Mary Kenney: "One of the strengths of this franchise… is that there are many different types of heroism, and it's not about the abilities you have, it's about how you use the abilities you have."
We're also nearing the end of 2020, so This Week in Marvel wants to know:
Who do you want to be a guest on future episodes of This Week in Marvel?
What have been some favorite moments of the past year of This Week in Marvel?
Let us know on social media—Twitter, Facebook, and Instagram—using the hashtag #ThisWeekInMarvel!
Hear the full conversation and more Marvel news -- including the release date for Marvel Studios' WandaVision -- by downloading the full audio episode below:
Marvel's Spider-Man: Miles Morales is available now on the PlayStation Store.
With new episodes every Friday, This Week in Marvel delivers all the latest Marvel discussion and news about comics, TV, movies, games, toys, and beyond! Tweet your questions and comments about the show to @AgentM, @lorrainecink, or @Marvel with the hashtag #ThisWeekinMarvel!
The Hype Box
Can't-miss news and updates from across the Marvel Universe!