TV Shows
Published July 22, 2020
The Team Must Break Out of a Time Loop in Latest Episode of 'Marvel's Agents of S.H.I.E.L.D.'
Joel Stoffer takes us behind-the-scenes ahead of tonight's new episode!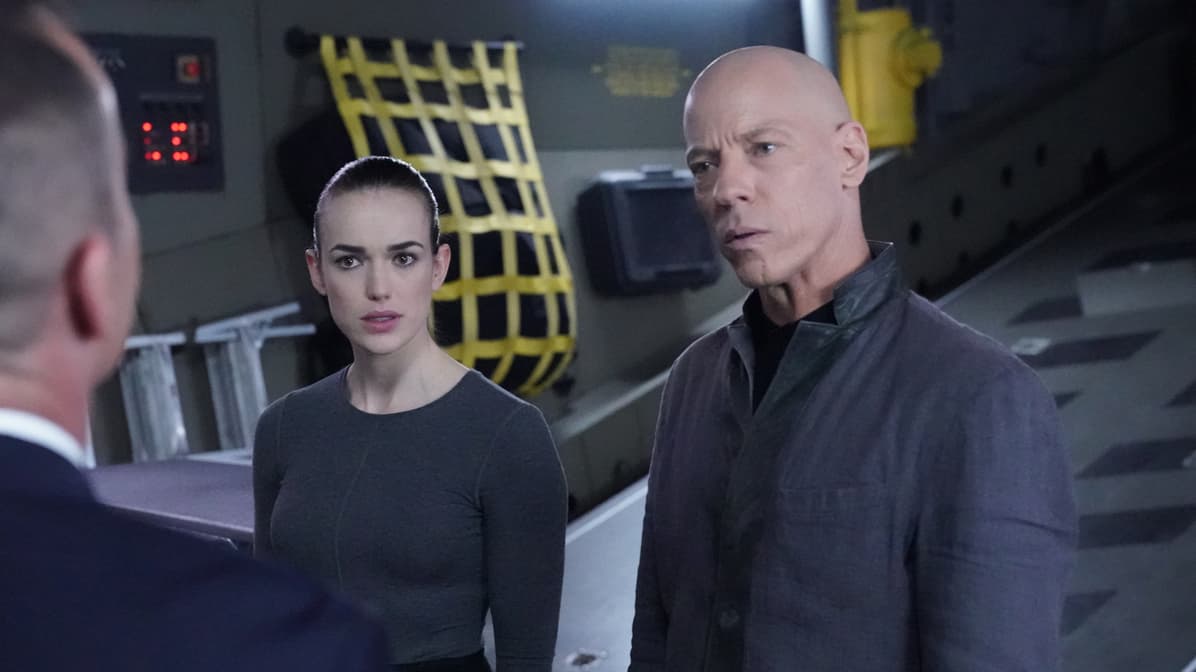 Just when you think you've finally figured out how to fix the time drive, it goes and throws you into a time storm, landing you in a time loop, and hurtling towards a foreboding vortex. Just another typical day for the crew of the Zephyr One! 
The latest episode of Marvel's Agents of S.H.I.E.L.D has the team on a race to stop the time drive from malfunctioning through numerous failed attempts. And every time the drive breaks down, it resets the day back to the beginning. This forces Daisy and Coulson — the only two who can remember what's going on — to try and save the team over, and over, and over again…
Tonight's episode was also directed by S.H.I.E.L.D.'s very own Elizabeth Henstridge, who stepped behind the camera for the first time! Ahead of the episode, Marvel.com had the opportunity to chat with Joel Stoffer, who plays Enoch, about what we can expect to see in "As I Have Always Been."
Marvel.com: There's a lot going on in tonight's episode, and we've already been clued in that the team is stuck in some sort of "time loop." Can you talk at all about what that means and what might see in the episode?
Joel Stoffer: [The team] is in a time loop where each jump, the time between the jumps gets shorter and shorter. Nobody seems to know exactly what's going to happen, but the guess is that as we get closer to the vortex that we might all possibly be crushed into subatomic particles. Obviously it's a frantic race to try and find an answer to solve the mystery of how to stop this problem with the time jump. 
Marvel.com: The episode also marks Elizabeth Henstridge's directing debut! How exciting was it to see her step behind the camera?
Joel Stoffer: It was so great. I was so thrilled for her to get the opportunity to do it. I know it's something that she's had an interest in for a long time, and she's had experiences directing her own projects in the past. For her to get to do it on the show that's been with for so many years and to just hit it out of the park!  What a challenging episode and concept to have to make sense of, and put the puzzle pieces together on her first time out of the gate. She did it an amazing job. I think it really helps that she was working with a crew that she had come to know over the years and could be there to support her as much as possible and help her make sense of a lot of parts of it. it really was a vision and she made it happen. 
Marvel.com: Enoch has been on a wild ride this season, do you have a favorite moment so far?
I've got a couple of standout moments. The fight scene with May [in Episode 2] was really fun because I got to do some of the stunts, but didn't get to do a lot of them! I wanted to jump and be tied to the cables, but they wouldn't let me do that, which I understand. I got to do some of the fighting and explore what that was like since that's not a realm that I've had a lot of experience in. Luckily, I had a stunt double that made me look good! Then getting to rescue the team in the 1970s getup with the car, that was fun. Having the moment when I get left behind in the 1930s was really fun to explore. The [lack of] shock as a Chronicom, and the shock going on [in my head] but not being able to emote it. 
Season 7 of Marvel's Agents of S.H.I.E.L.D. airs Wednesdays at 10 p.m. ET/PT on ABC.
For more information on "Marvel's Agents of S.H.I.E.L.D.," visit ABC.com, follow @AgentsofSHIELD on Twitter, and like "Marvel's Agents Of S.H.I.E.L.D." on Facebook for all the latest news and updates.
The Hype Box
Can't-miss news and updates from across the Marvel Universe!