TV Shows
Published July 13, 2021
'Loki': Sophia Di Martino on Completing Sylvie's Mission
Does Sylvie make the right choice? "That feeling in that moment is stronger than any feelings she has for Loki," Di Martino says.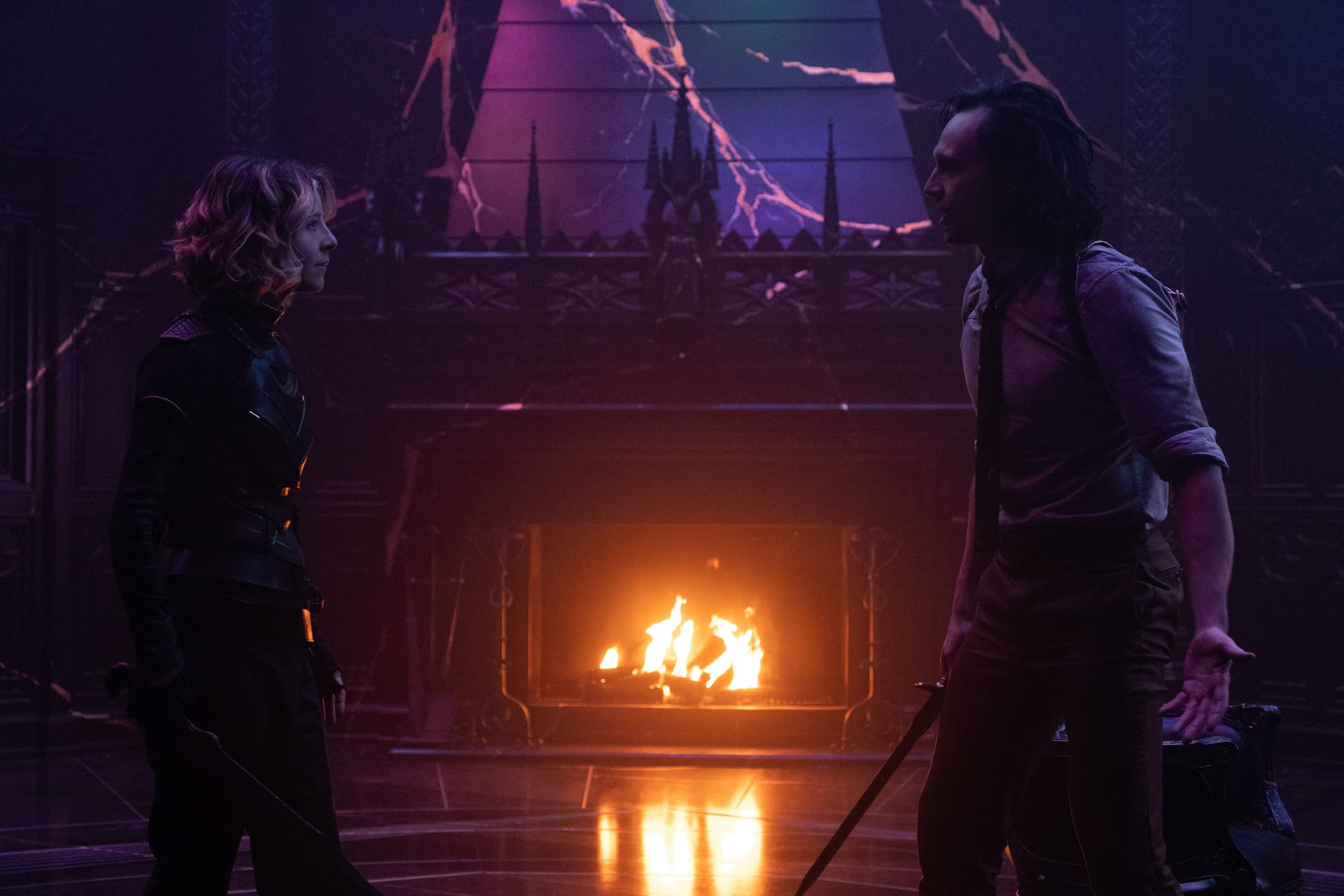 Do you ever finish a task you've been working towards for a long time and then just feel absolutely nothing upon completion? It's not the best feeling in the world, and it's what Sylvie is going through at the end of Marvel Studios' Loki. When we first meet the Loki Variant, she's hellbent on taking down the Time Variance Authority and stopping whoever's behind it. The last we see her in the finale, she's sunken down onto the floor after killing He Who Remains with the realization that it wasn't fulfilling as she'd hoped it would be, as Loki cautioned.
Though Sylvie's introduced in the very first episode of the series, viewers didn't really get to know her until she's unveiled at the end of Episode 2. But still, she's incredibly guarded with tall walls built up around her to protect herself from everything — both physical fights and feelings. Slowly, those walls begin to come down as she grows closer to Loki, but even their mutual feelings can't stop Sylvie from her mission she's been on since the very beginning. She wants revenge, no matter what it takes, and she's not going to let anyone stand in her way.
In Episode 6, "For All Time. Always.," Loki and Sylvie arrive at the Citadel at the End of Time and are greeted by He Who Remains who reveals himself to be the TVA puppet-master and creator. He's also got a proposition for the two of them: What if they take over the TVA and run it together, on the same timeline? Loki seems swayed by He Who Remains' reasoning, but Sylvie isn't buying it. After an all-out brawl which culminates in a passionate kiss between Loki and Sylvie, it seems they might have reached a middle ground...until Sylvie pushes Loki through a Time Door with He Who Remains' TemPad.
"She's been on her mission her whole life to get to whoever is behind the TVA, who robbed her life from her, and who took that little girl," Sophia Di Martino tells Marvel.com. "The anger that she had as a little girl has just been growing and growing and growing her whole life, to this point, where the guy who caused it, in her eyes, is standing right in front of her. She thinks that killing him is going to make her feel better. That feeling in that moment is stronger than any feelings she has for Loki."
It's a shocking twist, but also one that has been brewing for a while. Sylvie and Loki claim to trust one another, but do they really? Loki himself points out that Sylvie can't trust, and he can't be trusted, putting the two of them in a sticky situation. 
"It's quite a problem. It works both ways as well. Maybe Loki can't trust and Sylvie can't be trusted. If you can't trust someone, then can they trust you? Nothing works, does it, if you don't trust each other? It's just broken."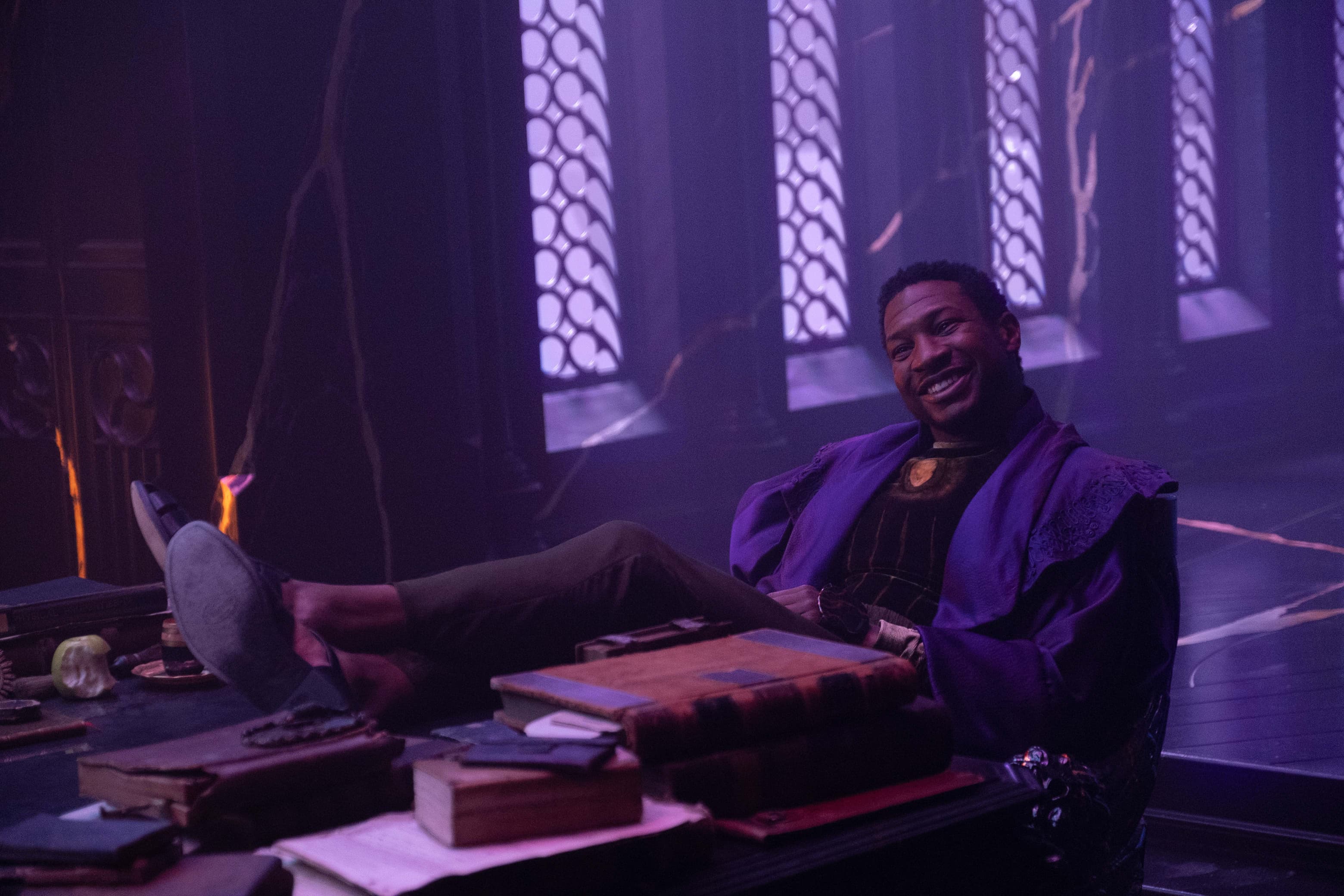 Their relationship does in fact break. Giving him a taste of his own mischief, it's Sylvie who betrays Loki at the last second with her brash decision to remove him from the confrontation with He Who Remains.
"He says something really nice to her before they kiss," Di Martino recalls. "Loki basically says, 'I've always hurt everyone I've always been close to. I'm a horrible person, but you've changed me because I care about you, and I want you to be OK.' And for someone to say, 'I want you to be OK,' it's such a nice thing to hear, especially for someone who's damaged as Sylvie. It sort of breaks her heart a little bit because she just wants herself to be OK as well. For someone else to acknowledge that, and to see her in that way and to just see her, is so powerful."
However, with He Who Remains in the room, "she still has to kill this guy."
So off Loki goes backwards through a Time Door, leaving Sylvie behind with just her machete and He Who Remains. The moment she's been building towards her whole life has finally arrived.
"She still has to see her plan through to the end," Di Martino continues. "The kiss, for me, was like a final sort of thank you and goodbye. It's been fun, dude, but at the end of the day, I'm not you and I've got a mission, and I'm going to see this through, on my own, to the end. So see ya." 
After a beat, Di Martino laughs. "That sounds so awful saying that!"
Sylvie asks He Who Remains if he wants to beg for his life (he declines), and she plunges her sword into his chest. That solace she was hoping for? It doesn't come. Defeated in a different way now, Sylvie slumps down onto the floor.
"When she kills him, she's just completely unfulfilled. It didn't do what she wanted to do. She doesn't feel that relief."
Though viewers can't see Sylvie's face as the camera pans back to the branching timelines outside the window, her emotions are still there swirling around the room.
"That final moment is just utter devastation. She thought she was going to get the relief that she's been waiting for her whole life. She's built this up so much. She finally kills the guy right at the top, and feels nothing. Still feels sort of angry and bitter and sad, as she always has. But nothing, just emptiness and that's really sad."
This is the last viewers see of Sylvie for the season, and she's now completely alone at the Citadel at the End of Time, with only He Who Remains' linger warning. What's next? "What she does with [that sadness] is yet to be seen. It's an interesting place to start another chapter," teases Di Martino.
All six episodes from the first season of Marvel Studios' Loki are now streaming exclusively on Disney+. Loki will return in Season 2.
Looking for more mischief? Find more Loki on Twitter, Facebook, and Instagram! 
This is just the beginning of the Phase 4 news. Stay tuned to Marvel.com for more details and sign up for Disney+ and start streaming now! And be sure to follow Disney+ on Facebook, Twitter, and Instagram for more.
The Hype Box
Can't-miss news and updates from across the Marvel Universe!