TV Shows
Published January 17, 2020
Marvel HQ YouTube to Showcase Fan-Favorite Marvel Content
Find your power on Marvel HQ through January 23!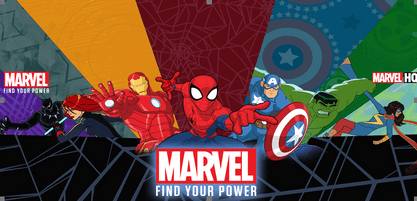 Marvel fans can find their power and tune in for a special Marvel HQ takeover featuring full-length animated episodes available through January 23 with exciting additional content also available!
Powered by self-expression, community and exhilarating, adventurous fun, the Marvel universe lifts you up and inspires you with a heightened sense of confidence and connection. Finding your power means standing up for your friends, even when you fear you lack the abilities to overcome your own challenges. Below are favorites that highlight the best of what it means to find your power! Watch the playlist here.
Coming to Marvel HQ YouTube is the exciting exclusive debut of Bend & Flex, an all-new Marvel and Hasbro animated short collaborative series featuring bendable, flexible Marvel-inspired action figures! The first installment "The Lunch Break," which premieres January 24, sees Iron Man joining Spider-Man for a well-deserved lunch break, but Spidey's meal is interrupted when a construction site emergency triggers his Spider-Sense! He leaps into action, but can he save the day and hold onto his lunch at the same time?
Marvel's Guardians of the Galaxy: Girls Just Wanna Have Fun
When the Guardians are charged with escorting the young and rebellious Rigellian princess Tana back home, Drax's hardened heart melts as he is reminded of his own daughter. But nothing is ever easy: there's Thanos...and then there's teenagers.
Marvel's Guardians of the Galaxy: Rock Your Baby
The cocoon has opened! Inside is the baby Warlock whom the Guardians must help guide on the path of good to keep his powers in-check. But when Titus becomes the devil on the young Warlock's shoulders, his destiny could go either way.
Marvel's Avengers Assemble: Molecule Kid
Hawkeye and Black Widow take on a covert S.H.I.E.L.D. mission to bring in the son of a super-villain, but when he's revealed to have a world-bending weapon, they realize keeping their mission a secret may be a fatal mistake!
Marvel's Avengers Assemble: The Kids Are Alright
Captain America and Iron Man must partner with new and young Inhumans – Goliath, Inferno and Ms. Marvel – to stop another Inhuman, The Ghost, from stealing F.R.I.D.A.Y.
Ultimate Spider-Man: Halloween Night At The Museum
It's up to Spider-Man to save Halloween from Morgan Le Fay and her plans to plunge Earth into eternal night!
Also check out:

Subscribe to Marvel HQ on YouTube for more!
The Hype Box
Can't-miss news and updates from across the Marvel Universe!