TV Shows
Published December 8, 2017
'Marvel's Agents of S.H.I.E.L.D.' Throwback Thursday: The Kree
Find out how the Kree have a played a part throughout 'Marvel's Agents of S.H.I.E.L.D.' history!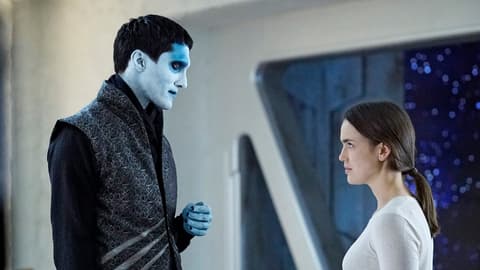 By: Jenn Fujikawa and Christine Dinh
Every Thursday, we look back at how the last five years of "Marvel's Agents of S.H.I.E.L.D." influenced this past week's episode. 
The beginning of Season Five of Agents of S.H.I.E.L.D. took viewers to unfamiliar territory. Our agents escaped the Framework, battled Life Model Decoys, and crossed paths with Ghost Rider, only to find themselves, with the exception of Fitz, transported onboard a station—in space!
As they come into contact with the vessel's inhabitants, it becomes abundantly clear that something has gone terribly awry. Not only do they have to fend off vrellnexians "roaches," but they come to learn humanity is at the mercy of Kree soldiers and their military governor, Kasius.
This isn't the first time we've seen the Kree in "Marvel's Agents of S.H.I.E.L.D.." In Season 1, we learned Phil Coulson was resurrected after facing Loki at Battle of New York in Marvel Studios "The Avengers" after being treated with Project T.A.H.I.T.I. serum, GH.325, derived from a blue alien corpse, with abilities to promote advanced cellular regeneration. Eagle-eyed viewers will recall the flashback to Agent Peggy Carter retrieving that very blue alien corpse. In Ep. 14 "T.A.H.I.T.I.," that very serum saves Skye's life, without any consequence or side effects that Coulson endured, signaling she's not quite a normal. In the following episode, Ep. 15 "Yes Men," Lady Sif mentions the Kree as one of blue-colored species she has met on her travels.
Throughout "Marvel's Agents of S.H.I.E.L.D.," the Kree have been present—the Diviner, Hive summoning of Kree Reapers, the Monolith, and now culminating on the Lighthouse under the heel of the Kree ideology of a life earned, a life spent.
The Kree, a scientifically and technologically-advanced race of blue-skinned humanoids from the planet Hala, play a big part in Marvel history, not only in the comics, but in the Marvel Cinematic Universe. The Kree first appeared in FANTASTIC FOUR #65 by Stan Lee and Jack Kirby. Over on the big screen, who can forget Ronan the Accuser in Marvel Studios' "Guardians of the Galaxy" and his mission to end the Xandarians and their Nova Corps?
In Season 2, Ep. 12 "Who You Really Are," Vin-Tak, a Kree sent to Earth to track down who activated the Diviner, revealed to Lady Sif and our Agents the true origin of the Inhumans—genetic experiments performed by Kree Reapers in hopes of creating bio-weapons. The Kree left Earth thinking these "genetic abominations" would die off on their own.
The Kree's large mistrust and disgust of the Inhumans stemmed from Hive, an Inhuman who was supposed to lead the race for the Kree but who ultimately gained too much power and rebelled against them instead. You can thank the Kree for the Monolith and the earliest iteration of HYDRA, but that look back is for another time.
Catch more Kree action in new episodes of "Marvel's Agents of S.H.I.E.L.D." Fridays at 9:00 PM ET on ABC. Not only that, keep an eye out for the Kree's prominent role in the upcoming Marvel Studios' "Captain Marvel."
For a look at more references in S.H.I.E.L.D. history, check Marvel.com every Thursday for "Marvel's Agents of S.H.I.E.L.D." Throwback Thursday. Don't forget to follow @AgentsofSHIELD on Twitter and like "Marvel's Agents Of S.H.I.E.L.D." on Facebook!
The Hype Box
Can't-miss news and updates from across the Marvel Universe!