TV Shows
Published January 24, 2019
'Marvel's The Punisher' Season 2: How Frank Castle Embraces His Nature
Showrunner Steve Lightfoot's SPOILER-y conversation on Frank's path in the second season.
Note: FULL SPOILERS follow for "Marvel's The Punisher" Season 2, including for the season finale. 
If you haven't seen the season yet, it's now streaming on Netflix!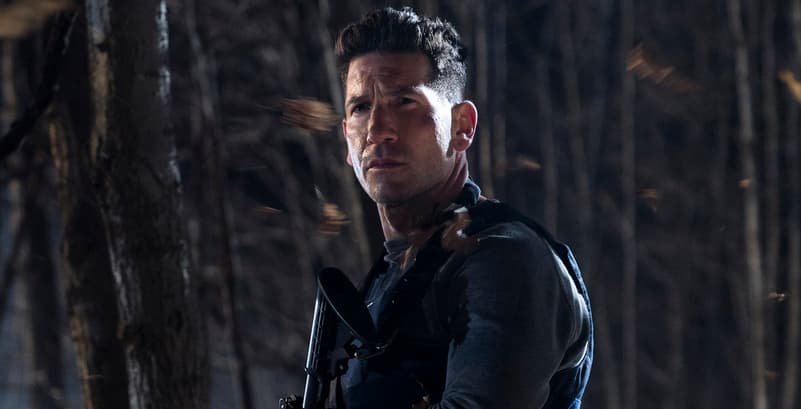 "Marvel's The Punisher" Season 2 began with Frank Castle getting closer than we'd ever seen him to finding a happy life and normalcy since the loss of his family, after he met Beth (Alexa Davalos), a bartender and single mother he connected with. But soon enough, his decision to help endangered teenager Amy (Giorgia Whigham) led him right back into a life of violence and nearly cost Beth her life. By the end of the season, Frank has fully embraced his identity as The Punisher, actively seeking out criminals and seemingly now giving up any attempt at a normal life. 
Does Frank truly see a normal life as a closed door at this point? Executive Producer/Showrunner Steve Lightfoot, discussing Frank's path this season, told Marvel.com, "I think so. Obviously where we ended Season 1, he no longer had a war to fight and he was going to have to work out how to deal with that. I like that he's giving that a go but he's been wandering and somewhat aimless. He's trying to be normal but not fitting in anywhere. Of course, the first time he finds real trouble, his true nature reveals itself and he dives right back in. The thing for me was always that if Season 1 was about Frank dealing specifically with what happened with his family, Season 2 was about realizing his own true nature that has always been there and that he has to adopt the mantle of The Punisher." 
Frank clearly grows to care deeply for Amy throughout Season 2, seeing her as something of a surrogate daughter. However, he still sends her away after she's safe, and as Lightfoot explained, "I think he's realized that if people are around me they're going to get hurt. 'My job is to give them their second chance but they won't get it with me.' I think, as he did with Micro, he's always going to put people back together and send them on their way. In a way, he gives them the peace he can never have. I loved the relationship with him and Amy. It was something we were very excited to do. Season 1 was playing with themes of grief and male friendship. There was a little bit of 'The Odd Couple' with Frank and Micro - two guys in a basement who both want their wife back. But only one of them can have it. I'm a big fan of the movie 'The Professional' and I liked the idea that this season was a fatherhood dynamic. If Micro got really annoying, Frank could hit him up the side of the head. But he can't do that with a kid. So Amy interestingly had a power over him that no one else would have had. It was a fun dynamic. Season 1 was very much about grief. I was keen that this season had more humor. And I think Amy gave us that and Giorgia delivered it brilliantly."
Season 2 took an interesting tactic with Frank by taking him out of New York entirely for the first three episodes. Lightfoot noted, "I think one of the fun things about The Punisher as a character is that, unlike the other Marvel-Netflix characters, Punisher stories have taken place all over. He doesn't have a law office and he's not Jessica Jones with a PI business. It felt fun to get him out into a different part of America. I've always felt there's something about Frank that reminds me of Westerns - the idea of someone who doesn't really fit in with society anymore. He can do what he needs to be done to allow society to exist but that also excludes him from it. That's a very Western idea. So I wanted to put him in a Western environment for a little while and I always felt those first three episodes were a bit of a Western movie before we headed back to New York." 
Throughout Season 2, Frank does end up assisted by others – whether it be Amy, Madani (Amber Rose Revah), Curtis (Jason R. Moore), or a combination of them. Asked whether Frank still seeks companionship, even if he doesn't realize it, Lightfoot joked that if Frank were truly alone all the time, "Frankly, it's dramatically hard to maintain a story!"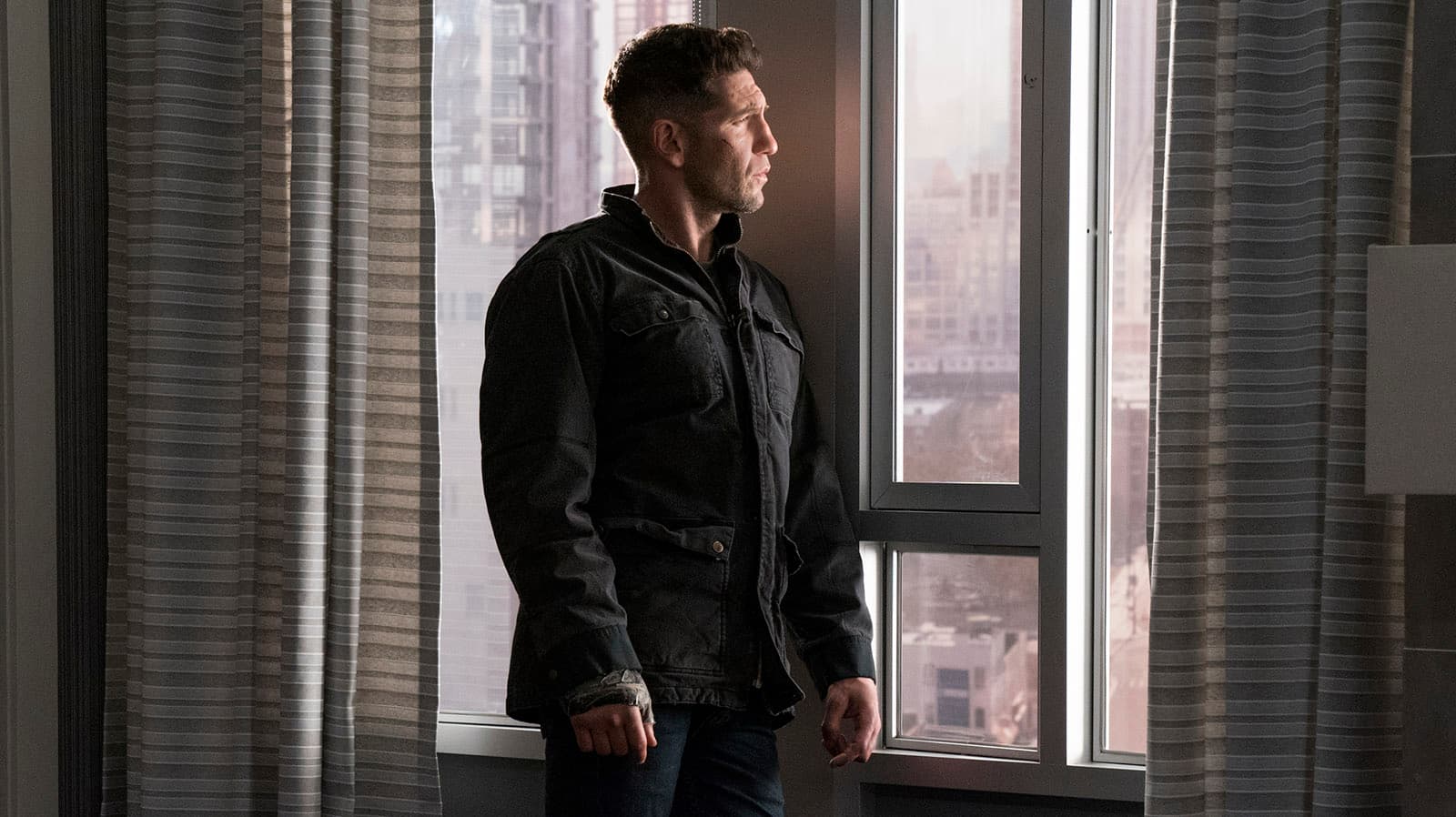 More seriously, he remarked, "I feel like unless we give him some connections, unless there's something human he's fighting for, I think it's very hard to keep rooting for him. The great thing with Frank is he's morally complex and he lives in the gray and a lot of the time, his actions aren't things we should condone. And I think the way we keep the audience rooting for him is by giving him people to care about so that at the end of the day, what Frank's doing is always going to make someone we care for's life better. In some ways, I think this season of this show is about who in the end is he fighting for? Whose life is he trying to put back together even though it sends him further down the path? And certainly for Season 2, in a way Curtis and Madani's story was about two people who couldn't walk away from the Billy situation in the way Frank had. Their journey for me was about two people where the easiest thing would be to do what Frank does and just say 'we're just going to kill him" and then realizing it's one thing to think or even want it and another to do it. For me, their journeys were about two people who tried to be like Frank and realized they couldn't. And that actually it's not as easy as you think to be Frank Castle." 
Near the end of Season 2, Madani, describing Frank Castle, says, "Frank is not a criminal. He's not a hero either. He's just Frank." Asked if he shares that perspective, Lightfoot replied, "Yeah. I mean look it's a show about a vigilante and he kills a lot of people. I think the balancing act with the show is always to make sure the people that he's going after are bad enough and have done bad enough things that we root for Frank. But I also don't think we can condone what he does 100%. We have to let Frank lose the audience here and there and remind him and us that what he does isn't right. Because if everyone did what Frank does, we'd have anarchy." 
Click here to see what Lightfoot told us about the inspirations for John Pilgrim and here for what he had to say about Billy Russo's journey!  
Make sure to follow @ThePunisher on Twitter and like "Marvel's The Punisher" on Facebook. You can also see more about the show at Marvel.com's section for "Marvel's The Punisher."  
The Hype Box
Can't-miss news and updates from across the Marvel Universe!