TV Shows
Published January 28, 2019
'Marvel's The Punisher" Showrunner on Season 2's Big Action Scenes
From the police station standoff to that brutal gym fight, Steve Lightfoot discusses some of Frank Castle's most noteworthy Season 2 battles.
Note: FULL SPOILERS follow for "Marvel's The Punisher" Season 2, including for the season finale. 
If you haven't seen the season yet, it's now streaming on Netflix!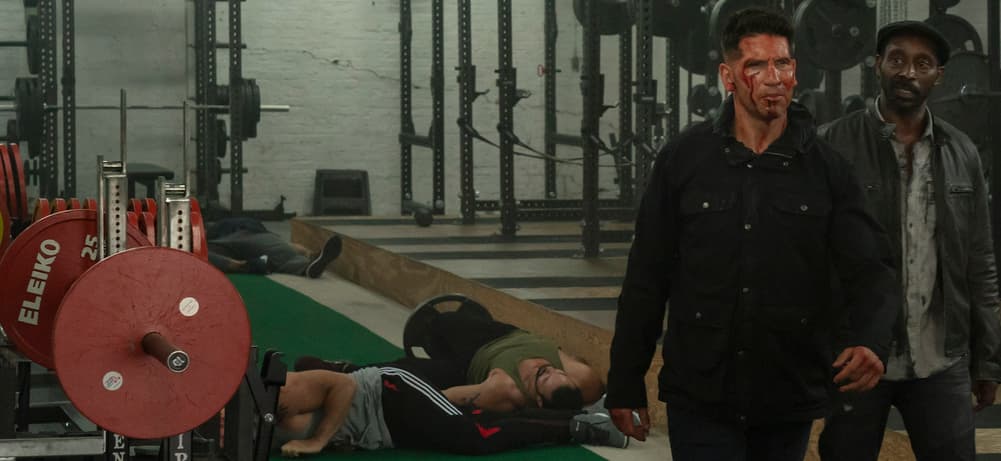 There's plenty of action sequences in "Marvel's The Punisher" Season 2, and per usual when Frank Castle's involved, things get decidedly intense along the way. 
During a recent conversation with series Executive Producer/Showrunner Steve Lightfoot, we asked him to discuss a few of the action highlights from the season and give some insight into how they were conceived. 
Season 2's third episode, "Trouble the Water," caps off a trio of episodes that has Frank operating outside of New York and is notable for how much of it involves a siege on a police station Frank is locked up inside of. Said Lightman, when it came to influences, "A lot of people have talked about the 'Assault on Precinct 13.' And that certainly was a reference. But initially it was 'Rio Bravo' - I loved all of those Howard Hawks westerns. It was that 'Rio Bravo' Western feel that we liked with a lot of action that's very tense, but there's a lot of humor in that episode which I really enjoyed."
In the fifth episode of the season, "One-Eyed Jacks," Frank has one of his most brutal fights as he takes on a group of thugs inside a gym, where every piece of workout equipment has the potential to be a weapon. Lightfoot remarked, with a chuckle, "It's funny, I go to the gym quite a bit. I do CrossFit and whenever I'm in there and there's a lot of people swinging heavy metal around, I can't help being in there and going 'Man, you could do an amazing fight in here and use all this stuff!' and it'd be something we haven't done before in the show. So when we got to breaking the show, I said to the writers, 'I want to find a way to have a great fight in a gym.' And it kind of came out of that. Then the stunt team went crazy with it. I loved what they did with the choreography. Everyone had fun with that one."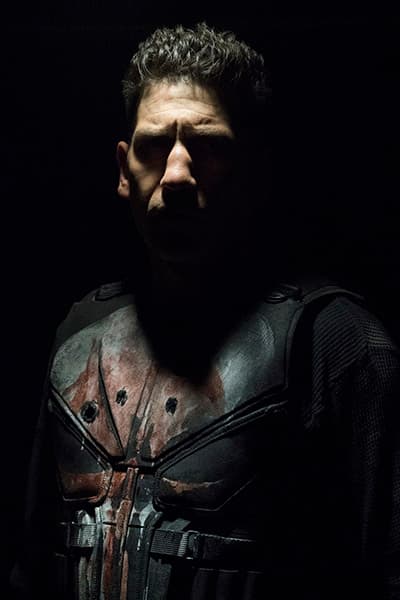 Season 2 gives Frank two primary foes in the returning Billy Russo (Ben Barnes) and new threat John Pilgrim (Josh Stewart). Billy's storyline takes him on an unexpected path that does not involve a final fight with Frank – you can see what Lightfoot has to say about Billy's journey – but Frank and Pilgrim have two different battles in the season finale, "The Whirlwind." In the first, the two engage in a massive shootout in a hotel, while the second involves the two fighting hand to hand in a notably brutal encounter. 
Said Lightfoot, of the decision to have the two different finale fights, "Certainly, the first one was about thematically mirroring the two men. It was very much about seeing the two sides and those two rooms had become the two sides of Pilgrim. One was where his bad side lived and one was where his good side lived. There were lots of thematics going on in that first fight and in the end Amy is the thing that comes between them and separates them." 
Lightfoot then explained, "In the second fight, I kept saying to the guys 'They're both exhausted. They just want it done. It can't be too slick. It's two guys who are beat up going at it. And they're weary but also it has to happen.' And I thought the guys pulled that off brilliantly. It is sort of immovable object and unstoppable force. There's not a lot of slickness which made it feel very real and on point for me."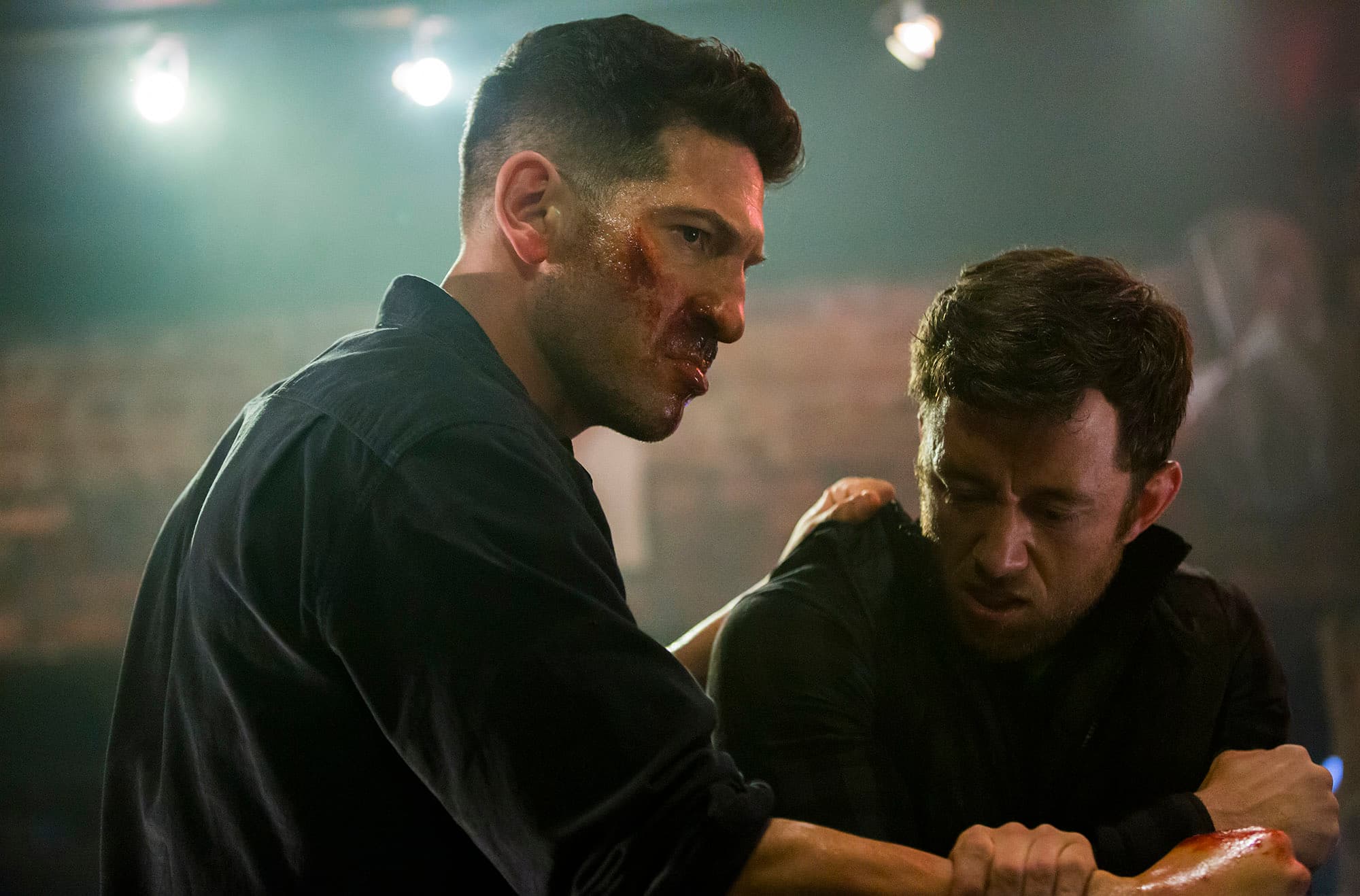 Asked if he had a particular favorite action scene in Season 2, Lightfoot replied, "I think we did pretty well with all of them this year. I always have two things I say: One is they have to be different in every episode. It can't be the same fight in a different location. They have to be different. And I think the way you make them different is it's never just a fight. First and foremost, it's a scene. Same as a big dialogue scene would be. And unless it's serving story or showing off some version of character it would just be a guy crossing a room there just happens to be twenty people to fight in it. We always start [the action scenes] for story and write a pretty detailed version of what we want in the script. Then we turn that over to the stunt team who go wild making them better and say 'What about this?' What if it was this instead?' And those guys are great so I let them do their thing. The only thing I ever do is remind them about the story point we're after. 'Don't lose this moment in there, because that's what the scene is about.' That's always the trick in those fights."
Lightfoot gave an example, remarking, "It's like the first fight [in Season 2's premiere, "Roadhouse Blues"]. Once Frank gets into it, he's always about trying to get Amy out of there alive. He probably gets more hurt because he's having to worry about this kid at the same time as everything else. Frank's so good and generally any scene he's in, he's going to win the fight. So it's always about what's the obstacle? And it's interesting if it's something emotional rather than something else." 
Make sure to follow @ThePunisher on Twitter and like "Marvel's The Punisher" on Facebook. You can also see more about the show at Marvel.com's section for "Marvel's The Punisher."  
The Hype Box
Can't-miss news and updates from across the Marvel Universe!