TV Shows
Published May 31, 2019
Sarge's New Target is Deke on New Episode of 'Marvel's Agents of S.H.I.E.L.D.'
A new episode airs tonight, Friday, May 31 at 8p/7c on ABC!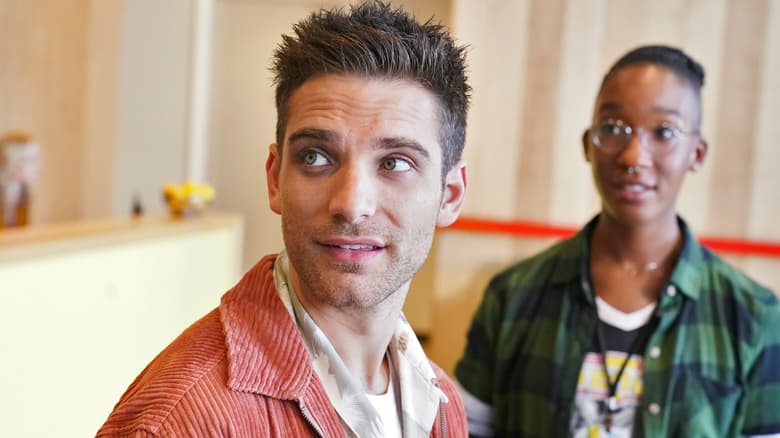 Where in the world is Deke Shaw?
According to Jeff Ward, now a series regular, "He would have been at a Zima factory if he could have been."
In tonight's brand new episode of "Marvel's Agents of S.H.I.E.L.D.," we have the return of FitzSimmons' grandson who has been noticeably missing this season. What has Deke been up to if not with his grandparents, or searching for Fitz, or hanging out at S.H.I.E.L.D. HQ. We turn to Ward for some insight.
"He had a big identity crisis, and it took him a minute to realize that," revealed Ward. "Being in contemporary society, which is obviously very different from the world he was born into or grew up in, he's displaced. He doesn't understand what makes the world tick. For Deke, as someone who operates out of making the world he's in work for him, he had to leave the team and go figure out what makes this world tick, and how he can take advantage of it. Find out who he is, what his life is going to look like. Let's just say, he figures it out."
Last week, we revealed executive producer and showrunner Maurissa Tancharoen steps in front of the camera to play Sequoia, a "Coachella-chic social media influencer," on tonight's episode, "Code Yellow." What was it like working for boss Tancharoen in this capacity?
"Incredible," gushed Ward. "Maurissa is so talented, smart, and so funny. She's an amazing person and boss to work for. She's a fantastic scene partner. She stepped back and just was an actor and let everyone do their thing. Everyone's been waiting for her to do this, and I was very honored to share this with her."
Unfortunately for Deke Shaw, he's Sarge's latest target. Why is Sarge looking for him, and will Daisy be there to save Deke? Take a look at the promo for tonight's episode below!
That's not the only thing happening in this episode! Yo-Yo and Agent Keller are ready to take their relationship public, but first, Keller decides to talk to Director Mack. In the sneak peek below, Keller grabs face-to-face time with Mack in the spirit of full disclosure. However, Mack, not ready to hear what he has to say, tells the S.H.I.E.L.D. agent about a theoretical scenario that would occur to teams due to S.H.I.E.L.D. protocol. In the field, an agent cannot compromise their judgement or second-guess themselves just because they're working alongside someone they care about. Keller assures the director that he's not compromised.
Tune into a brand new episode tonight as our agents handle interpersonal relationships, parasitic alien threats, and a strong need for boba!
Watch "Marvel's Agents of S.H.I.E.L.D." Season 6 on Fridays at 8|7c on ABC! Stream new episodes the next day on Hulu, On Demand or ABC.com.
For more information on "Marvel's Agents of S.H.I.E.L.D.," visit ABC.com, follow @AgentsofSHIELD on Twitter, and like "Marvel's Agents Of S.H.I.E.L.D."on Facebook for all the latest news and updates.
The Hype Box
Can't-miss news and updates from across the Marvel Universe!