TV Shows
Published January 29, 2019
The Best Fight Scenes From 'Marvel's The Punisher'
When confrontations get physical for Frank Castle, they get memorable.
Frank Castle is always ready to fight, whether he has time to prepare beforehand or if someone dares to attack the man known as The Punisher. And while Frank's a master with plenty of weaponry, he's also plenty skilled when just using his fists - and perhaps an assist from other objects in his vicinity.   
With "Marvel's The Punisher" Season 2 now streaming on Netflix, we're taking a look back at some of the most memorable fights Frank has been a part of, along with a couple that happened involving others close to Frank!
SPOILERS follow for both seasons of "Marvel's The Punisher" and "Marvel's Daredevil" Season 2. 
"MARVEL'S DAREDEVIL" SEASON 2
Who's Punishing Who? (Episode Two, "Dogs to a Gunfight") – We can't get into this list without a quick look back at Frank's intro in the second season of "Marvel's Daredevil." Frank and Daredevil first traded blows nearly as soon as they met, but both proved their mettle in battle by dodging police bullets while trying to knock each other out. DD and the Punisher came up pretty evenly matched, but in the end, Frank got the drop on the Man Without Fear.
Jailhouse Rock (Episode Nine, "Seven Minutes in Heaven") – We all remember it; who could forget it? Castle's incarcerated, but the Kingpin wanted him dead, so he sent eight convicts to take out The Punisher. But with just his hands and a makeshift knife, Frank showed them just how dangerous he was…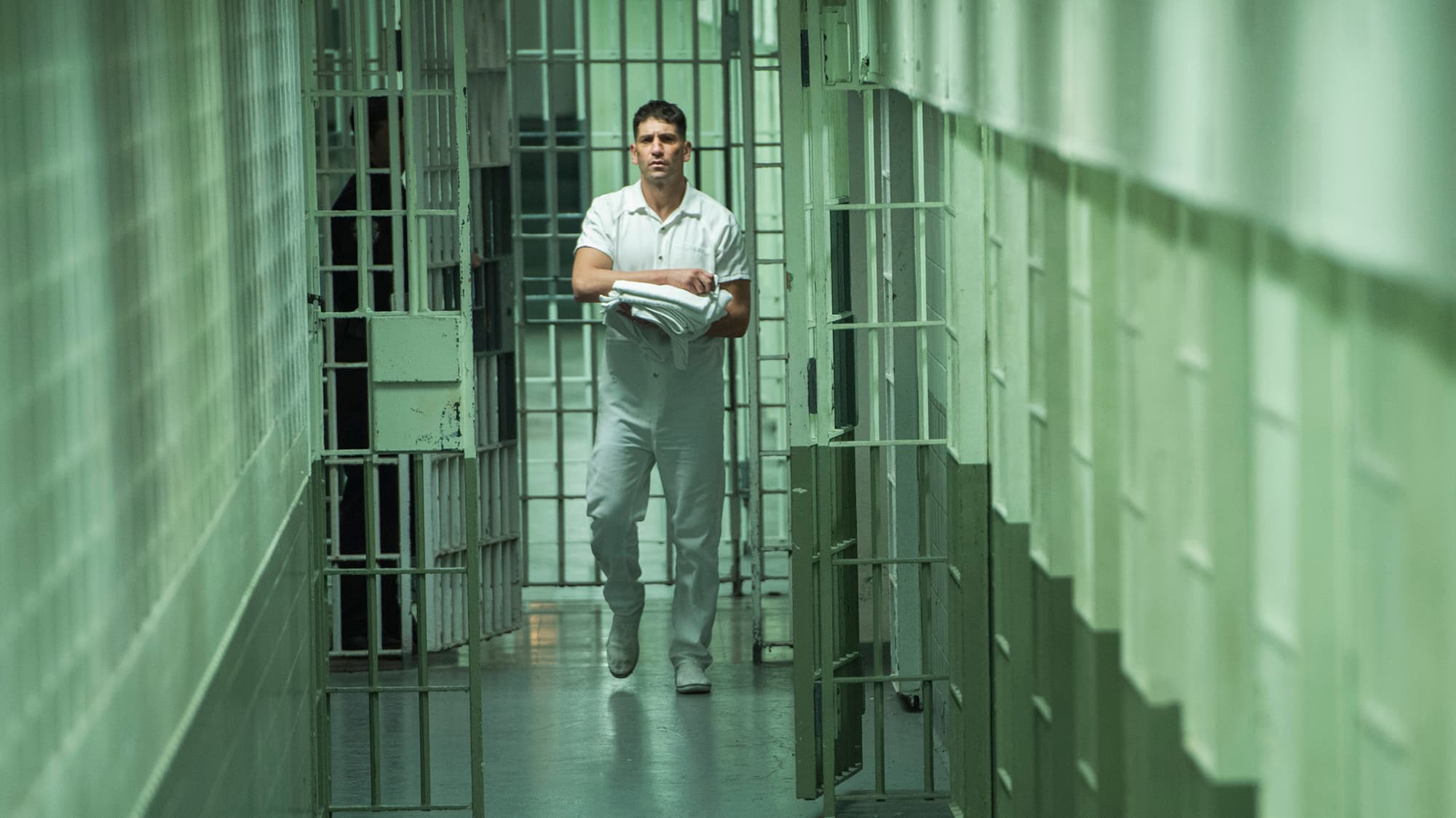 "MARVEL'S THE PUNISHER" SEASON 1
Warring on the Wolf (Episode Two, "Two Dead Men") – The Punisher waited for crooked Homeland Security bigwig Carson Wolf to come home after work, but didn't allow him a moment of rest. Though Wolf had the years on Frank, he held his own for a few minutes, but a well-placed toaster to the head and a few knocks to that same head with a table took all the fight out of him before Frank finished him off. 
No Leg to Stand On (Episode Nine, "Front Toward Enemy") – Feeling betrayed by everyone around him, disturbed young veteran Lewis Wilson confronted Frank Castle's old service buddy Curtis Hoyle when the latter went looking for the former. After a desperate struggle, Lewis beat Curtis with his own prosthetic leg—a souvenir from the war—but Curtis got a few good licks in regardless. 
Round and Round They Go (Episode Thirteen, "Memento Mori") – It ended were it began for Frank Castle when his former friend Billy Russo coaxed him into a final confrontation at the merry-go-round where the Punisher lost his wife and kids. The furious fight eventually involved knives, then fists, then just simple, barbaric brutality. Homeland Security agent Madani helped Frank gain the edge on Russo and with the presence of a broken mirror the Punisher made sure that his old pal would never, ever look at himself the same way again.
"MARVEL'S THE PUNISHER" SEASON 2
Don't Forget to Flush (Episode One, "Roadhouse Blues") – Frank Castle tried to get away from it all, but in the wilds of Michigan trouble still found him. When a teenage girl needed saving from some very nasty people hunting her, Frank threw delicacy to the wind and waded into a women's restroom for battle. One smashed sink, a busted stall, and several broken bones later, the fight spilled out onto the dance floor for a hoedown the likes of which that roadhouse had never seen.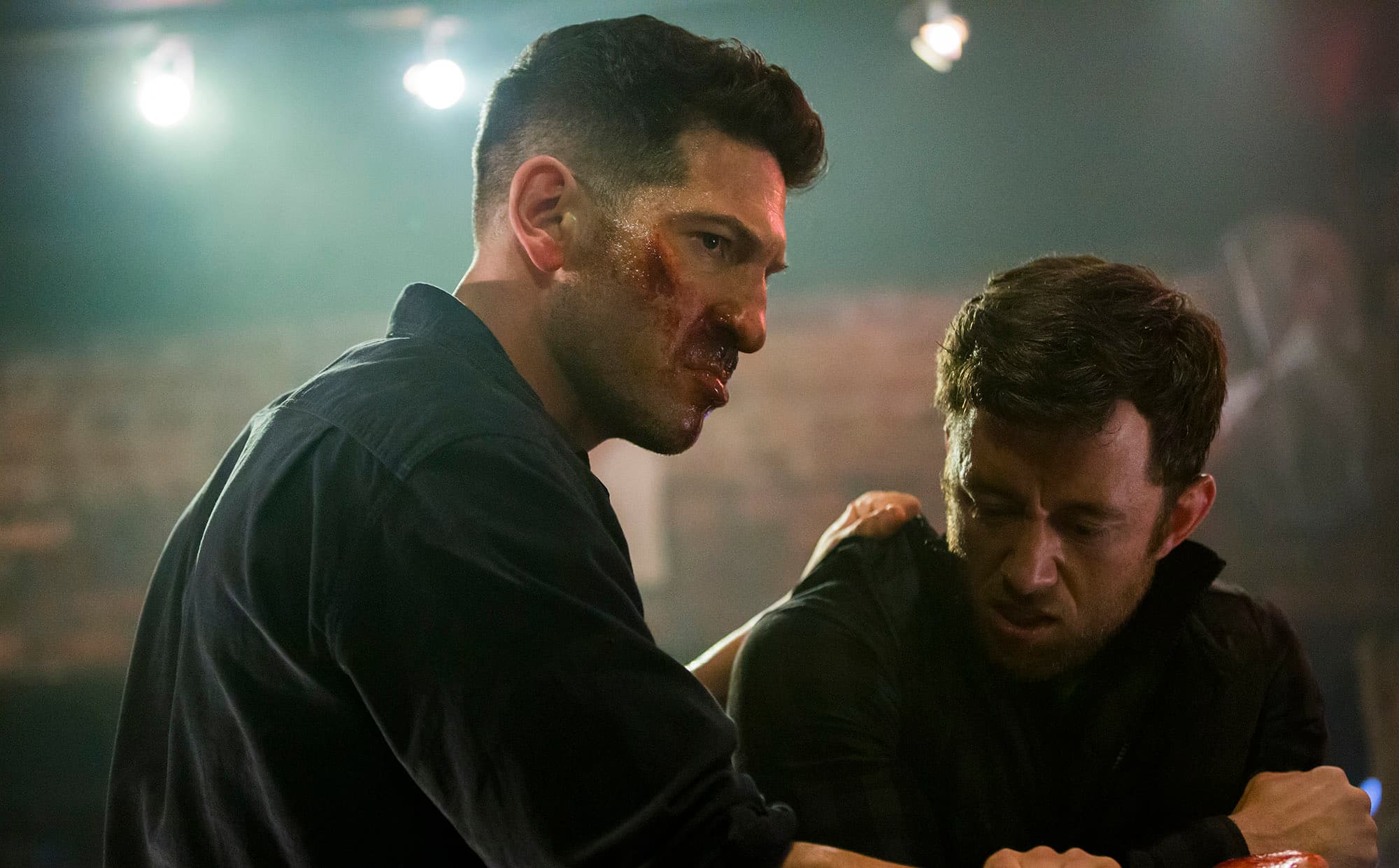 Weighted Down (Episode Five, "One-Eyed Jacks") – Following leads, Frank entered a gym populated by muscular Russians and proceeded to show them just who the dumbbells really were. One bald bruiser just wouldn't stay down, so the Punisher served him a weight sandwich right to his kisser. Who said that détente was dead?
Double Trouble (Episode Twelve, "Collision Course") – Two of Season 2's big fights didn't actually involve Frank Castle. John Pilgrim tracked Amy to Curtis Hoyle's trailer and after threatening the corpsman, things got physical between the two men. There was extensive damage inside the trailer in the melee, but none so much as Curtis' pride. Across town, Agent Madani mixed up with Billy Russo's accomplice, Dr. Krista Dumont, with enough punches, kicks, and stabbings to go around. The not so good doctor lost that fight, though, when Madani pushed her out a window to stop her murderous progress.
Full of Fight (Episode Thirteen, "The Whirlwind") – As Season 2 neared its completion, Frank threw down a few more times. First, while chasing John Pilgrim he tussled with three cops in an elevator, a real humdinger of a group hug in the closest of close quarters. Then, Pilgrim came to him for a final mano a mano, approaching him in the junkyard outside of Curtis' trailer. A chain became a valuable commodity during the battle, changing hands and ratcheting up the violence before The Punisher was victorious – though he actually spared Pilgrim's life after finding out Pilgrim's own children were being used to ensure his loyalty. 
Make sure to follow @ThePunisher on Twitter and like "Marvel's The Punisher" on Facebook. You can also see more about the show at Marvel.com's section for "Marvel's The Punisher."  
The Hype Box
Can't-miss news and updates from across the Marvel Universe!