TV Shows
Published July 7, 2020
YDK: 'Marvel's Agents of S.H.I.E.L.D.' and LMDs
Let's explore the history of Life Model Decoys on the hit ABC series!
The seventh and final season of Marvel's Agents of S.H.I.E.L.D. kicked off early this summer, with the team going back in time in their efforts to save humanity from the Chronicoms. To do this, they needed their full team in place. Not so much a resurrection as a "rebooting," the team infused Agent Phll Coulson's memories into a Life Model Decoy or LMD. Coulson may be gone, but at the same time, never really left.
LMDs have made their presence known throughout the hit ABC series. Let's look back at their importance in Marvel's Agents of S.H.I.E.L.D..
LMDs are super-advanced androids used to replicate the human form, and even take on memories of the person they are replacing. They are not as advanced as the Vision since an Infinity Stone doesn't power them, but unless you were in the know, you wouldn't be able to tell an LMD apart from the real thing.
The first mention of LMDs, in the Marvel Cinematic Universe, dates back to 2012's Marvel's The Avengers. When Coulson attempts to contact Tony Stark about finally getting the Avengers up and running, the genius billionaire playboy philanthropist responds with, "You have reached the Life Model Decoy of Tony Stark." At the time, it was a throwaway line, mostly seen as a nod for the most die-hard of fans.
[RELATED: Life Model Decoys: The Other You]
 When we fast forward to 2016, in Season Four of Agents of S.H.I.E.L.D., LMDs are not only present, but they become the main antagonists for the second storyline of the season. Holden Radcliffe, the designer of the LMD program, was brought in to help unlock the secrets of the Darkhold book. Using his LMD assistant Aida, the book opened, and the team was able to defeat Eli Morrow.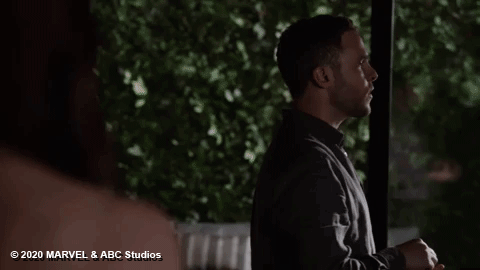 [RELATED: AIDA's LMD (Lime, Macadamia, Dark chocolate) Snack Mix]
However, the Darkhold corrupted Aida, who has become sentient, and she and Radcliffe have a new mission to retake the book and unlock its power. Throughout the story, we find Agent May, Coulson, Director Jeffrey Mace, Agent Mack, and Agent Fitz were all captured and replaced with LMDs. While Quake and Simmons can defeat the LMDs, they must enter a virtual reality world created by Radcliffe and Aida called "The Framework" to save their fallen teammates.
The final arc of Season Four had the team escape The Framework, but not without consequence. Mace dies, and Aida has taken a powerful human form called Ophelia. The agents, along with Ghost Rider, are finally able to defeat Ophelia and recover the Darkhhold, but not before an LMD of Agent Daisy Johnson shoots General Glenn Talbot, once again making the S.H.I.E.L.D. agents fugitives of justice.
In this current and final season, one member of their team is an LMD. Will they be able to trust this new version of Phil Coulson as the man they've known for almost a decade, or will their history with LMDs come back to haunt them, and force themselves to fight their former leader?
Season 7 of Marvel's Agents of S.H.I.E.L.D. airs Wednesdays at 10 p.m. ET/PT on ABC.
For more information on "Marvel's Agents of S.H.I.E.L.D.," visit ABC.com, follow @AgentsofSHIELD on Twitter, and like "Marvel's Agents Of S.H.I.E.L.D." on Facebook for all the latest news and updates.
The Hype Box
Can't-miss news and updates from across the Marvel Universe!