Comics
Published May 6, 2022
Celebrate Mother's Day with 6 Special Super Heroes
These Marvel Moms will make you want to hug the moms in your life!
Several of these women have fought off Super Villain hordes, extraterrestrials, or have combated the fear and hatred of humanity itself. But all of that pales in comparison to their most challenging Super Hero job—being a mom!
Celebrate a handful of Marvel Moms with a spotlight on six special heroes who embody what it is to raise another up. And, read their greatest comic stories on Marvel Unlimited!
RAMONDA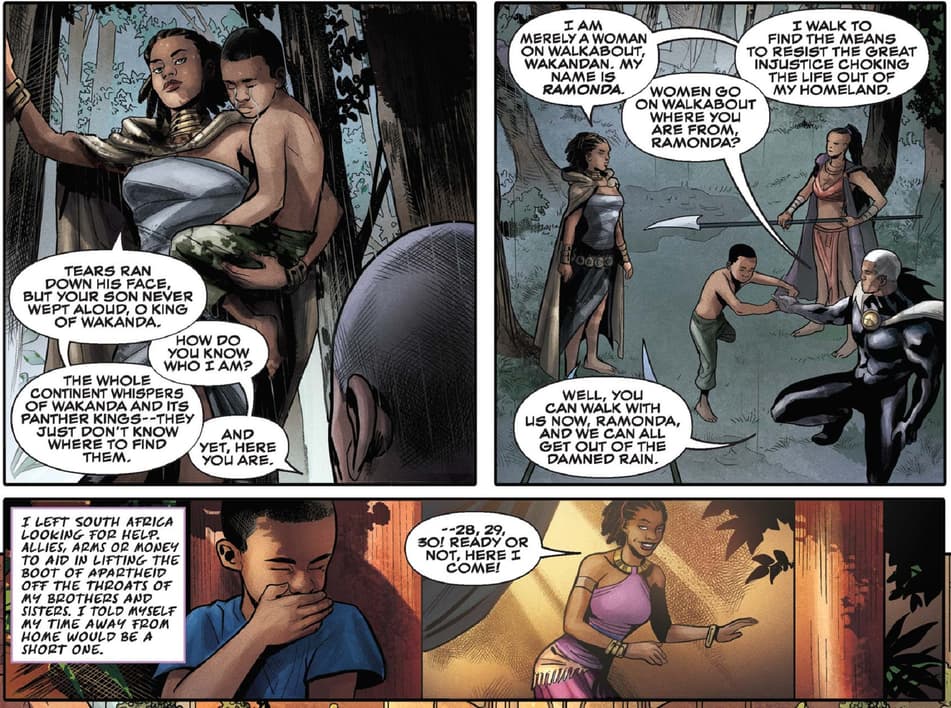 Ramonda, Wakanda's Queen Mother, and mother to the Black Panther and Shuri.
T'Challa has always relied on the counsel of his most trusted adviser—mom. While Ramonda is technically T'Challa's step-mother, she raised the young prince from his earliest days after his birth mother, N'Yami, died in a complicated labor. (RISE OF THE BLACK PANTHER #1). Ramonda rose to the occasion of loving T'Challa as her own, passing along her unwavering morals to a future king. During a period of political unrest in Ta-Nehisi Coates' BLACK PANTHER (2016), Ramonda encouraged T'Challa, and her daughter Shuri, to remain smart, steely, and brave despite a wave of violence. Like the calm eye of a storm, Ramonda stays strong in the face of anything.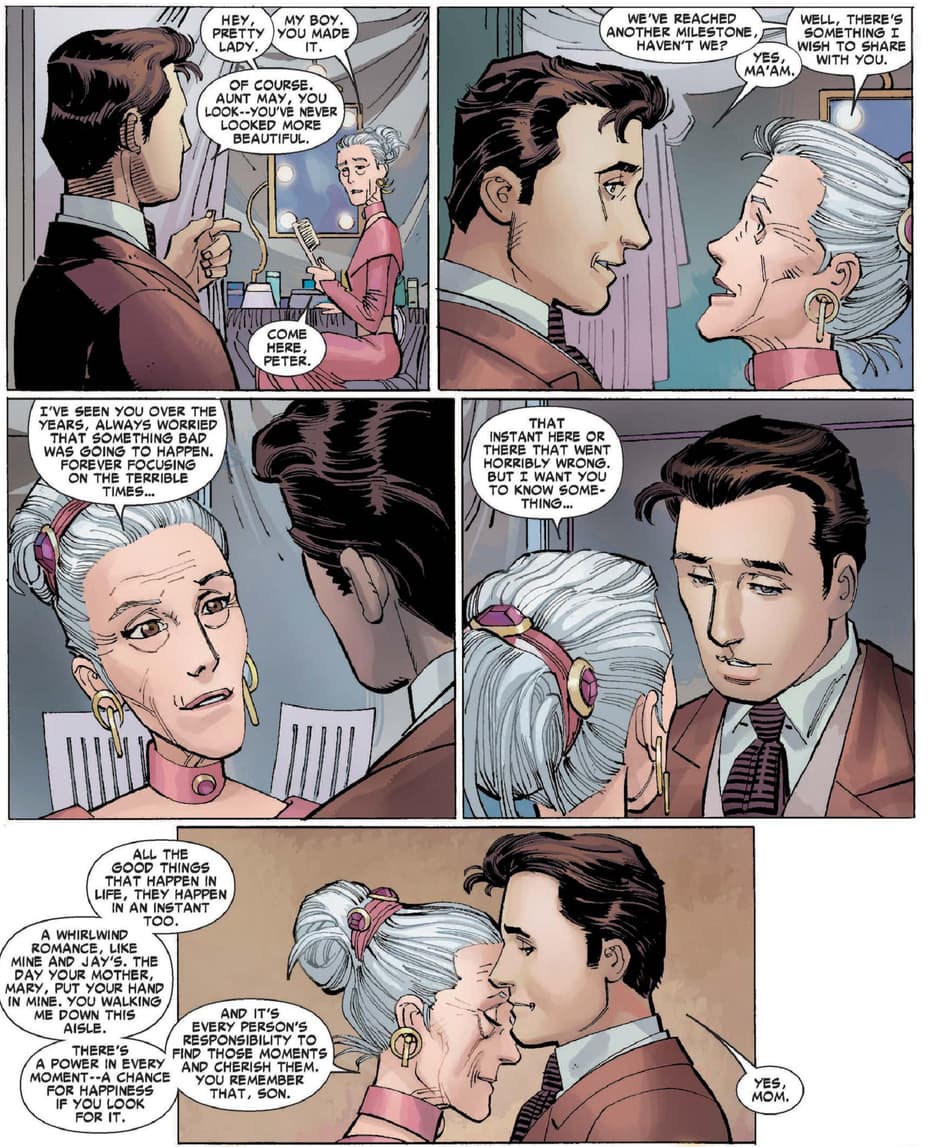 A backbone to Peter Parker through his spider bite, a body swap, and a revolving door of Super Villains, May Parker has singlehandedly taught Spidey to enjoy those rare peaceful moments, no matter how fleeting. She also embodies the sacrifice required of parents—after losing his own mom and dad, May and her husband Ben stepped up to the plate to raise Peter as a loving, studious, and kind young adult.
That's why it was such a tear-jerking moment in AMAZING SPIDER-MAN (1999) #600 when Peter finally acknowledged his Aunt May as "mom." The timing was opportune—at her wedding to J. Jonah Jameson Sr., May offered sage advice about the true source of happiness, and surprise, it comes from within.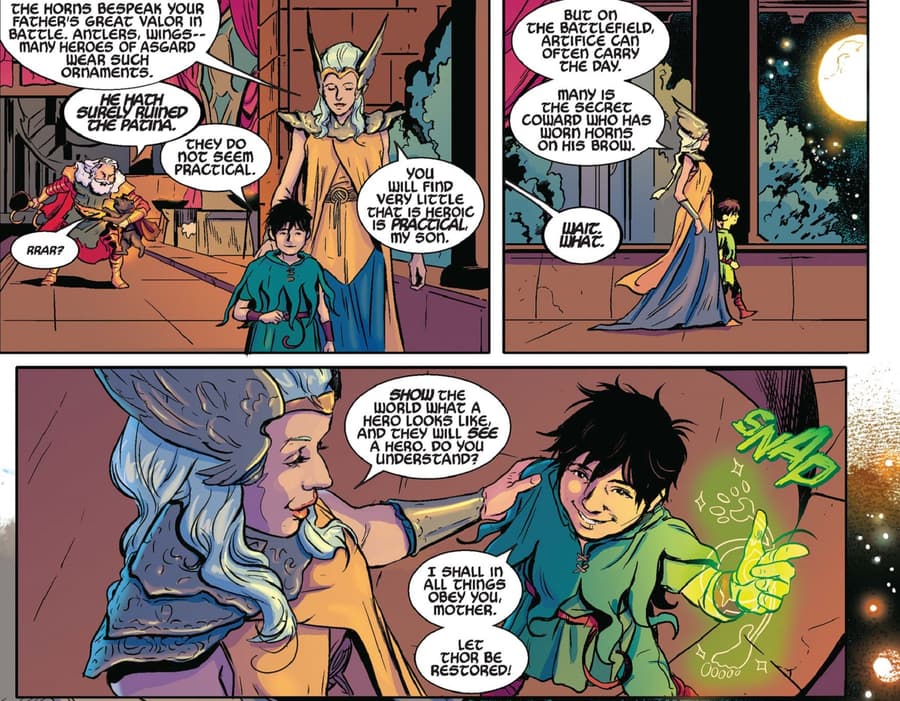 The All-Mother of Asgard. A Daughter of the Vanir. The God of the Hunt. And "mom." At least to Thor Odinson, Loki, and Angela.
Frejya, an immortal goddess and a reigning ruler of the Ten Realms, has lived on Asgard through a soap opera's worth of family drama. The daughter of Odin's (former) enemy, she became queen of the Realm Eternal—and Thor's step-mother—through marriage. Even though Thor and Loki are not technically related to their mother by blood, it has not made one iota of difference in Freyja's unconditional love. And though she's had millennia to grasp the ins and outs of parenting, that doesn't mean she hasn't slipped up either! Most notably in MIGHTY THOR (2015) #5 when she made the mistake of trusting Loki.
All of her children are like the opposite sides of a three-sided coin. But despite their differences, she has respected and shown support in unlimited supply, even fostering a special relationship with "wild child" Loki. In flashback issue WAR OF THE REALMS: WAR SCROLLS (2019) #2 this bond was on display—Freyja encouraged her son to show off his best side even when others only see the troublemaker.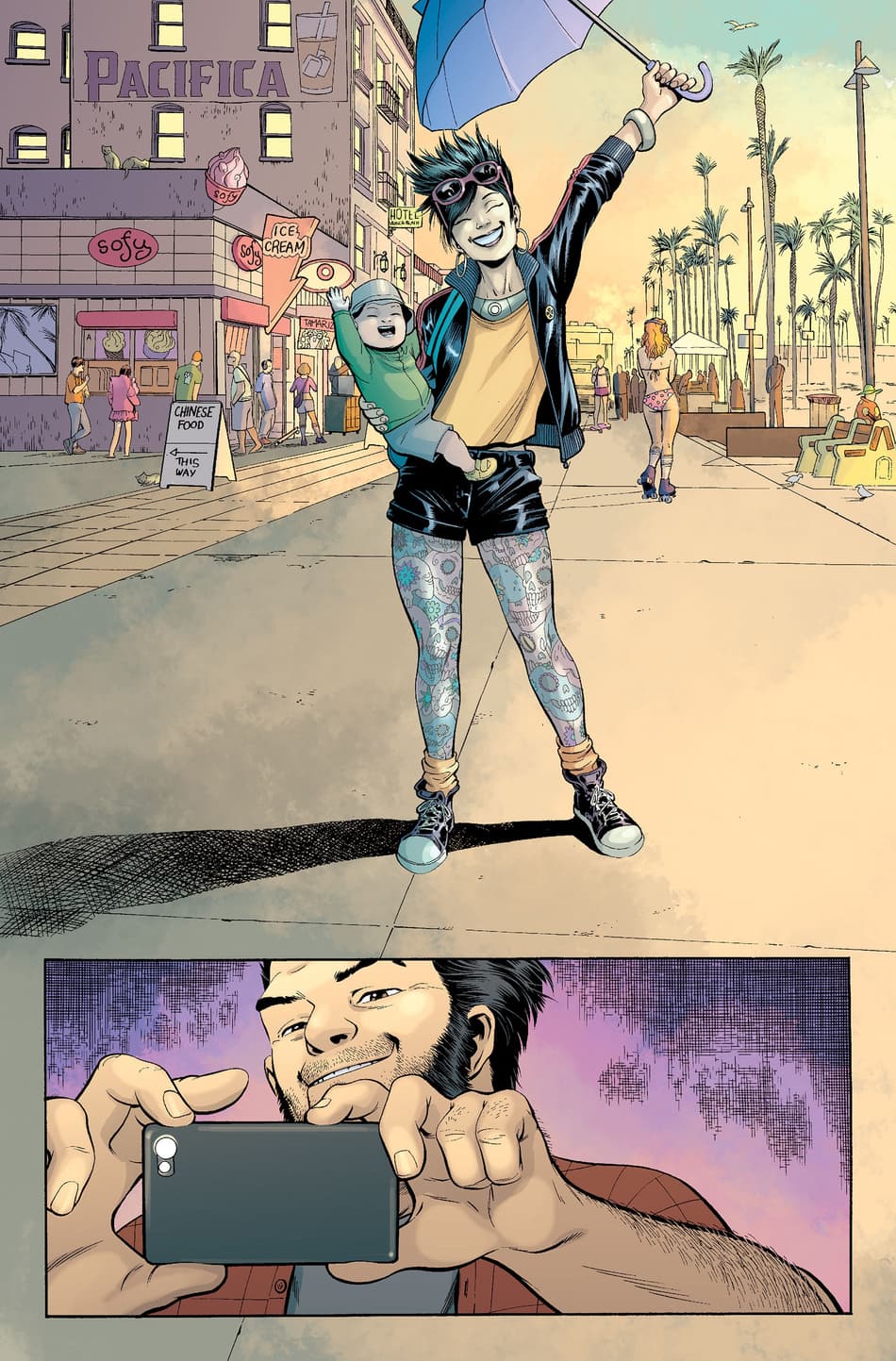 Fireworks-generating Jubilation Lee, AKA Jubilee, was considered the baby of her mutant family—until she had a baby all her own.
In X-MEN (2013), the X-Woman evolved from mall-dweller to mom when she adopted Shogo, an orphaned child that was used as a host for an ancient, sentient bacterium. At first every part of parenting was a curveball for Jubilee, made harder by constant attacks from extraterrestrial enemies. But with help from her supportive teammates—including former Generation X classmate Chamber—Jubilee has it down pat. Now living with baby Shogo on the mutant island nation of Krakoa, Jubilee and her wee baby sidekick kicked Otherworld butt in EXCALIBUR (2019). Just like his mommy, Shogo is one courageous, cool kid.
RIO MORALES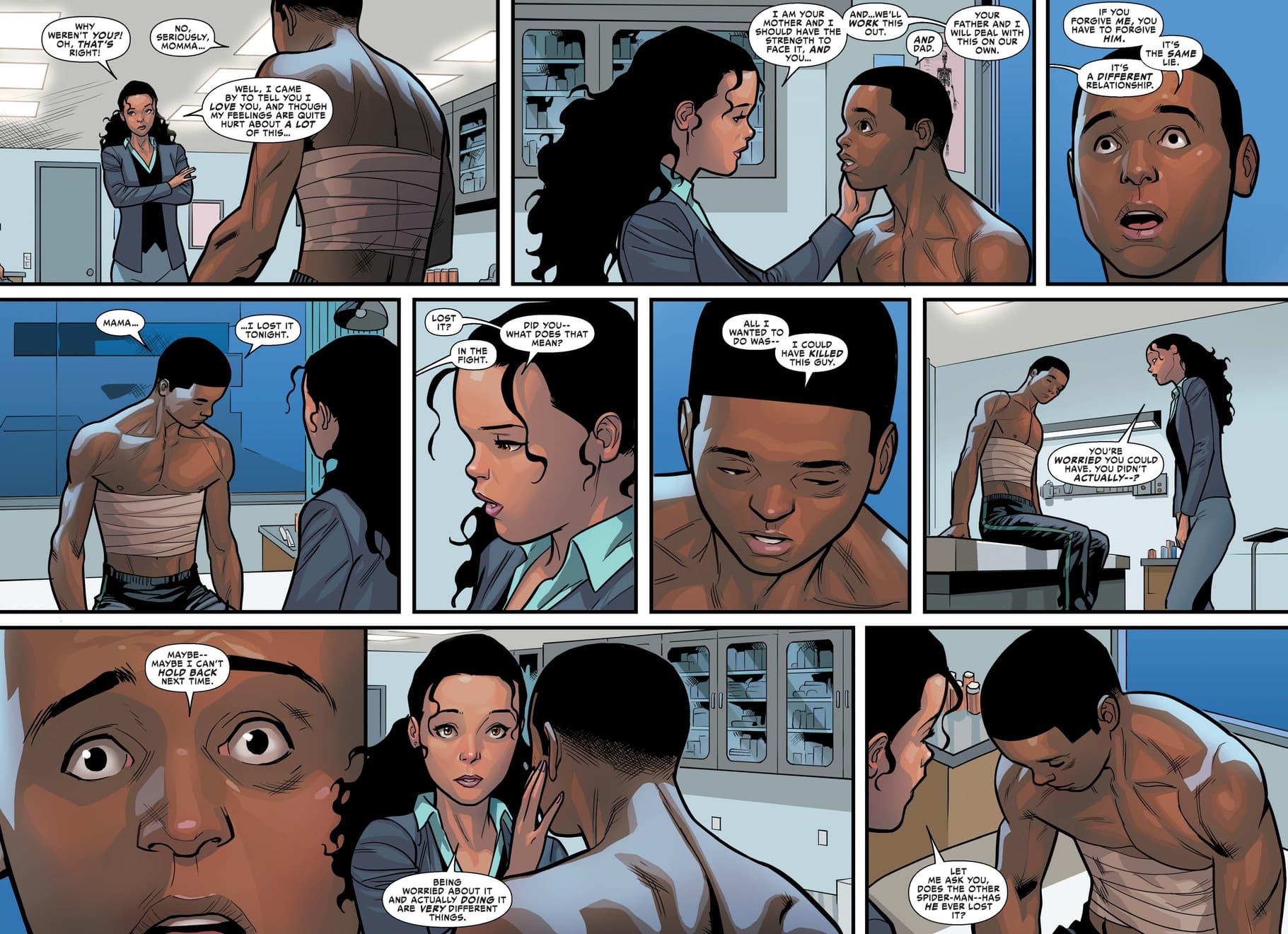 Teen Spider-Man Miles Morales has an especially close bond with his mom, Rio, and the two share a passion for science. More than that, Miles shared his costumed identity with his mom in SPIDER-MAN (2016) #15, and even unpacked his fears about an urge to kill three issues later. Rio didn't miss a beat when her son shared his deepest, darkest parts, giving him an emotional safety net to unload a hero's burden.
Rio is Miles' fiercest ally. She is firm. She is fair. And she has a no-nonsense policy.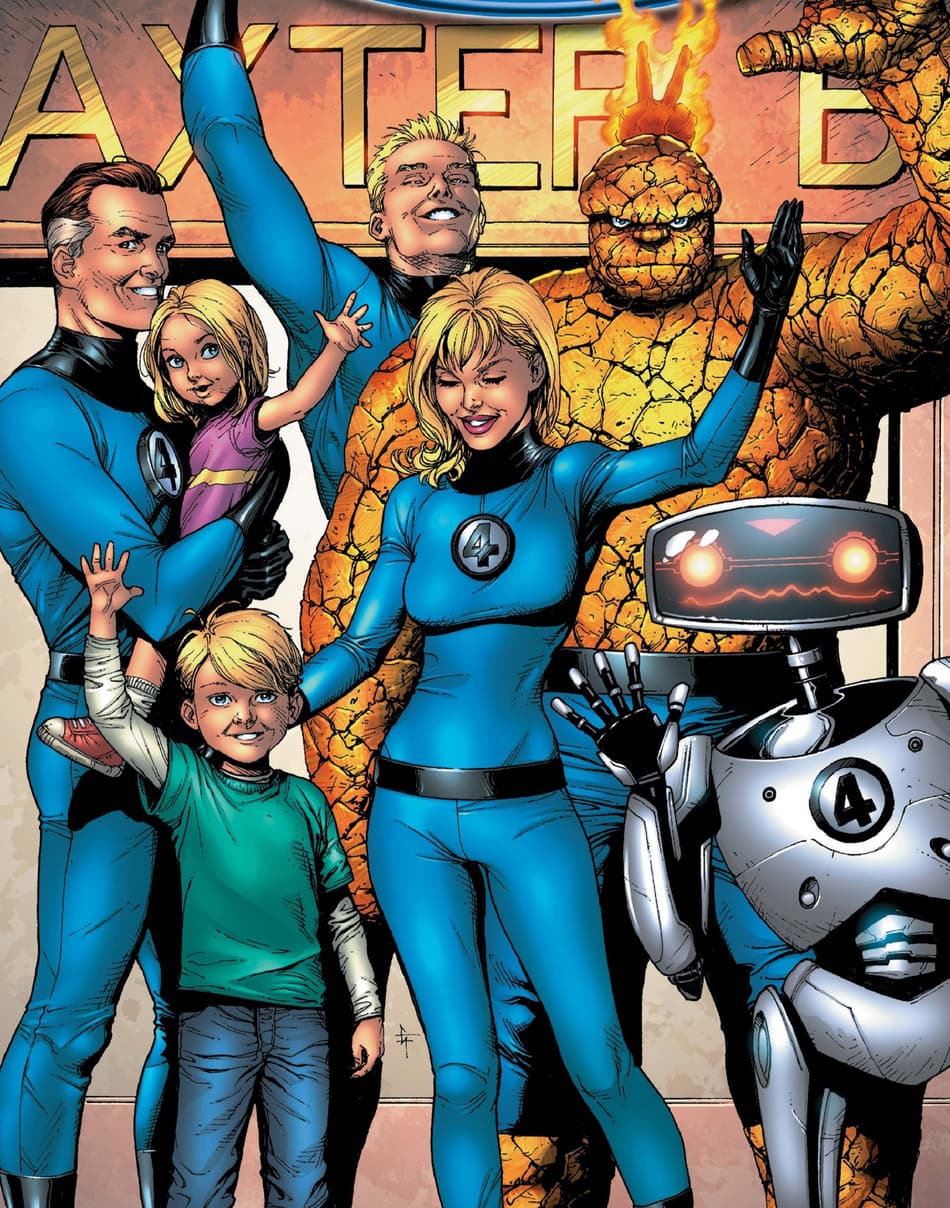 Susan "Sue" Richards went from the First Lady of Marvel to Marvel's First Mom! In FANTASTIC FOUR ANNUAL (1963) #6, AKA "Let There Be Life," the Invisible Woman and Mister Fantastic welcomed their son Franklin after a daunting pregnancy. And baby Valeria made four in FANTASTIC FOUR (1998) #54 (although Doctor Doom would take partial credit for saving the baby's life).
The Invisible Woman makes our list because just like her impenetrable force fields, she is equipped for the unexpected. Whether battling strange foes in the Negative Zone, getting caught on the frontlines of galactic war, facing universal incursion, or reconciling with her son's vast powers over reality, Susan Richards has kept calm, lead fiercely, and loved hard. As a founding member of the FF, she is not only its most powerful member—she is its heart.
This is just a handful out of many Marvel Moms, so read our complete Mother's Day Reading Guide on Marvel Unlimited to celebrate the Super Heroes in your life.
The Hype Box
Can't-miss news and updates from across the Marvel Universe!