Comics
Published September 30, 2019
Absolute Carnage: Frank Tieri Takes Us Inside the Cult of Carnage
The writer of two Absolute Carnage miniseries shares some insight into Marvel's symbiote event!
No one who has ever joined with a symbiote is safe from the Cult of Carnage! Donny Cates and Ryan Stegman's ABSOLUTE CARNAGE is leaving its mark on fans. Marvel's latest crossover event is spreading its tendrils all over the Marvel Unvierse with a slew of tie-ins putting your favorite Marvel heroes in peril. Two of these tie-in miniseries are being written by comic book veteran, Frank Tieri, who introduced the Cult of Carnage earlier this year. Tieri has teamed up with artist Flaviano to continue that story in ABSOLUTE CARNAGE: LETHAL PROTECTORS. At the same time, Tieri and artist Marcelo Ferreira are smashing comedy and horror together in ABSOLUTE CARNAGE VS. DEADPOOL.
Marvel.com recently caught up with Tieri, and he told us that his first exposure to Carnage wasn't actually a comic book at all.
"My first experience with Carnage was probably the MAXIMUM CARNAGE video game, which I loved as a teen," recalled Tieri. "That was a great gimmick they made by including the red cartridge. I would say that the MAXIMUM CARNAGE comic was also one of my early interactions with Carnage."
According to Tieri, his ABSOLUTE CARNAGE projects grew organically out of the WEB OF VENOM: CULT OF CARNAGE one-shot that he penned earlier this year.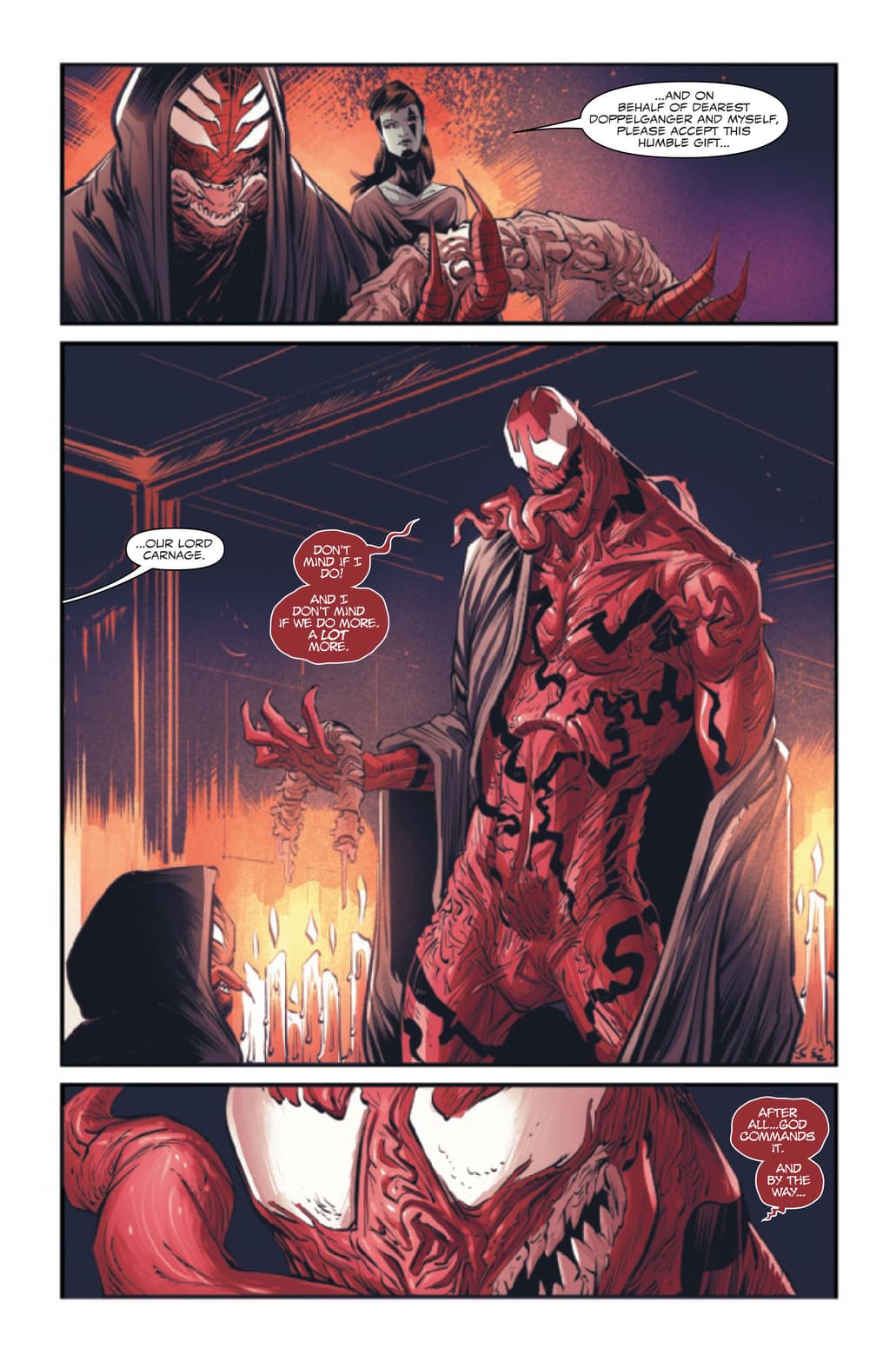 "Devin [Lewis], Donny, and I talked about doing stuff [together] for a long time before the CULT OF CARNAGE book, which serves as a prequel to the whole ABSOLUTE CARNAGE event," said Tieri. "Basically, we revisited Doverton from CARNAGE, U.S.A., because John Jameson had been sent there to investigate it and he disappeared. As a result, Misty Knight followed John to see what was going on before getting sucked into the madness of LETHAL PROTECTORS."
Tieri also shared some insight into the cult members themselves, and their ultimate goal.
"They worship darkness, and they're mainly interested in bringing Knull to this world," noted Tieri. "They worship Knull. For the hierarchy of the whole thing, Carnage is kind of the high priest, he's like a cult leader."
Long time comic readers probably noticed that Carnage's most devoted followers in the cult are Shriek, Doppelganger, and the spirit of Demogoblin that now resides within Shriek's body [and is now called Demagoblin]. That was no coincidence, and the second issue revealed that the reunited villains from MAXIMUM CARNAGE will be facing most of the heroes from that event.
"Donny and I definitely did some purposeful callbacks to MAXIMUM CARNAGE," admitted Tieri. "LETHAL PROTECTORS in particular has a lot of callbacks to MAXIMUM CARNAGE. When Misty calls out for help, the heroes who come out are Iron Fist, Cloak and Dagger, Firestar, Morbius, and Deathlok. It is a MAXIMUM CARNAGE reunion of sorts."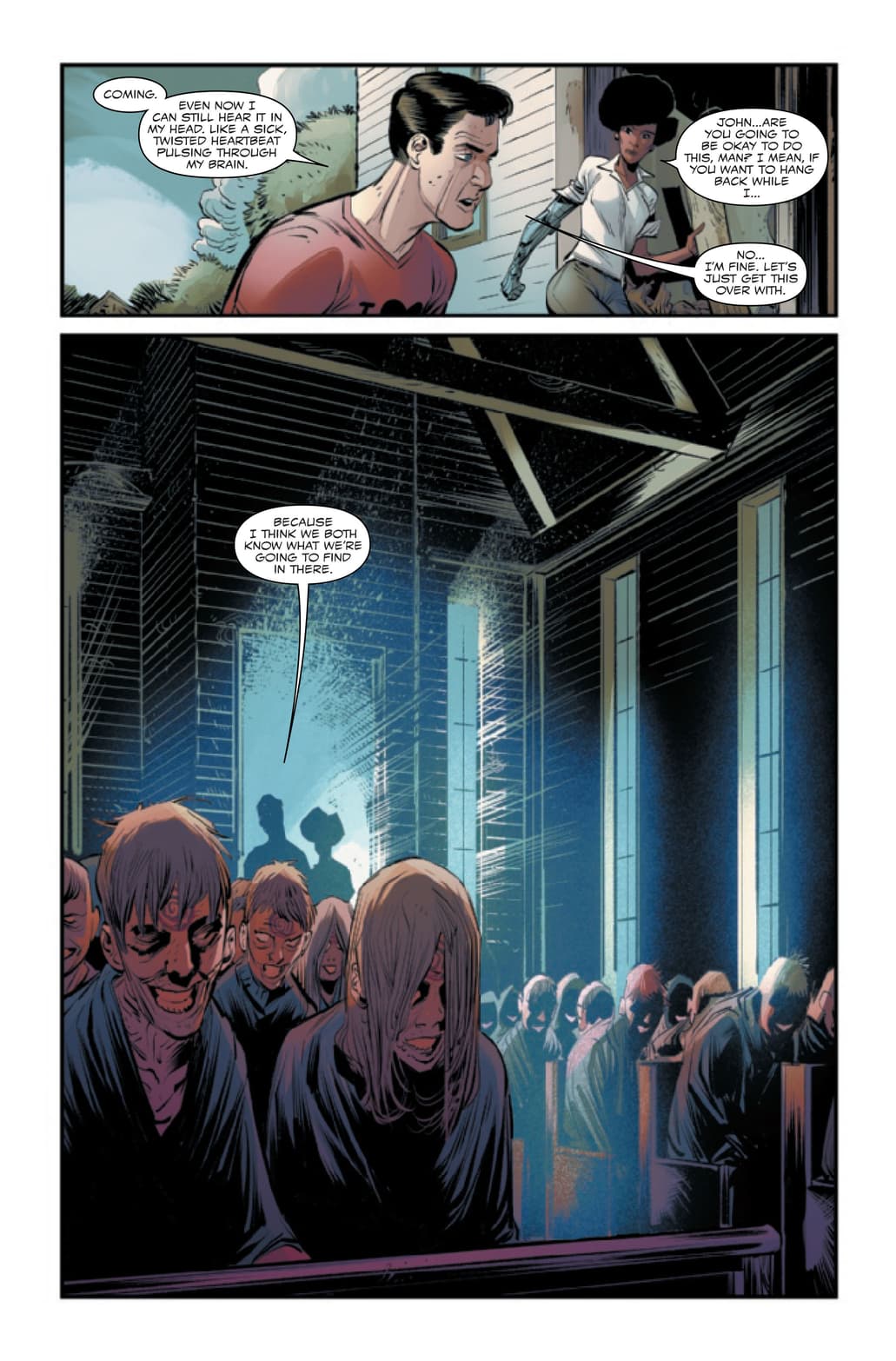 Tieri added that he has been purposefully vague about what brought John Jameson and Misty Knight together in the first place. But he did offer a brief hint.
"They belong to the same organization," noted Tieri. "Misty has said that they have superiors. What that organization is, and what that means remains to be seen."
He also touched upon the twisted love that Carnage and Shriek still have for each other. 
"As we see in LETHAL PROTECTORS, I kind of alluded to the fact that Shriek and Carnage have feelings for each other," said Tieri. "She showed her devotion to the cult by making the ultimate sacrifice and providing the host body for Demagoblin. You could say Demagoblin is now two people, but she and Carnage continue their relationship."
Additionally, Tieri expressed his appreciation for both Flaviano and Ferreira's artistic contributions to his titles.
"LETHAL PROTECTORS is a very dark book, and I think Flaviano is really well suited for that," said Tieri. "It demands art that's dark, gritty, and Stephen King-ish, but he's really done a great job. It's a real piece of art."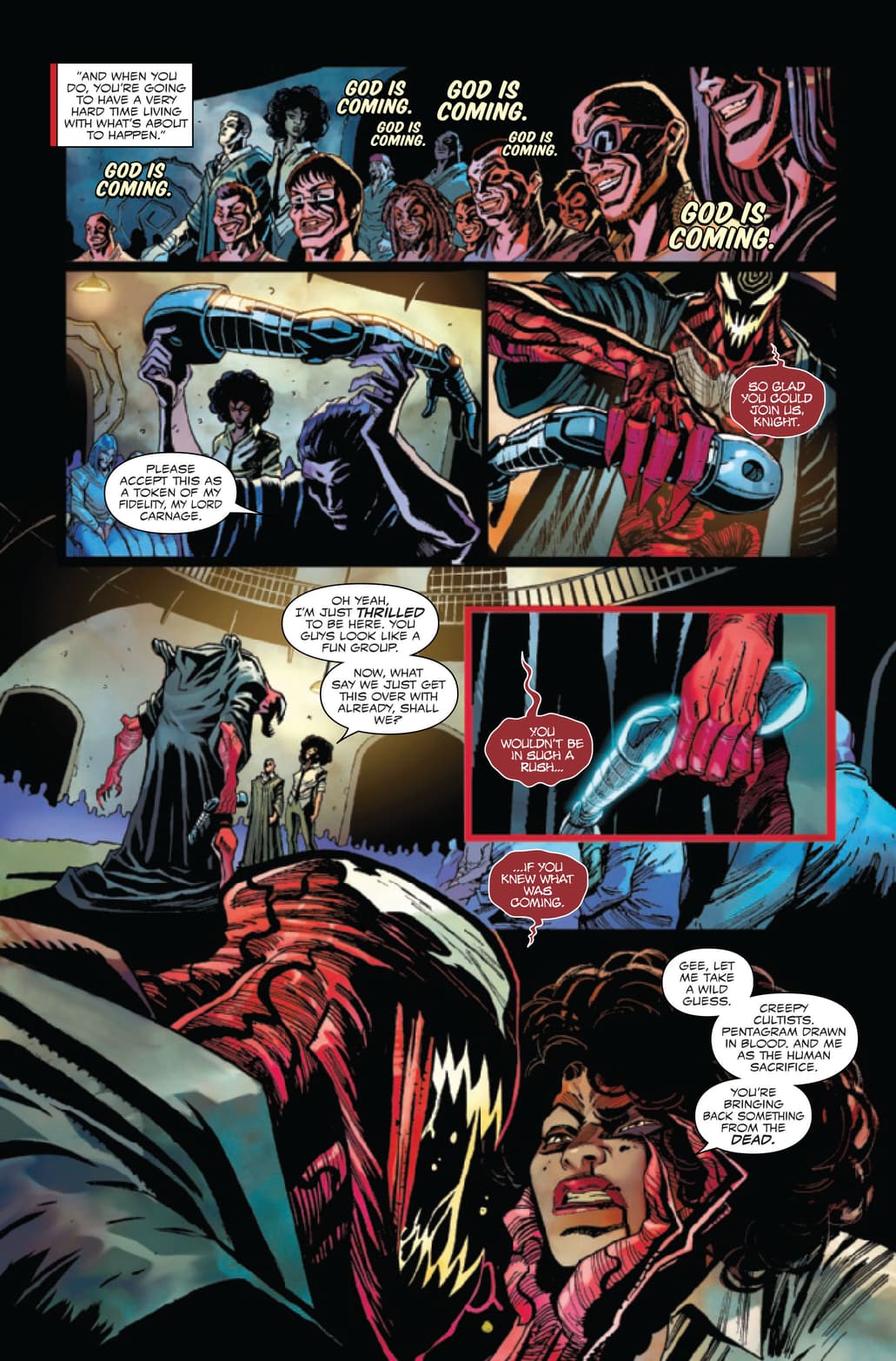 "The difference between ABSOLUTE CARNAGE VS. DEADPOOL and LETHAL PROTECTORS is that LETHAL PROTECTORS is more of a straight horror movie," continued Tieri. "ABSOLUTE CARNAGE VS. DEADPOOL is more like ABBOTT AND COSTELLO MEET FRANKENSTEIN. It's a horror movie where you drop Deadpool in the middle of it, so there's obviously some comedic elements. Marcello's been able to really capture that. To do a book with Deadpool and do the horror elements is not that easy, but he nailed it. Marcello did a page where all of Spider-Man's rogue's gallery is chasing Spider-Man and Deadpool. It really is beautiful. It's one of my favorite things in a book that I've ever worked on."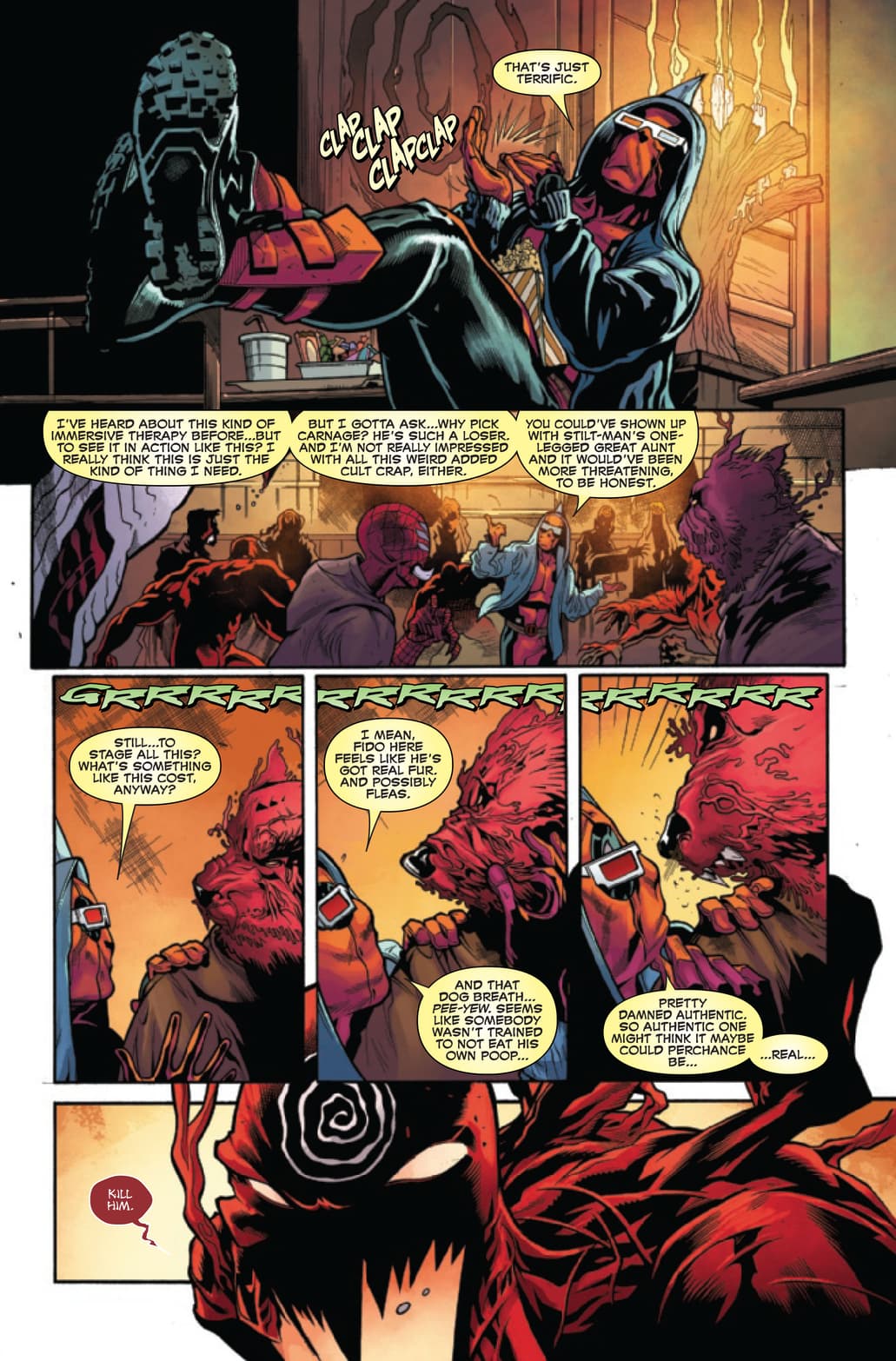 While ABSOLUTE CARNAGE VS. DEADPOOL will primarily focus on the title match up, Deadpool's buddy Spider-Man will continue to play a reluctant part in the story.
"Spider-Man has a big role in ABSOLUTE CARNAGE VS. DEADPOOL," noted Tieri. "One of the things that's going to be explored in that story is this. Everybody has that one friend, where people are like 'Why are you friends with that guy?' For Spider-Man, that's Deadpool. That's what he gets for being Deadpool's friend. It's gotta be difficult, and at the beginning of ABSOLUTE CARNAGE VS. DEADPOOL, Deadpool did something that was the last straw for Spider-Man. 'Like dude, go get some help. You don't need a shrink, you need a whole team of people.' Spider-Man and Deadpool's relationship will play very much into that book."
The first two issues of ABSOLUTE CARNAGE: LETHAL PROTECTORS and ABSOLUTE CARNAGE VS. DEADPOOL are out in stores now!
Visit Marvel.com/absolute-carnage for even more about Marvel's symbiote event!
The Hype Box
Can't-miss news and updates from across the Marvel Universe!