Comics
Published January 19, 2021
10 Favorite Moments from 'The Age of Khonshu'
Read the Moon Knight-centric storyline in full on Marvel Unlimited!
Have you tried Marvel Unlimited yet? It's your all-access pass to over 28,000 Marvel comics, available at your fingertips. Sign up now to get 50% off your first month.
Since the beginning of his run on AVENGERS (2018), writer Jason Aaron has been building toward the team's blowout confrontation with Mephisto. However, blockbuster storyline "The Age of Khonshu" took fans down an unexpected path as Moon Knight's patron deity, Khonshu, took matters into his own hands. To save the Marvel Universe from Mephisto's plans, Khonshu made Moon Knight more powerful than ever before, ultimately remaking the world in his own image.
[RELATED: 10 Must-Read Moon Knight Stories]
Aaron and artist Javier Garrón's entire "Age of Khonshu" story [AVENGERS #33-37] is now on Marvel Unlimited for your reading enjoyment. It leads directly into the current arc, "Enter the Phoenix," but it also marks a major turning point for Aaron's tenure on the book. To get you ready to revisit the story on MU, here are our ten favorite moments from "The Age of Khonshu."
BY THE IRON LIGHT OF THE MOON (AVENGERS #33)
To kick off the storyline, Moon Knight traveled all the way to K'un-Lun, the mystical city where Danny Rand became the Iron Fist. Although Iron Fist assumed that Moon Knight wanted to team up against a greater threat, he soon found himself outmatched in a battle of martial arts mastery. Under the light of the "supermoon," Danny was defeated, and Moon Knight claimed the mantle of the Iron Fist as his own.
And that was only the beginning.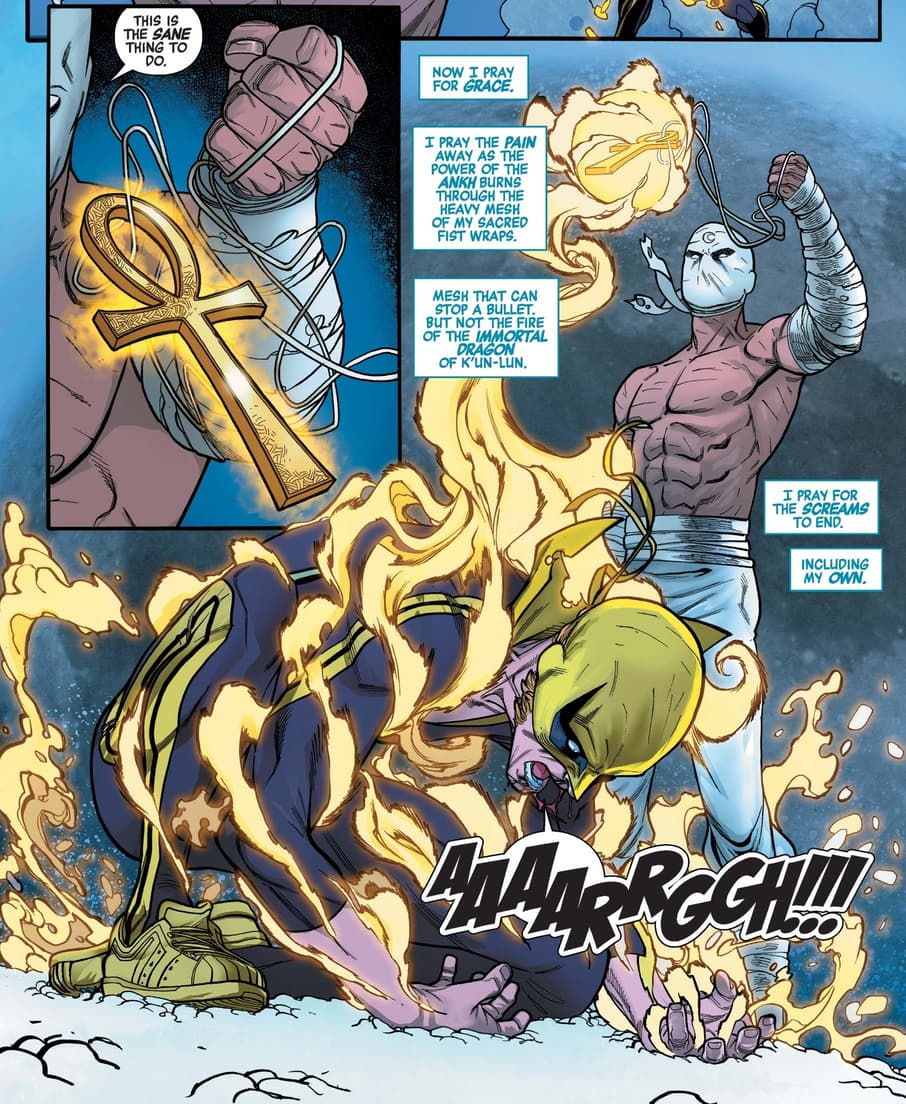 MOON KNIGHT, MEET MJOLNIR (AVENGERS #33)
After taking down Doctor Strange and Ghost Rider: Robbie Reyes, Moon Knight literally went to the moon to confront the mighty Thor. The Odinson is perhaps the most powerful Avenger, but even he was laid low when Moon Knight was able to seize control of Thor's hammer, Mjolnir.
Moon Knight wasn't "worthy" in the conventional sense. Instead, he told Thor that the Uru metal in Mjolnir was actually made of "moon rock." After pummeling Thor with his own hammer, Moon Knight summoned several alien moons to surround and imprison Thor. Quite a demonstration of his newfound might.
THE MURDER OF MEPHISTO (AVENGERS #34)
In flashback, we learned that Khonshu was desperately afraid that Mephisto would conquer the Earth. That set in motion Moon Knight's quest to amass additional powers from the various Avengers. Subsequently, Moon Knight and Khonshu travelled to Las Vegas to see Mephisto in his prison at the Hotel Inferno. Khonshu knew that Mephisto was orchestrating events from his cage that would doom humanity. Moon Knight took it upon himself to pass judgment on this devil and end his life with Mjolnir and other mystical objects including Strange's Sorcerer Supreme enchantments and Ghost Rider's hellfire. Yet even this victory wasn't enough to stop the devil's reign. That's why Khonshu took things even further...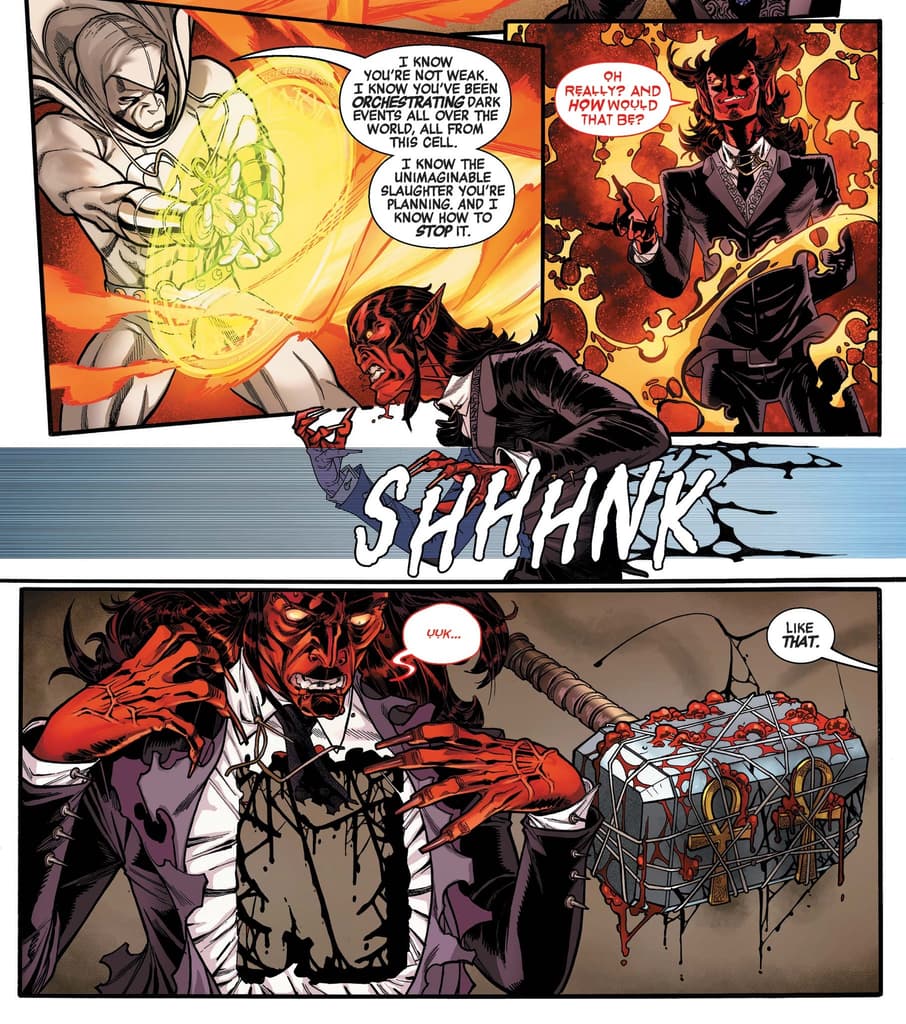 MANHATTAN, AKA NEW THEBES CITY

(AVENGERS #34)
With all of the power amassed by Moon Knight, Khonshu began remaking the world "to better protect it." And if the new world happened to be in his ancient image, so much the better. The seat of Khonshu's power was New Thebes City, formerly known as the island of Manhattan. Under Khonshu's guidance, Egyptian iconography dominated the cityscape, along with several statues dedicated to the god himself. Werewolves, mummies, moon priests, and other supernatural enforcers roamed the streets as they hunted down any who dared to resist their master's might.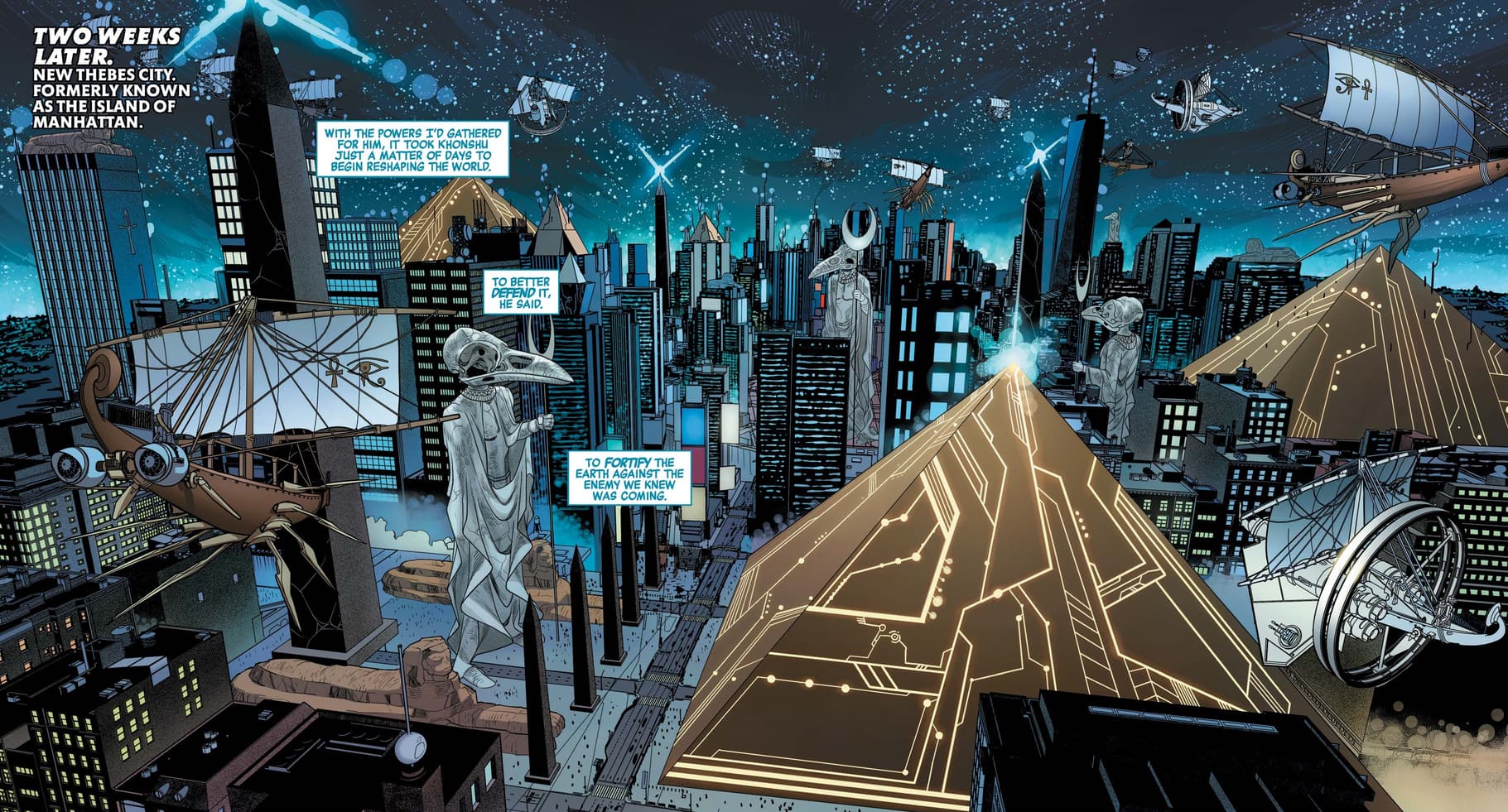 THE TEMPTATION OF TONY STARK (AVENGERS #35)
Iron Man had recently returned to the present after a stint in the Stone Age, and Tony Stark was haunted by Mephisto's display of power. During the "Age of Khonshu," Iron Man and Captain Marvel took it upon themselves to protect Brandy, the baby who is the heir to the Starbrand power.
[RELATED: Is This the Most Powerful Weapon in the Marvel Universe?]
Because Khonshu needed the Starbrand to maintain his advantage over Mephisto, Moon Knight called upon the stolen powers of Ghost Rider to confront the two Avengers. And he very nearly made Stark give up the baby by telling him it was the only way that Mephisto could be defeated. To his shame, Iron Man almost gave in.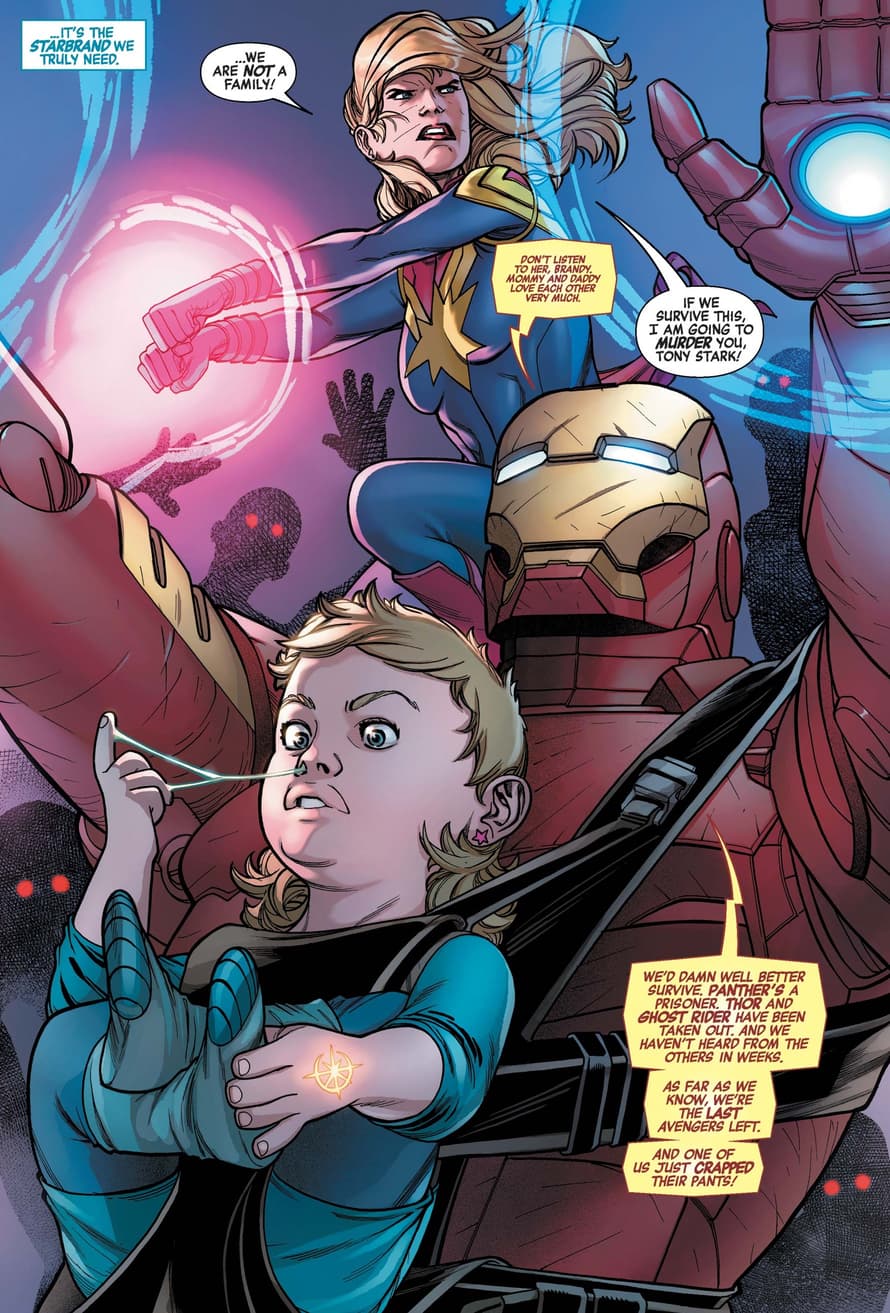 THE MELEE OF THE MEPHISTOS (AVENGERS #35)
Khonshu warned Moon Knight that Mephisto's apparent death was far from the end. Driving home that point, Khonshu was forced to contend with Mephistos from alternate worlds and timelines as they descended upon him to avenge their fallen comrade. Khonshu defeated the Mephistos in turn, and yet he was even more terrified than before. Mephisto's evil is truly infinite, and Khonshu's might derives from powers that are not his own. Still, this was one heck of an equal match.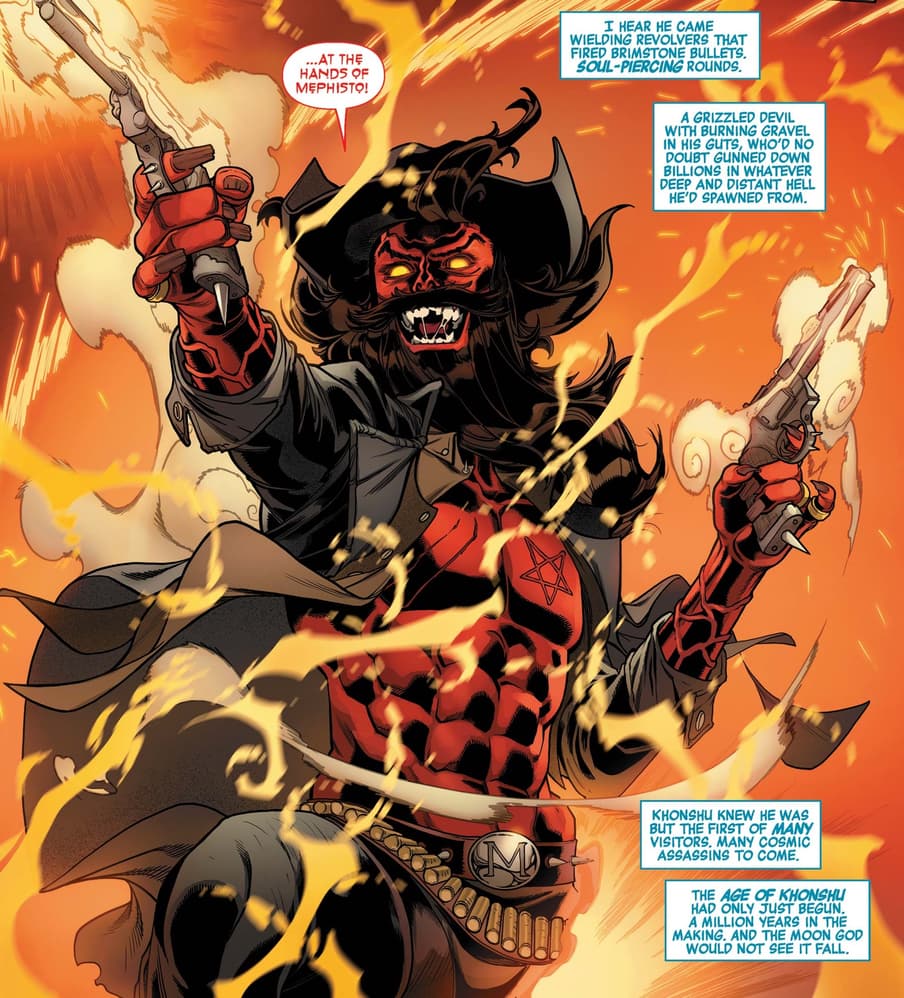 BLACK PANTHER VERSUS MOON KNIGHT (AVENGERS #36)
For a few issues, King T'Challa bided his time while refusing to relinquish the powers of the Black Panther. Neither Moon Knight nor the priests of Khonshu could beat Black Panther into doing their bidding. T'Challa finally broke free and confronted Moon Knight in a duel for the ages. Even when vastly outpowered, Black Panther proved that his fighting prowess is second to none. He beat Marc Spector into submission, but the Moon Knight was far from finished.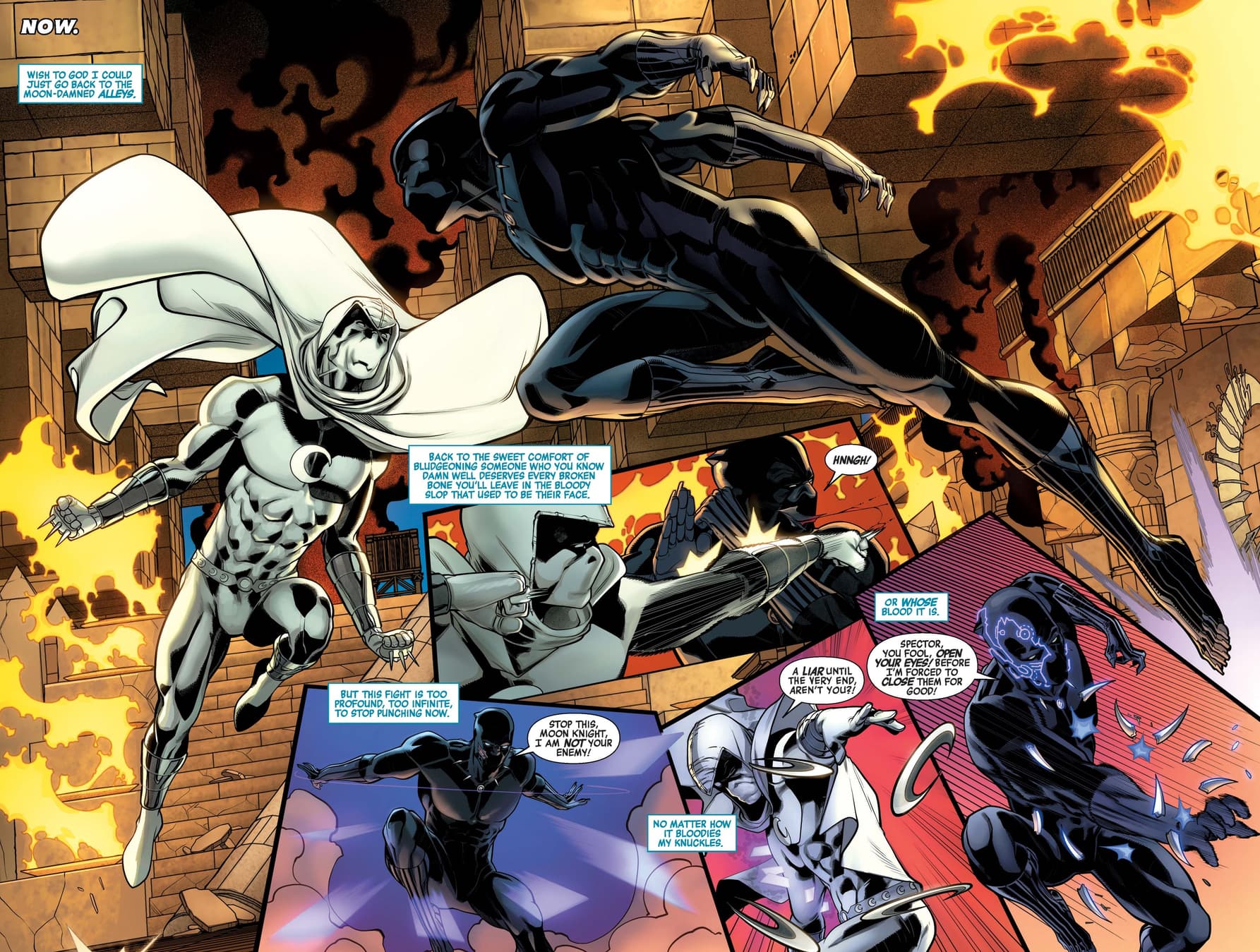 MARC SPECTOR: FIST OF THE PHOENIX

(AVENGERS #36)
The Unseen warned Moon Knight that he was praying to the wrong god. On some level, Marc Spector must have realized that too. During his battle with Black Panther, Moon Knight came to understand that his new deity wanted something more from him... and he offered it his suffering. The Phoenix Force answered Moon Knight's call, and he became the anointed "Fist of the Phoenix!"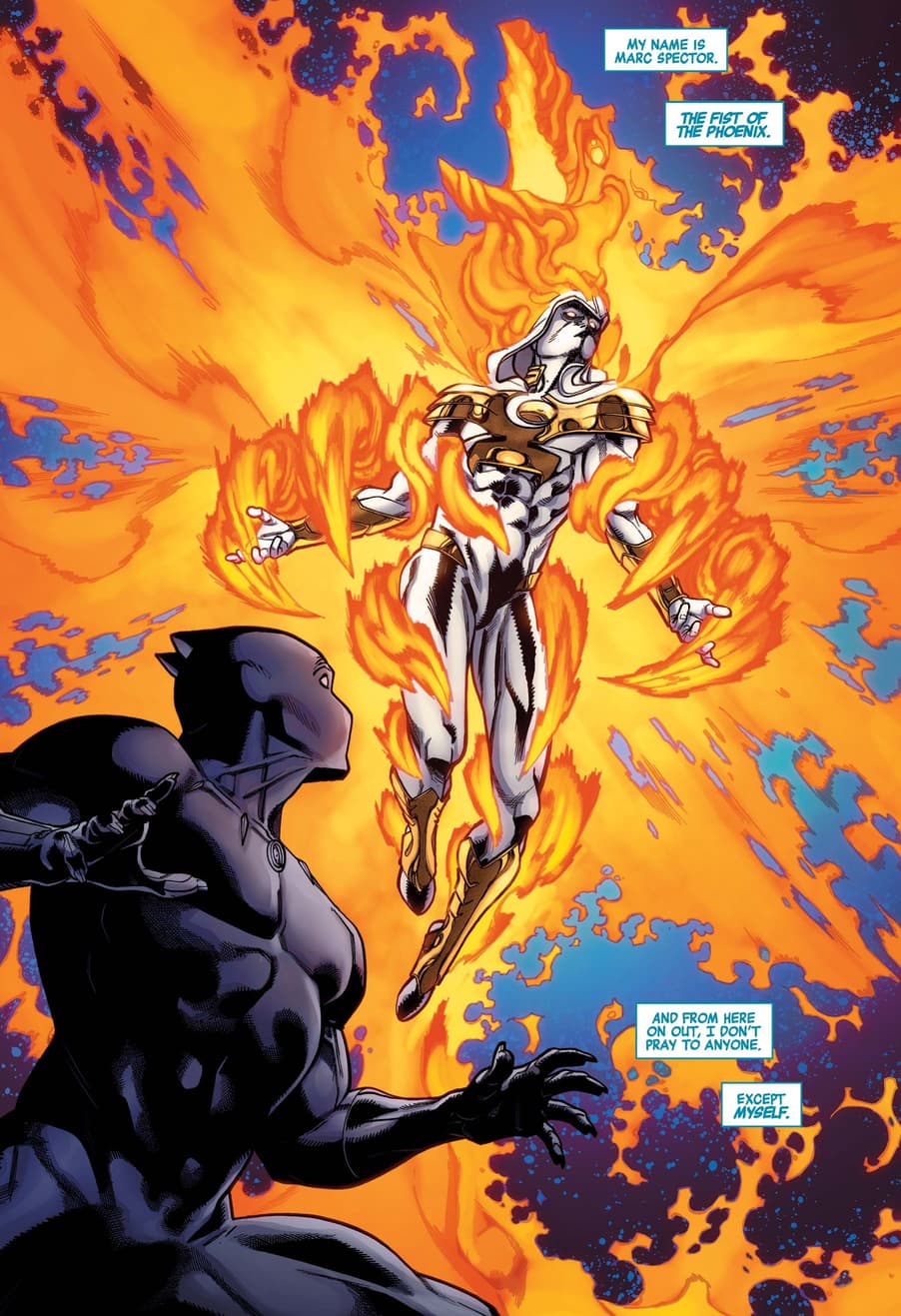 How vast is the power of the Phoenix? This should be a definitive example.
Khonshu had his own godly powers, mixed with Doctor Strange's mystic might, the Iron Fist, and Ghost Rider's Spirit of Vengeance. Yet one punch from the Phoenix-empowered Moon Knight was enough to send Khonshu crashing back down to Earth. For the first time in their long relationship, Marc Spector had more power than his "god." It was a reversal of their dynamic, and it may have ruptured their bond for good.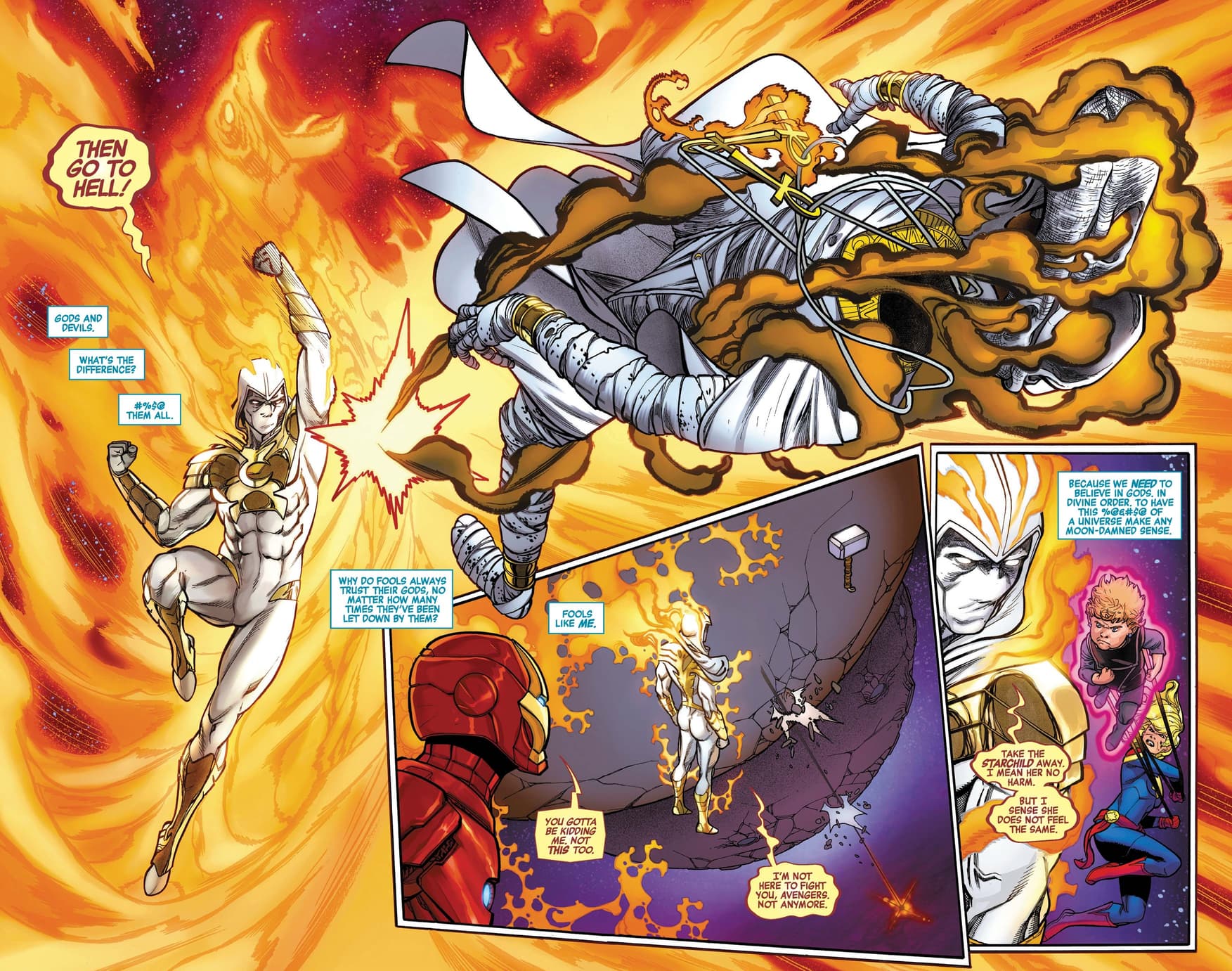 THE IRON HULK AND BLADE, SORCERER SUPREME (AVENGERS #37)
Black Panther was able to take back the powers that Khonshu had stolen from their rightful owners. But before the Avengers could be returned to their powersets, they had to defeat Khonshu's followers once and for all. Thus, She-Hulk got a temporary boost from the Iron Fist, while vampire hunter Blade took Doctor Strange's magical powers and knowledge as his own. This was more than enough to humble Khonshu and ensure his defeat.
In the end, the Phoenix abandoned Moon Knight as it sought a new host, which sets up the events currently playing out in "Enter the Phoenix," kicking off in issue #39!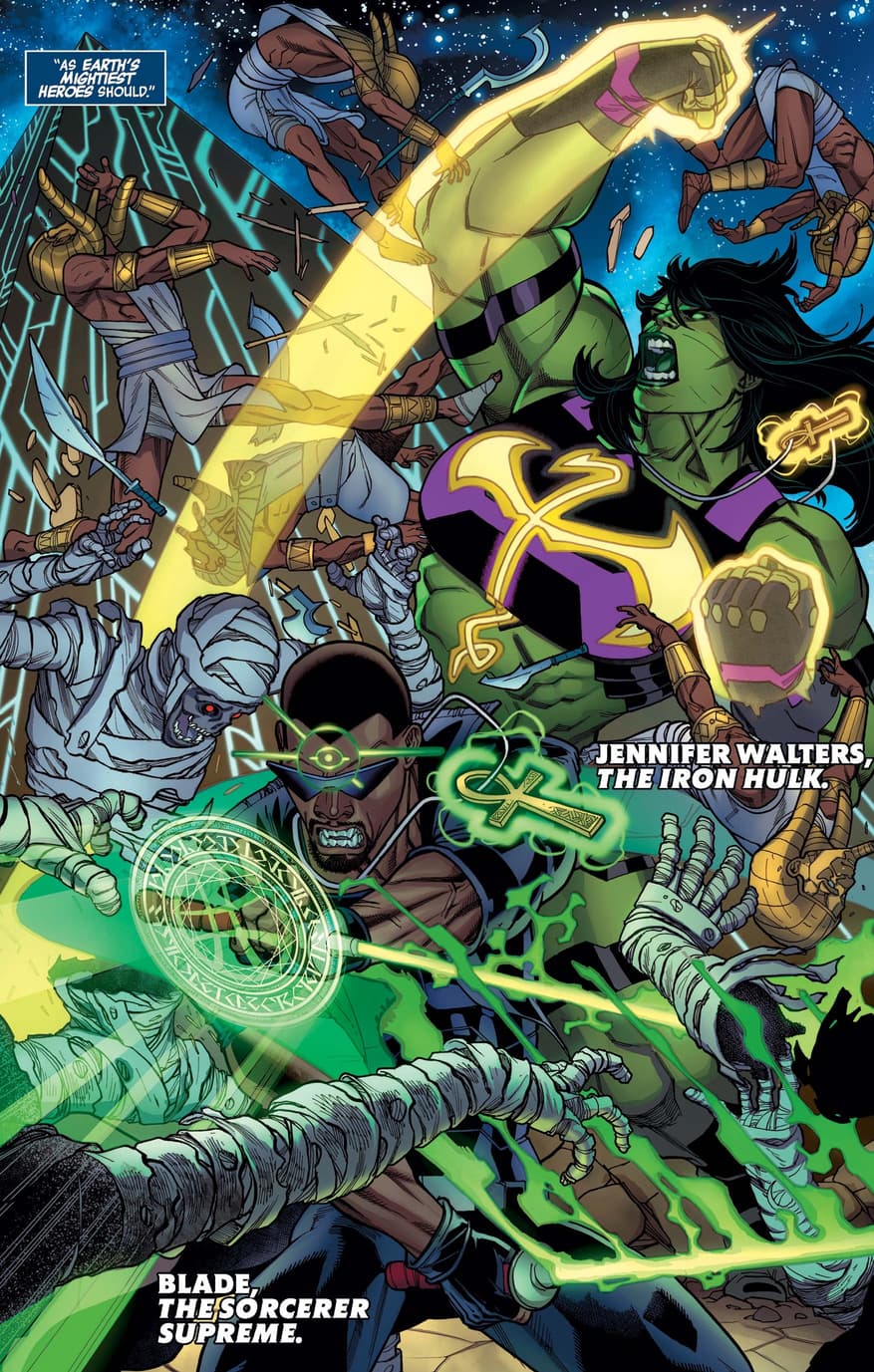 Read the entire "Age of Khonshu" story now on Marvel Unlimited for more blockbuster moments starring the Lunar Legionnaire!
Follow Marvel Unlimited on Twitter and Facebook to stay tuned in to weekly announcements, articles, and more, all at @MarvelUnlimited. Follow us today to join the conversation with thousands of fellow fans, and let us know what you're reading!
The Hype Box
Can't-miss news and updates from across the Marvel Universe!