Comics
Published May 12, 2023
Eve L. Ewing's 'Black Panther' Sends T'Challa into the Heart of a Broken Wakandan City
In a new trailer for Eve L. Ewing and Chris Allen's 'Black Panther,' T'Challa faces challenges unlike any he's seen before, including powerful crime families and an alluring thief called Beisa.
A new era has dawned on Wakanda, and the Black Panther will be there to guide her through it—regardless of whether or not he sits on the throne. In the wake of John Ridley's BLACK PANTHER (2021), T'Challa has become a fugitive in his beloved homeland, but his dedication to Wakanda remains as strong as ever even as it takes him in a bold new direction.
From award-winning writer Eve L. Ewing and Marvel Stormbreaker artist Chris Allen, the upcoming BLACK PANTHER (2023) ongoing series will find T'Challa trading the throne for the shadows of the Wakandan city that bears his father's name: Birnin T'Chaka. There, he will act as an undercover vigilante in order to fulfill his duties as Wakanda's sworn protector. However, as he circles closer to the heart of this broken city, he'll face challenges unlike any he's seen before, including powerful crime families and corruption that goes against all that Wakanda stands for.
Featuring never-before-seen artwork, a new trailer for BLACK PANTHER #1 takes fans to the streets of Birnin T'Chaka for the very first time. Additionally, the trailer offers a glimpse of Beisa, an alluring thief who is more than willing to teach T'Challa a harsh lesson about the ways of her city.
"More than anything, I'm bowled over at the opportunity to write such a marquee character. I see it as a big responsibility," Ewing told ComicBook.com. "Black Panther is a tremendously important legacy character for Marvel fans, but moreover, the character has become one of the most important icons in pop culture for people of the African diaspora all over the world."
"On a personal note, the title was so indelibly shaped by my friend and mentor, Ta-Nehisi Coates, who is a big part of why I'm even in comics," she shared. "There are a lot of talented creators working right now and I feel very awed that the editorial team asked me to take this on. It makes me feel really seen as a comics writer, very humbled, and very grateful. It's a big role for me and I take it extremely seriously."
As to Allen's stunning new character design for Black Panther, she said, "I am so excited for people to see this character design! T'Challa is going to be looking really different. It's much more edgy and kind of homespun. It's not so sleek and slick. Not giving too much away from the story, he's trying not to be seen. He's kind of working incognito. What I can say, honestly, is that we will be seeing Wakanda in a way that we have not seen it ever before."
"Working with an artist, it's just the professional version of the game you play on the bus when you're 14 or 15, of like, 'Hey, what would happen if this hero did this, and what if they went here, and if this fight happened, how would it turn out?!'" she explained. "I just get paid to do that with other nerds. It's pretty fun!"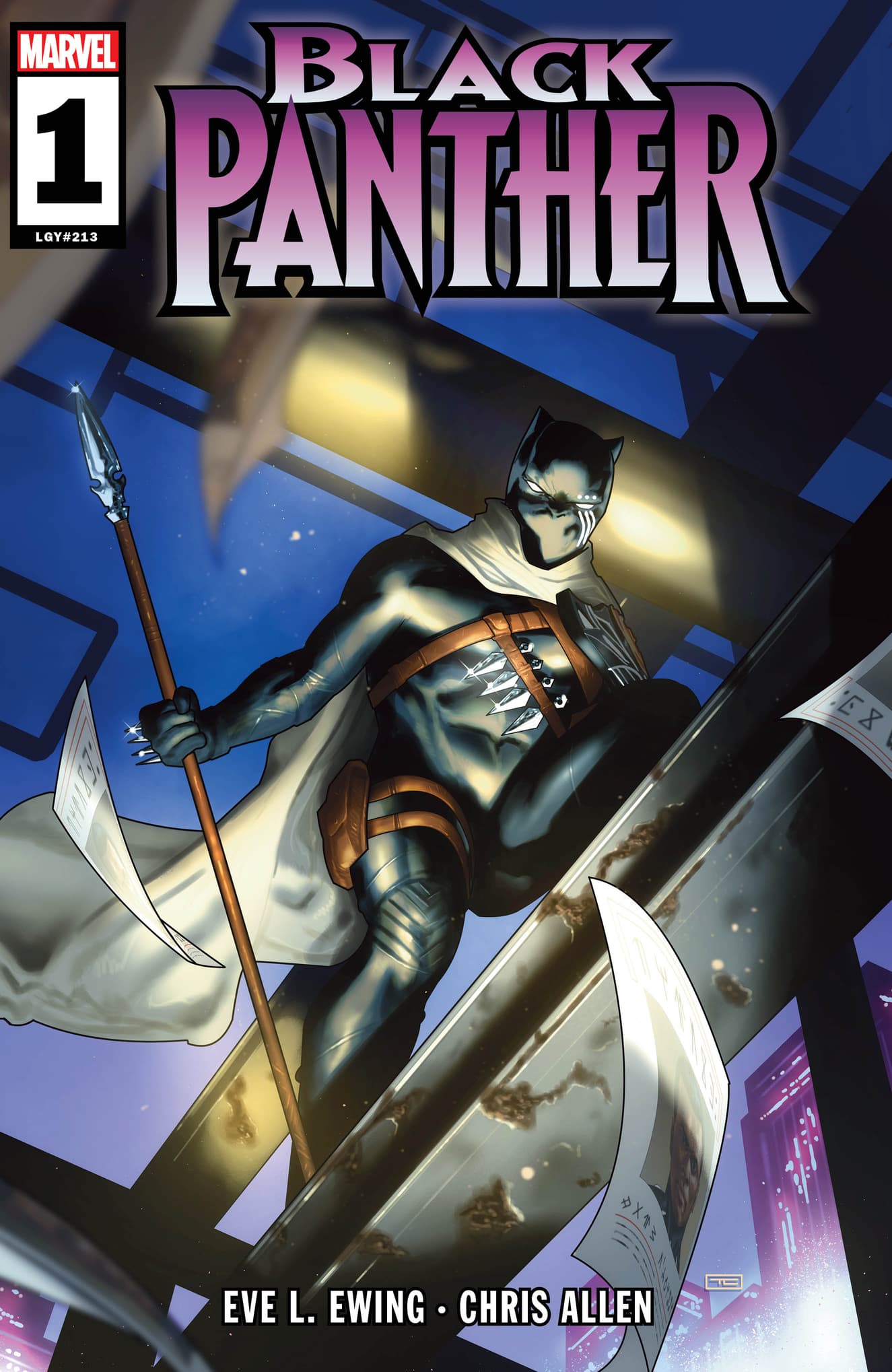 BLACK PANTHER #1
Written by EVE L. EWING 
Art by CHRIS ALLEN 
Inks by CHRIS ALLEN & CRAIG YEUNG
Colors by JESUS ABURTOV
Cover by TAURIN CLARKE
Women of Marvel Variant Cover by ELENA CASAGRANDE & JORDIE BELLAIRE
Variant Cover by RAHZZAH
Variant Cover by SKOTTIE YOUNG
Hidden Gem Variant Cover by STEVE RUDE & CHRIS O'HALLORAN
Howard the Duck Variant Cover by SANFORD GREENE
Variant Cover by MATEUS MANHANINI
Design Variant Cover by CHRIS ALLEN
Variant Cover by MR GARCIN
Stormbreakers Variant Cover by CHRIS ALLEN & GURU-eFX
On Sale 6/14
Prowl the streets of Birnin T'Chaka with T'Challa in BLACK PANTHER #1, on sale June 14, and don't miss a special look inside the debut issue below!
Grab these comics and more at your local comic book shop! Or redeem then read your digital copy on the Marvel Unlimited app by using the code found in your print comic. Find and support your local comic book shop at ComicShopLocator.com.
To read your Marvel comics digitally, download the Marvel Unlimited app for iOS and Android devices. Gain an expansive catalog of 30,000+ comics spanning Marvel Comics history, plus access your entire digital library including comics redeemed from print. 
The Hype Box
Can't-miss news and updates from across the Marvel Universe!