Comics
Published July 7, 2021
Start Here with Black Widow
Read up on the super-spy Avenger with our top comic picks on Marvel Unlimited!
Have you tried Marvel Unlimited yet? It's your all-access pass to over 28,000 Marvel comics, available at your fingertips. Sign up now to get 50% off your first month.
Underground agent. Trained assassin. Legendary Avenger.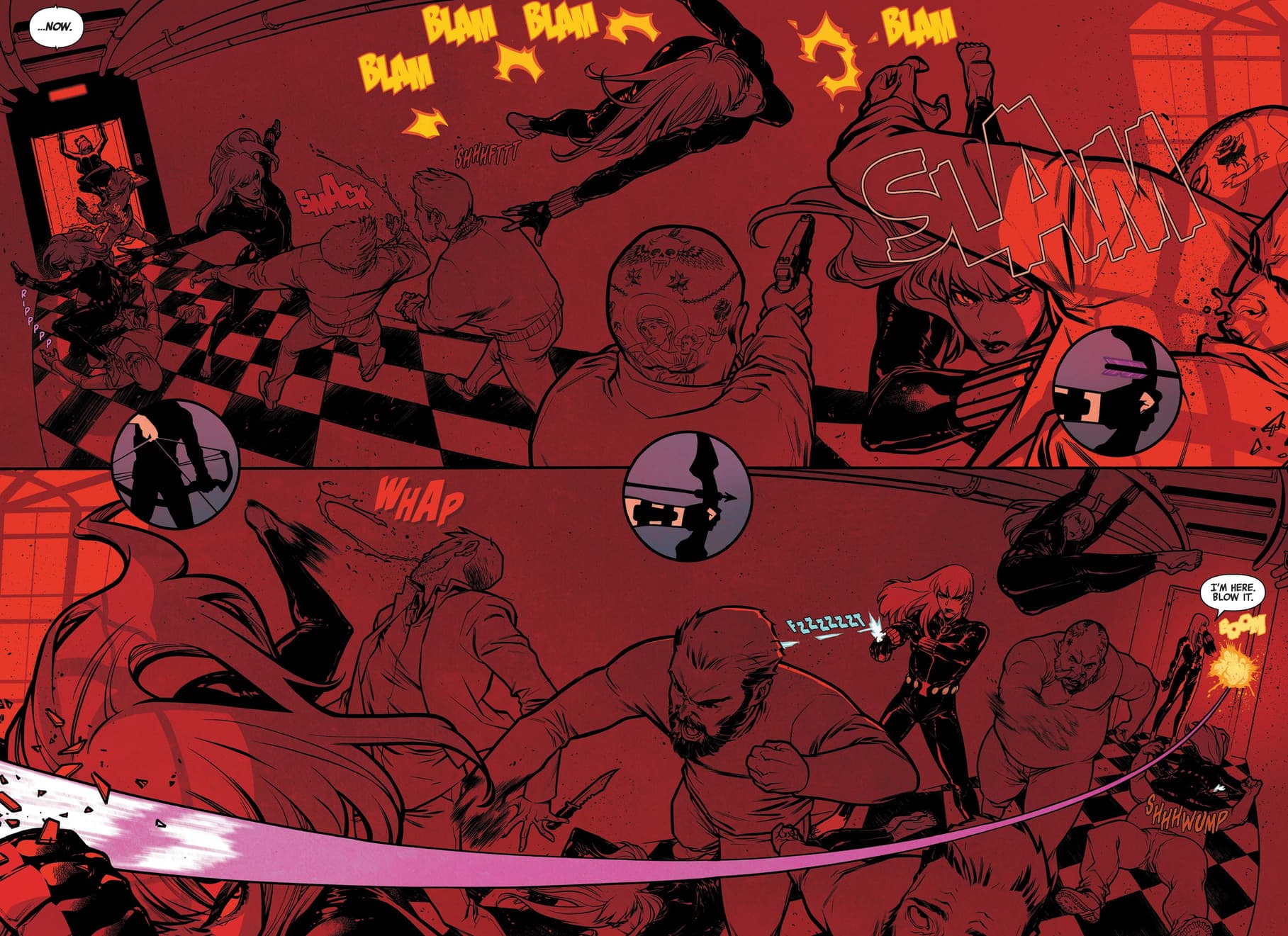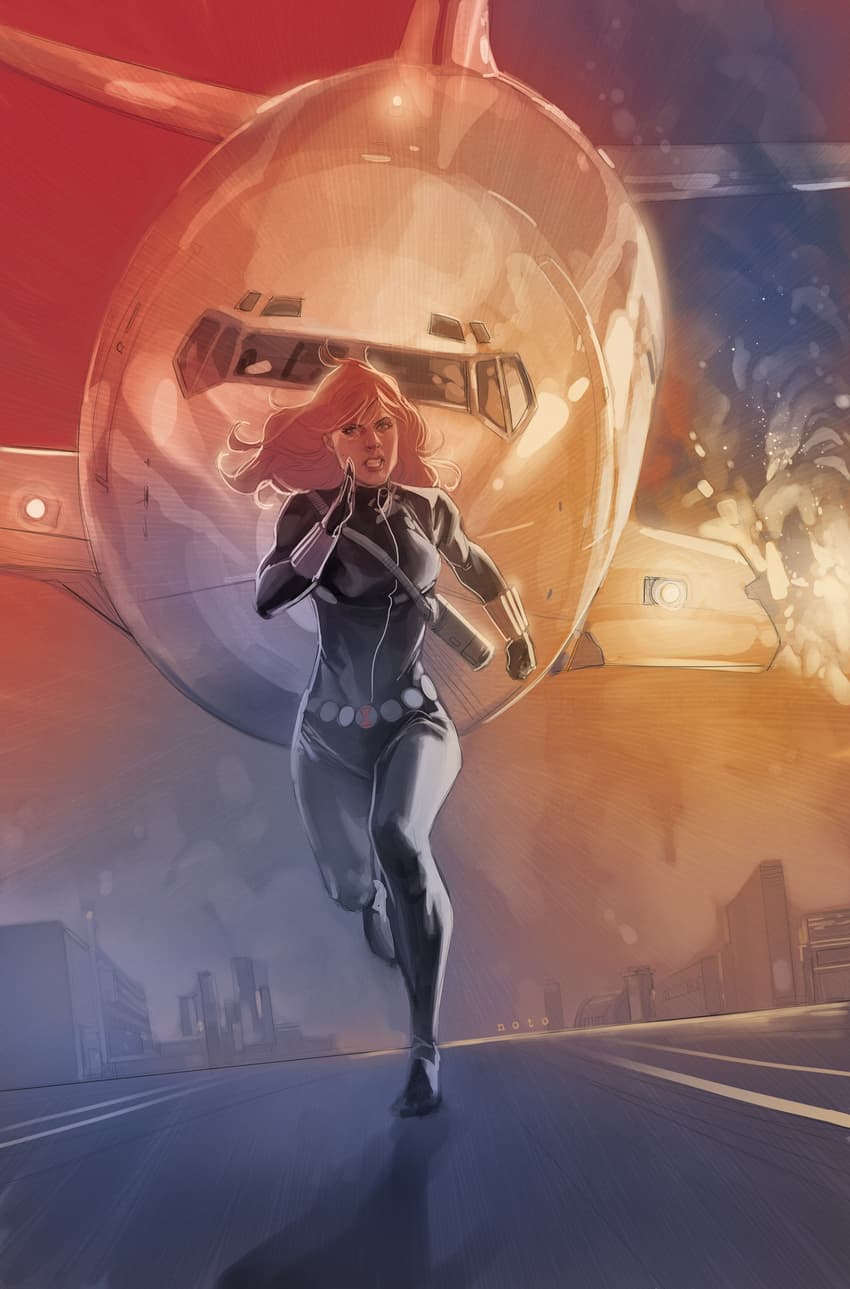 Nat's hitting the ground running (and jumping and swimming and stabbing) in this brisk 20-issue run, all grounded by Widow's atonement quests in an effort to erase her KGB past. In reality, she's lone ranging from the Avengers, and only takes contracts that protect the collateral or neutralize the source.
And, the second volume is a parade of high-profile guest stars. Everyone from the Avengers, X-23, to the Punisher and Crossbones, are caught in Nat's taut web. Even past flame Daredevil encroaches in San Francisco once Natasha's playing in his sand box!
While this series is an international spy thriller complete with the gadgets and explosions and intrigue, at its core is a fully-fledged portrayal of an agent whose first priority is duty—and who's as capable of the very best as they are the… not best.
They wowed you with DAREDEVIL (2014), then the Eisner Award-winning team of Mark Waid and Chris Samnee took Black Widow to new heights—by forcing her to go on the lam!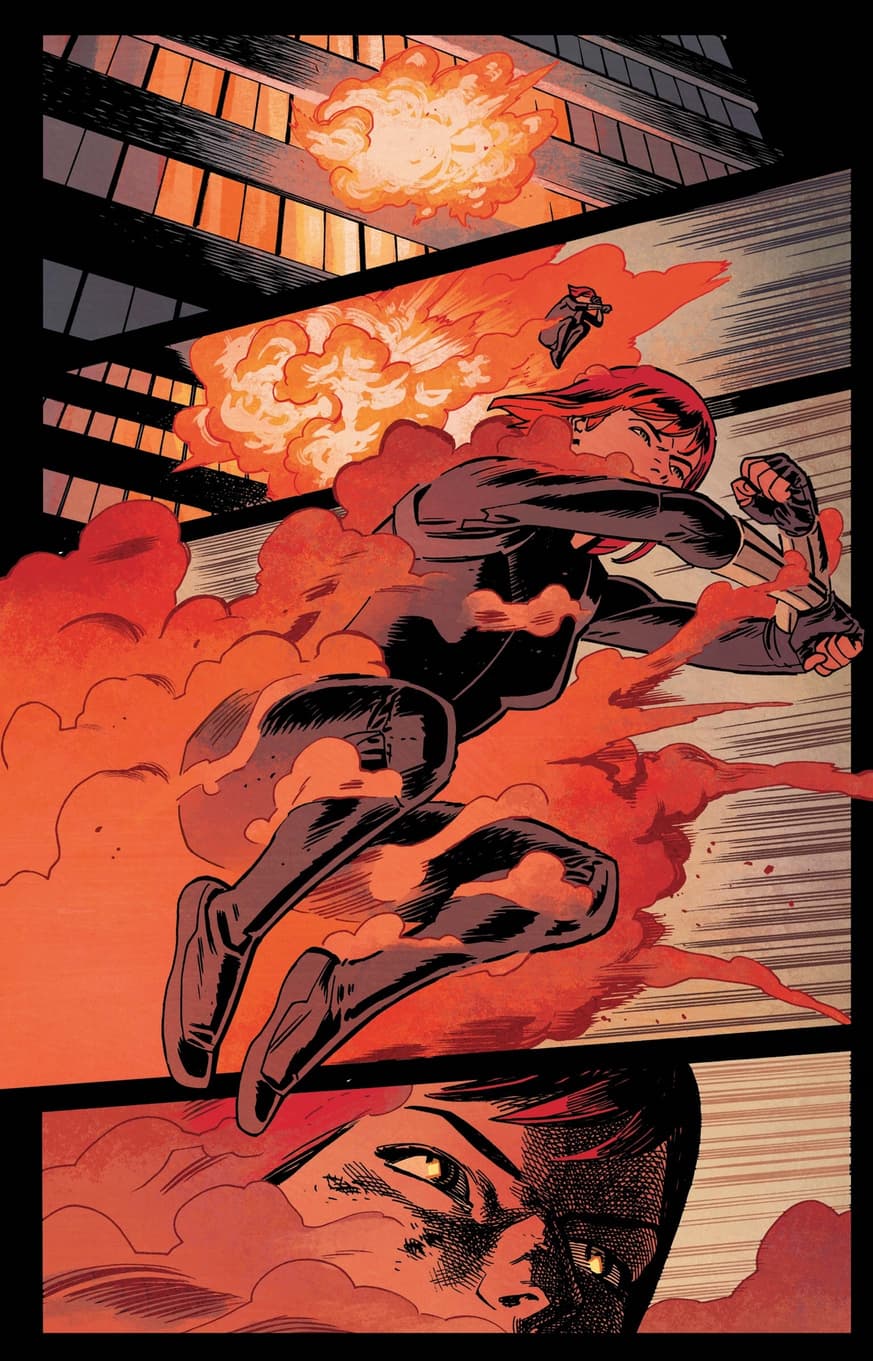 Natasha has a lifetime of secrets, and when some of the darkest ones were made public, nobody was safe. As S.H.I.E.L.D. turned on its once-greatest asset, Black Widow sought out her own answers in a knock-down, drag-out tale of action and espionage. But the Widow's hunt for the Weeping Lion sent her back to the one place she never wanted to go. With a little help from old friends—and old enemies lying in wait—she faced the new incarnation of the Red Room: the Dark Room! But as S.H.I.E.L.D. closed in, Natasha found herself on a collision course with none other than the Invincible Iron Man...
When a mysterious figure starts exploiting Black Widow's murky past, Natasha must go underground and off the grid! Who can she trust in this web of deceit? And more important, can her friends trust her anymore? Natasha must run down all the names from her past—starting with Tony Stark and Bucky Barnes...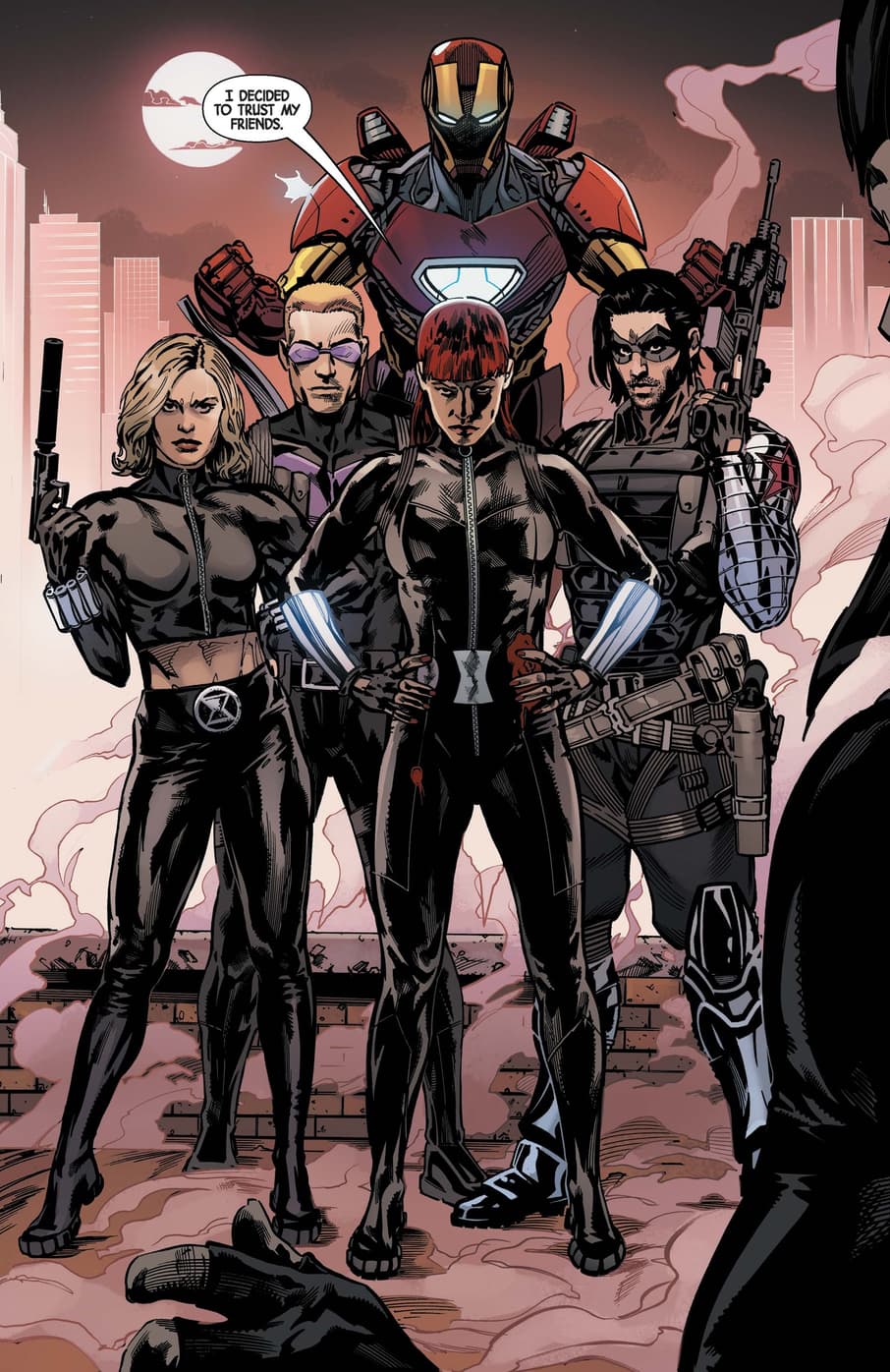 The Widow and the Winter Soldier have quite a history—but when they reunite, they may wind up without a future. Fellow Black Widow Yelena Belova comes calling, but can she help Natasha rise above her past? And when the Widow targets Hawkeye: Clint Barton, she might find herself shot through the heart! It's a tale of connections past, present, and future in this spy story of the decade.
While not a Black Widow-centric story, this limited series starring Marvel's Master of Mimicry is a globe-spanning murder mystery that culminates in an epic showdown between Taskmaster and would-be student Natasha Romanoff!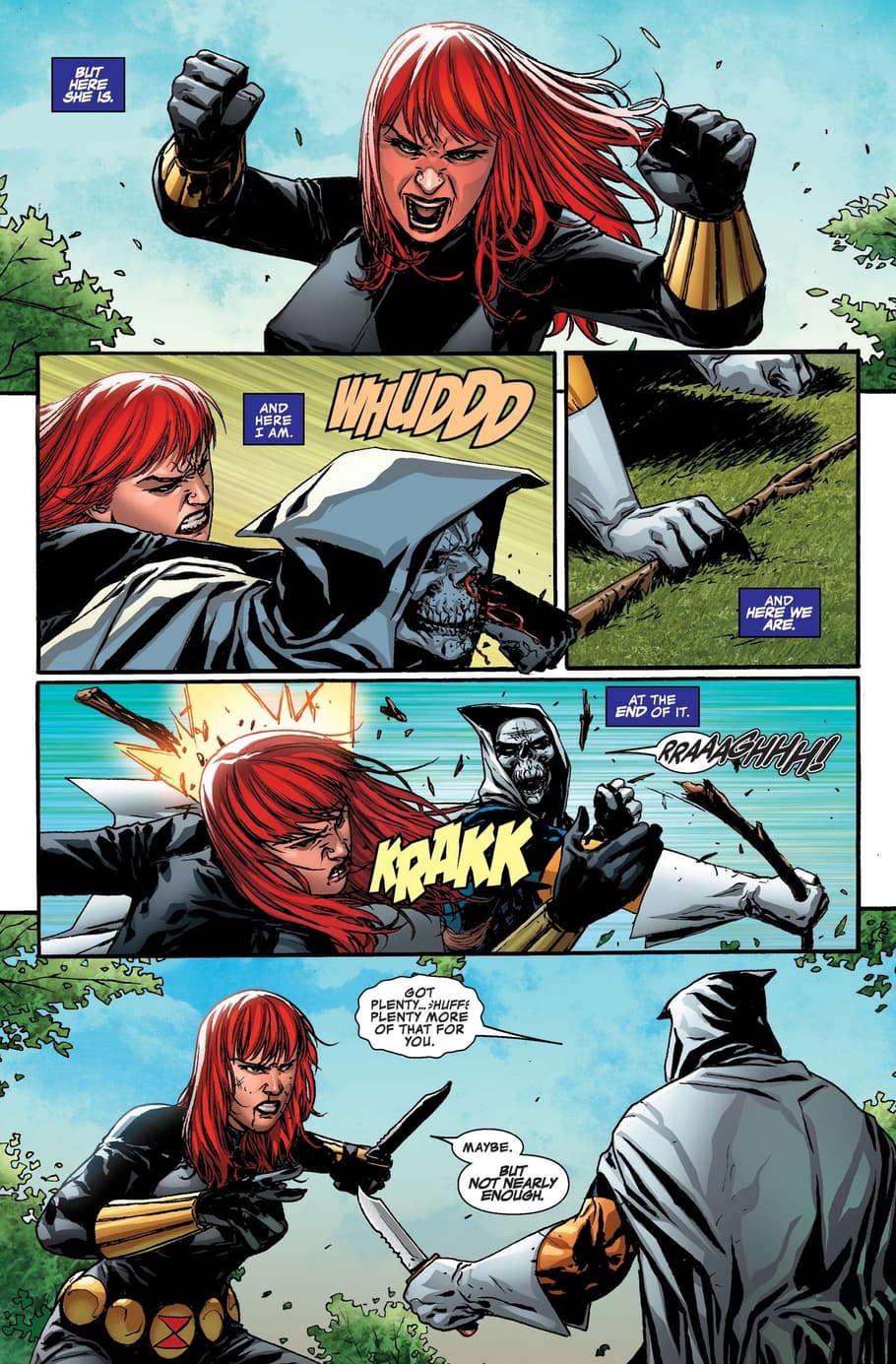 Here's the setup: Taskmaster has murdered S.H.I.E.L.D.'s Maria Hill. Or at least that's what the whole world thinks. Now the greatest spies in the business are hunting him down and they won't stop until the Taskmaster is dead—or can clear his own name. So begins an adventure that will send ripples through the Marvel Universe's espionage community, drawing in South Korea's White Fox, Wakanda's Okoye, and yes, Black Widow. Can the Taskmaster find the doomsday device that Maria Hill died to protect? Or will he be played by the true mastermind behind it all? Read the complete run now on Marvel Unlimited, or grab more Taskmaster tales here.
Natasha Romanoff has earned a reputation as a consummate professional, coldly efficient and as deadly as her namesake. But back in 1999, her time as the Black Widow was on its last thread. Yelena Belova, a new Black Widow, sought to claim the mantle she felt was stolen from her Motherland. Anxious to prove herself by eliminating her counterpart, Belova stopped at nothing to achieve her goal. This battle of the two Widows raged from the deserts of the Middle East to New York's Upper West Side. But when the smoke cleared, both Widows were not the same women who had entered the fight...
Want to continue Yelena Belova's rise to the top of the Red Room? Follow up your reading with BLACK WIDOW (2001), a face-swapping mission co-starring Daredevil.
Looking for more comic picks featuring the Avengers' resident spy? Continue your reading here, or learn more about Natasha Romanoff's connections with our Yelena Belova and Red Guardian reading guides!
Follow Marvel Unlimited on Twitter and Facebook to stay tuned in to weekly announcements, articles, and more, all at @MarvelUnlimited. Follow us today to join the conversation with thousands of fellow fans, and let us know what you're reading!
The Hype Box
Can't-miss news and updates from across the Marvel Universe!