Comics
Published February 25, 2023
Everything You Need to Know About Captain Marvel's History with the Brood
Start the 'Revenge of the Brood' arc on Marvel Unlimited!
Save 50% on your first two months of digital comics super-service Marvel Unlimited! Join today using promo code QUANTUM to enjoy instant access to over 30,000 Marvel Comics.
Readers of CAPTAIN MARVEL (2019) already know that there's big trouble brewing in outer space. Carol Danvers (AKA Captain Marvel), a handful of X-Men, and a few of Captain Marvel's closest friends have fallen into a trap laid by her old enemies, the Brood. The parasitic alien race has already captured Carol's friend, Binary, and transformed X-Woman Rogue into one of their own. And the Brood are only getting started.
[RELATED: The X-Men and Captain Marvel Join Forces to End Marvel's Most Terrifying Alien Race in 'Revenge of the Brood']
In comic shops now, writer Kelly Thompson and artist Javier Pina are kicking things up to the next level in CAPTAIN MARVEL (2019) #46, the second to last chapter in the intersecting "Revenge of the Brood" arc. Concurrently, back on Earth, Gerry Duggan and artist Stefano Caselli's X-MEN (2021) #19 is the first chapter of "Lord of the Brood" arc, which ties into Carol's peril in space.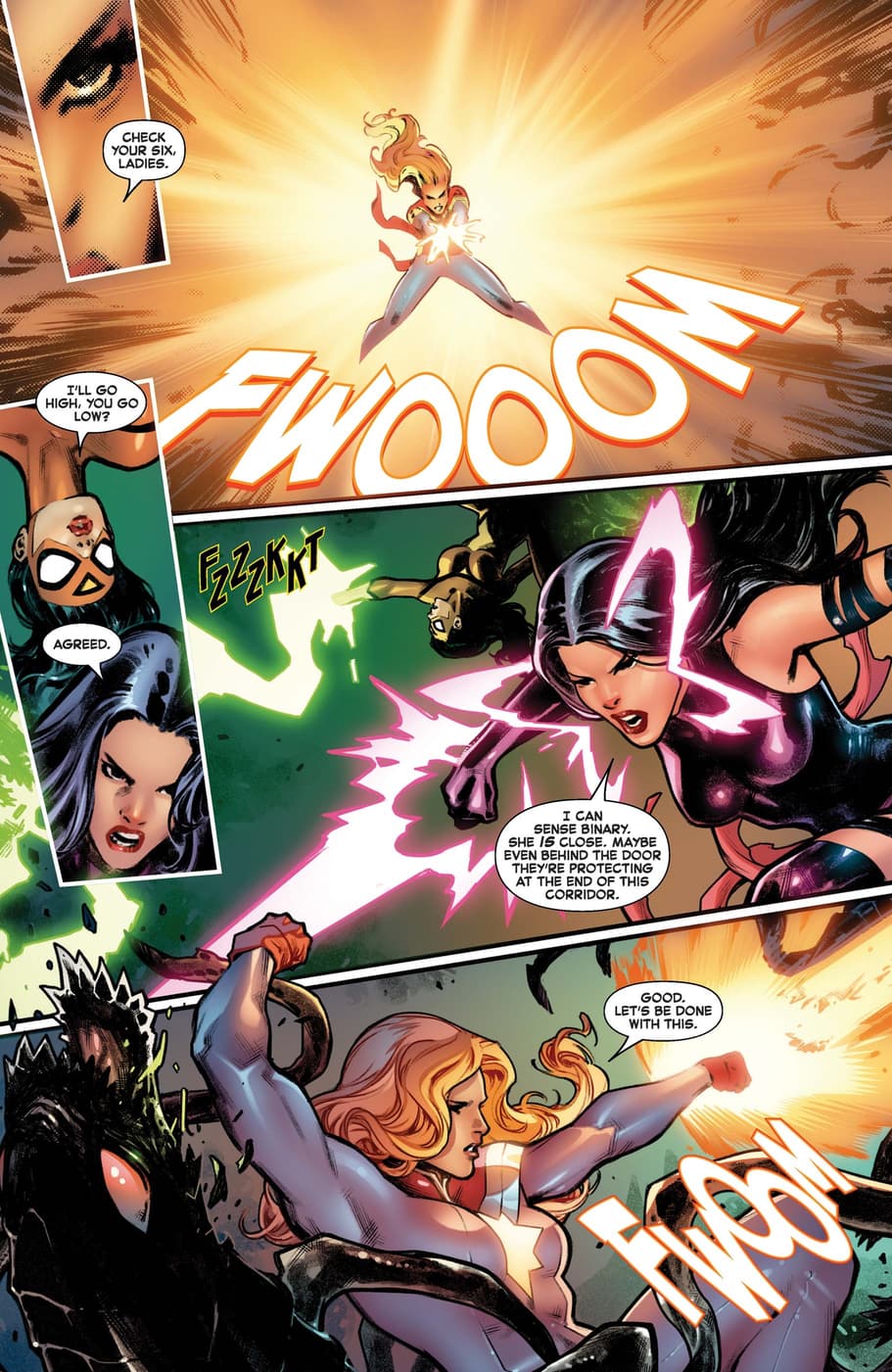 As the Brood prepare to unleash their wrath on the universe, Marvel.com is taking a look back at the very personal history that Carol Danvers has with these creatures. And all of these tales can be read now on Marvel Unlimited!
"BINARY STAR"
The original "Brood Saga" began at the end of UNCANNY X-MEN (1963) #161, when the Brood bushwhacked the X-Men and Carol Danvers. Every member of the X-Men who was caught was implanted with a Brood egg so that they would transform into a Brood that retained the mutant powers of the original host. However, the Brood had something far more insidious in mind for Carol. As seen in issue #163, they performed horrific experiments on Carol's body in an attempt to make her evolve. And they succeeded.
In UNCANNY X-MEN (1963) #164, Carol's powers went cosmic and she became Binary for the first time. These newfound abilities gave Carol and the X-Men the chance to turn the table against the Brood. More importantly, Carol was able to help save her friends from becoming Brood themselves. Many Brood Queens have come and gone since that time. But this is why the Brood still hold a grudge against Carol.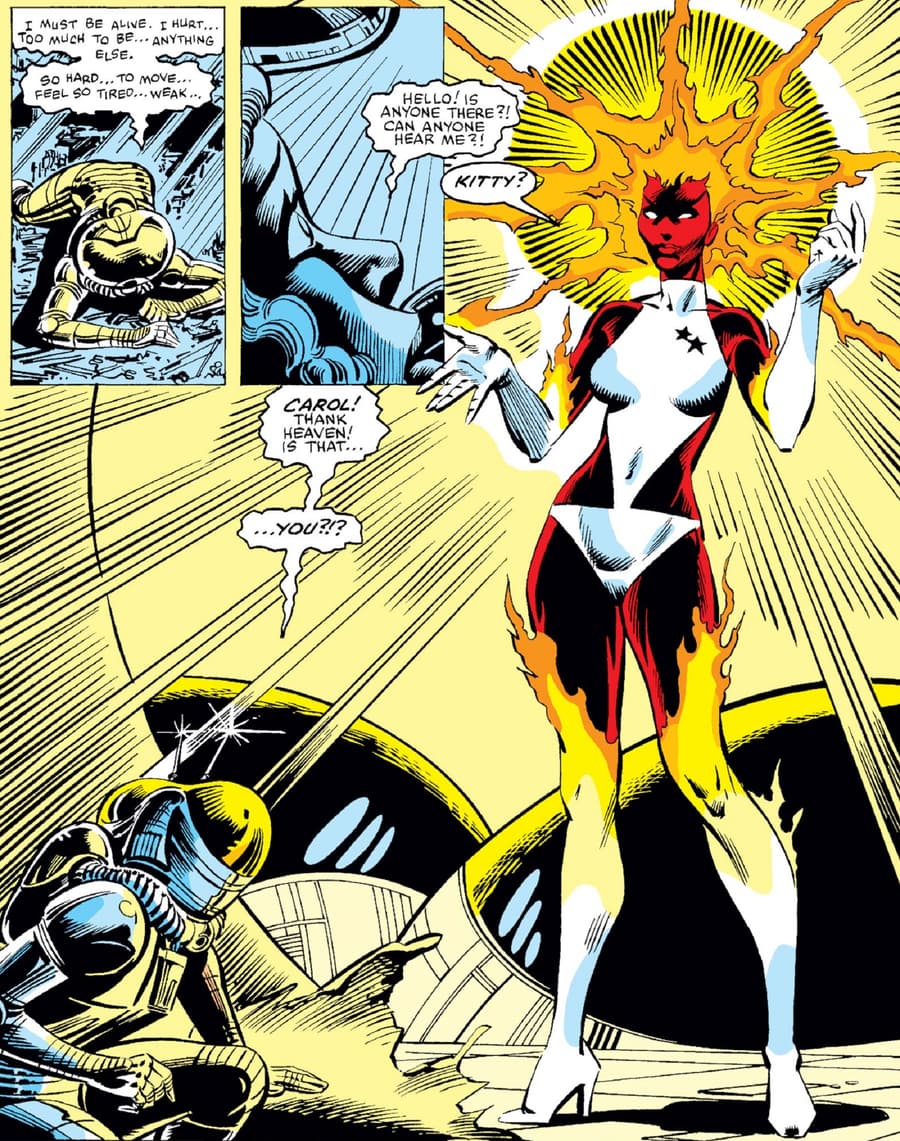 THE DEADLIEST REMATCH
During the intervening years, the X-Men had far more encounters with the Brood than Carol did. Over time, Carol's Binary powers faded away and she relied on her Ms. Marvel abilities while taking on the new codename, Warbird. But her path once again crossed with the Brood in series CONTEST OF CHAMPIONS II (1999). As part of a gambit to soften up Earth's heroes, the Brood pretended to be a benevolent race called the Coterie, which sponsored a Super Hero tournament for the good of mankind.
The winners of each match fell under the control of the Brood Queen, who subsequently transferred her mind into Rogue's body. When Carol finally confronted the Queen, she was faced with the woman who had once stolen her memories and powers. Thankfully, it worked out in Carol's favor when she managed to make the Brood Queen believe that she hated Rogue enough to kill her. The Brood Queen fled Rogue's body and escaped into space, allowing Rogue and Carol to find some common ground at last.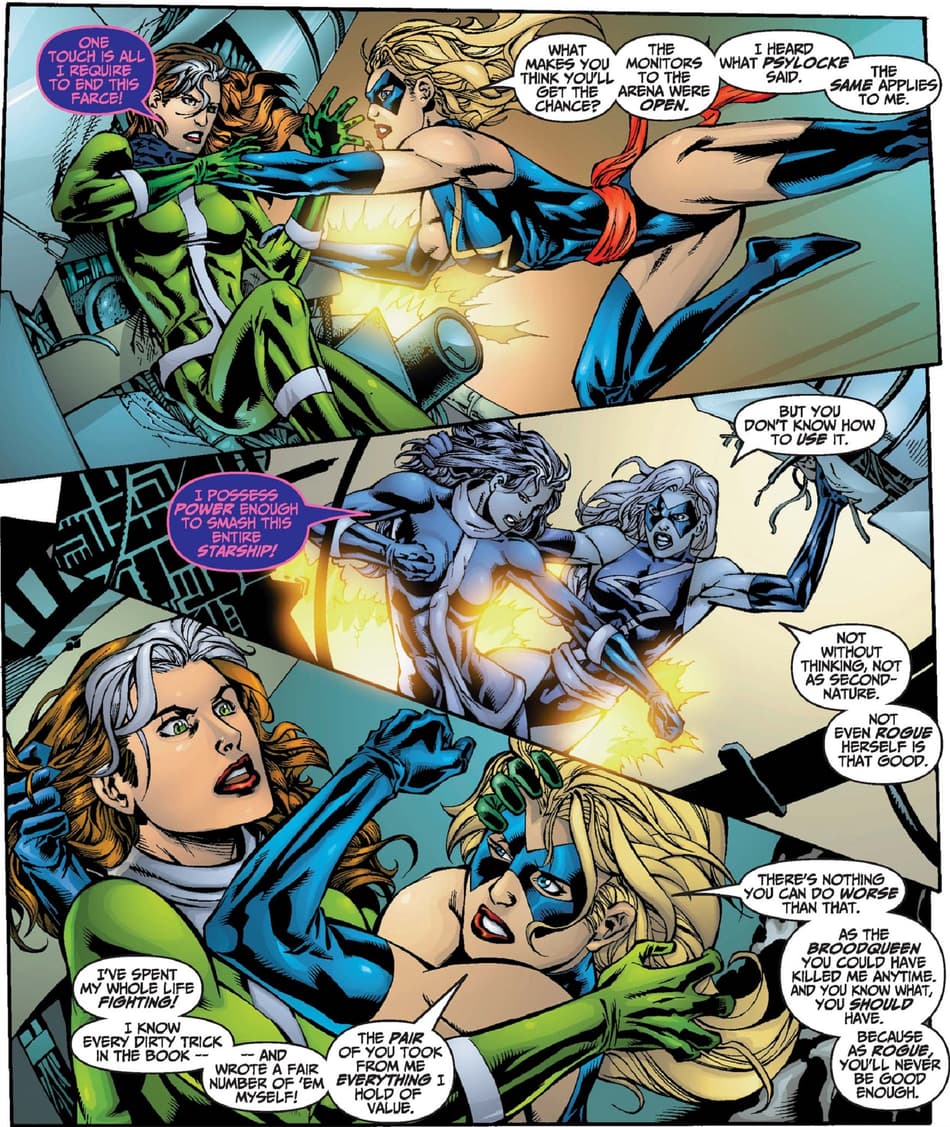 THE BROOD HUNTER
Years later, Carol was once again reinventing herself as Ms. Marvel when the Brood came to Earth in MS. MARVEL (2006) #1-3. After the Brood crash landed in Georgia, Carol was overwhelmed by their sheer numbers. Much to Carol's surprise, she soon learned that the Brood were terrified of a new enemy named Cru, who had hunted them to the point of extinction. The Brood lured Cru to Earth in the hopes of setting a trap that would destroy her. Unfortunately, that trap would have had dire consequences for the entire world. Thus Carol was forced to fight both Cru and the Brood before emerging as the only survivor.
Or so she thought...
MEETING OF THE MINDS
For months afterwards, Carol's body and powers went through inexplicable changes. Events came to a head in MS. MARVEL (2006) #21-24 when Carol learned that she and Cru had been partially merged, with Cru's mind living on as another personality in Carol's head. This time, Cru was able to convey who she was and why she hated the Brood so much.
When faced with the Brood Queen and an army of Brood, Cru's body allowed Carol to once again briefly reignite her Binary abilities and save her world. But this time, Cru was not able to escape death.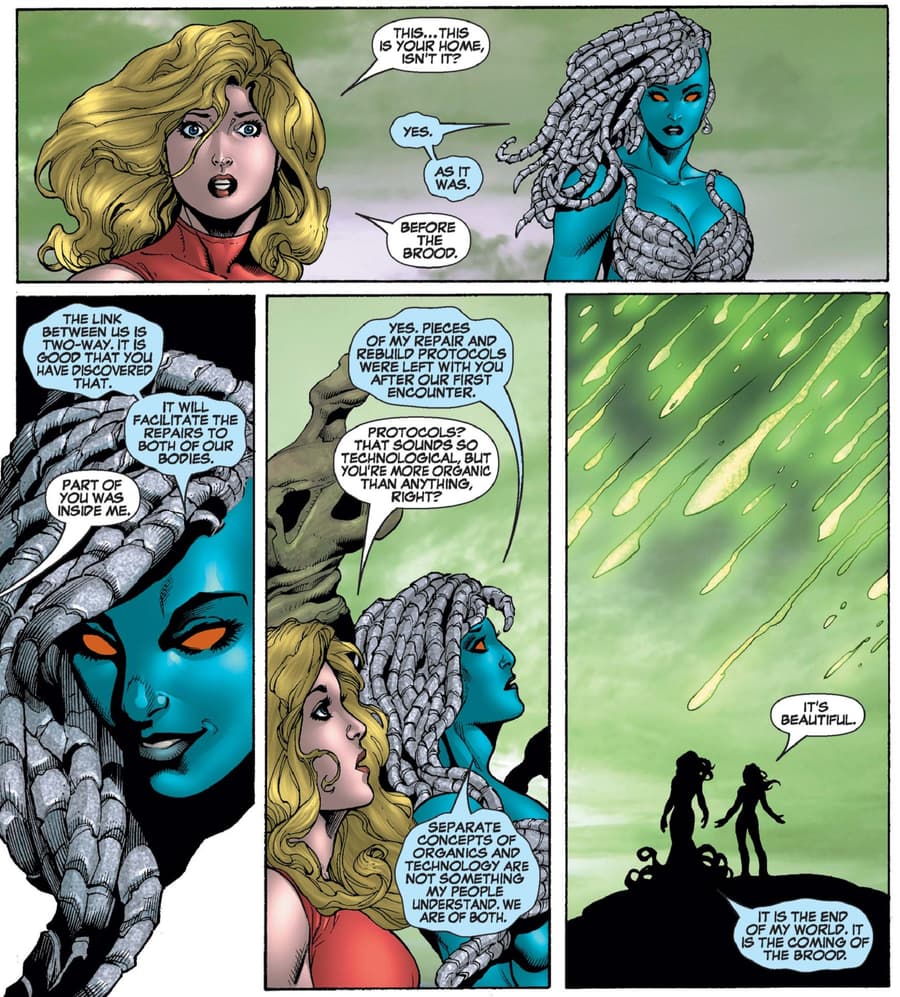 TWIN DISTRESS CALLS
More recently, in CAPTAIN MARVEL (2019) #43 (also the first part of "Revenge of the Brood"), Carol received two alarming distress calls. The first came from Rogue, who was inexplicably out in deep space. And the other call came from Binary, who now exists as a separate entity from Carol. With the aid of the X-Men and a few of her friends, Carol went out into space to rescue Rogue and Binary. Unfortunately, they arrived too late to save Rogue, and she was already transforming into a Brood.
In the subsequent battle to save Binary, Carol and all of her allies were captured and placed in a psychic illusion in order for the Brood to inject them with eggs. That's usually a death sentence for any non-Brood race, and not all of Carol's allies have the option to be resurrected on Krakoa.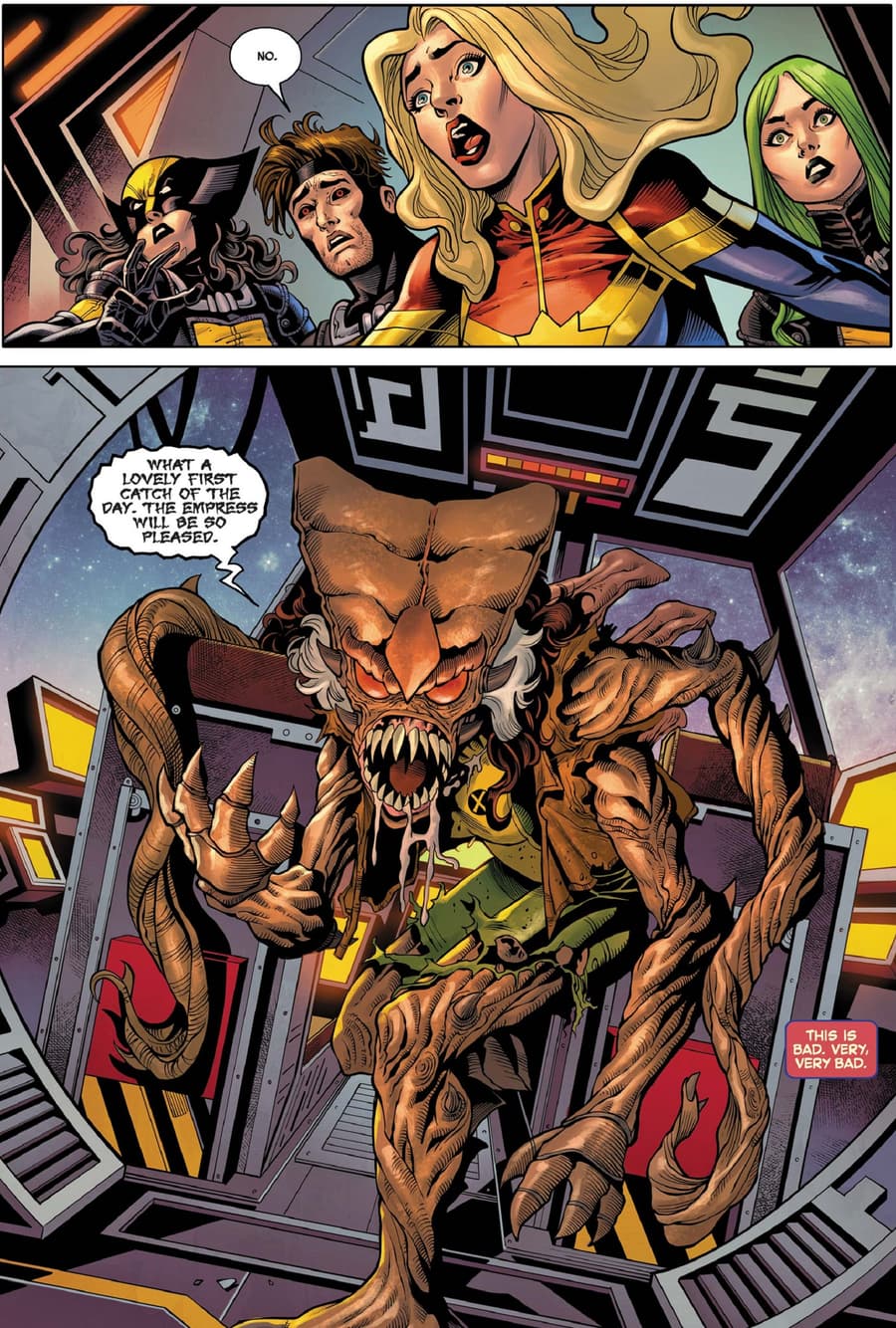 What will happen to Carol and her friends? Pick up CAPTAIN MARVEL (2019) #46 in print and digital comic shops now, or, start from the very beginning of the arc in CAPTAIN MARVEL (2019) #43!
Have you tried Marvel Unlimited yet? It's your all-access pass to over 30,000 Marvel comics at your fingertips!
The Hype Box
Can't-miss news and updates from across the Marvel Universe!