Comics
Published July 13, 2023
Relationship Recap: Captain Marvel and War Machine
Ahead of reading their new story arc in 'Love Unlimited,' revisit the dating history of Carol Danvers and James Rhodes.
What do you get when you combine a galactic guardian and an armored soldier? One heckuva power couple! Carol Danvers and Lieutenant Colonel James "Rhodey" Rhodes, more widely known as Captain Marvel and War Machine, have been dating for a lengthy stint in the world of Marvel Comics. That's not to say it's been all fun and games. Since 2014, these two have been pushed together—and pulled apart—by their own responsibilities as heroes plus some crazy circumstances including alternate future timelines and death.
Understandably, there's been some stress in the relationship. That's why the timing has never been better for a multi-planet getaway. Rhodey and Carol do just that in LOVE UNLIMITED: CAPTAIN MARVEL AND WAR MACHINE #55-60. This six-part arc from the Marvel Unlimited app's romance anthology series starts off with the couple in a challenging place: Rhodey is experiencing nightmares, and Carol is flat burnt out. Maybe a lavish alien vacation across space can rekindle their love? Worth a shot!
[RELATED: 'Love Unlimited': Captain Marvel and War Machine Go on Vacation]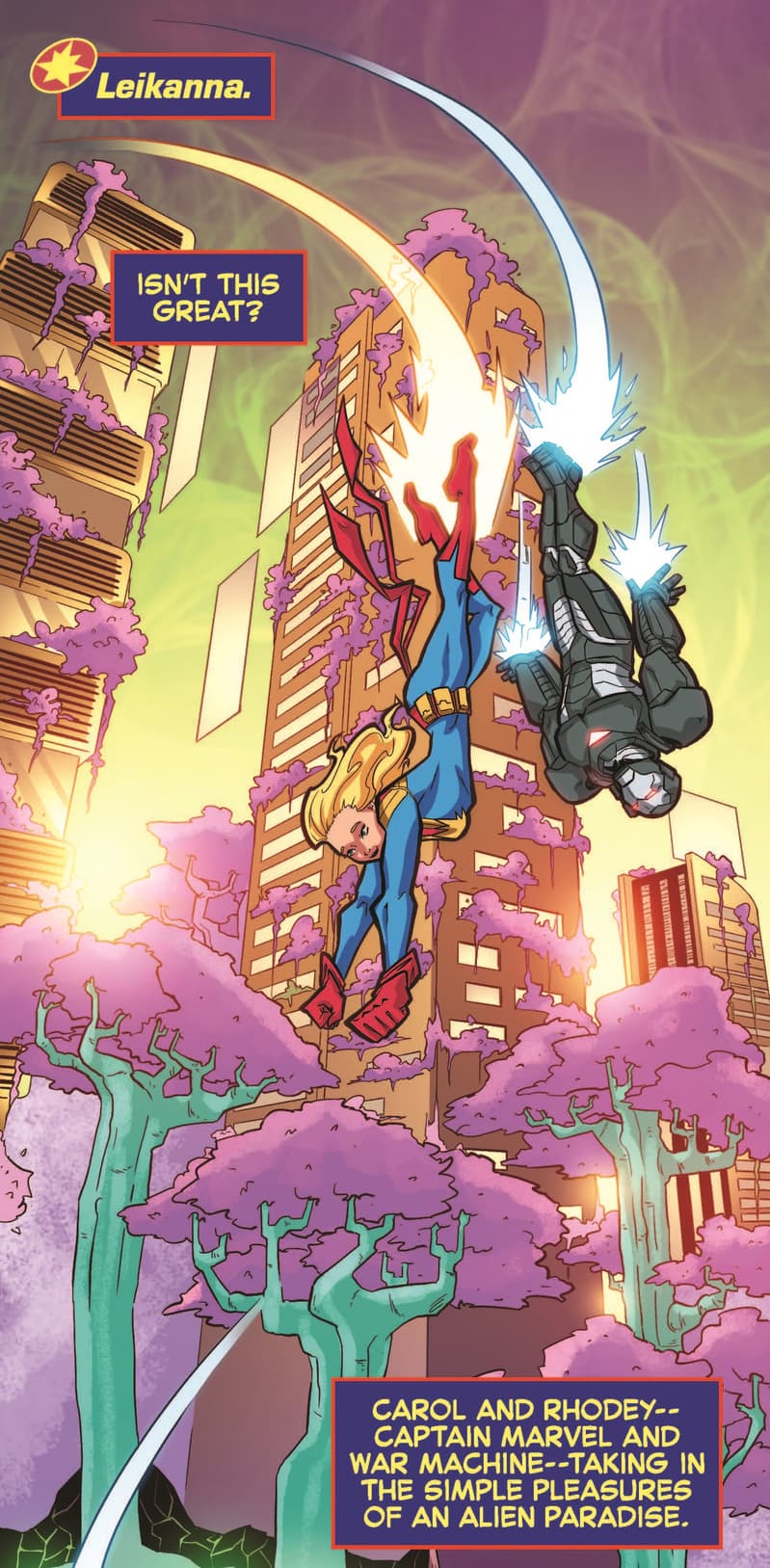 You're probably wondering how Carol and Rhodey got together in the first place. Fate? Magic? Well, no. Ironically enough, the normal part of their relationship was how they met. Want to know more? We've compiled the good, the bad, and the whoa! of Rhodey and Carol's romance.
INITIAL ATTRACTION
It is unclear when exactly Carol and Rhodey became infatuated with each other, but they share several traits that sparked a powerful connection. Both served in the United States military; Carol was a colonel in the Air Force, mentioned in CAPTAIN MARVEL (2012) #1, and Rhodey was a colonel in the Marine Corps. Not to mention, they're both Avengers with a strong sense of duty! They wouldn't be the first Marvel couple to catch romantic feelings while on the job.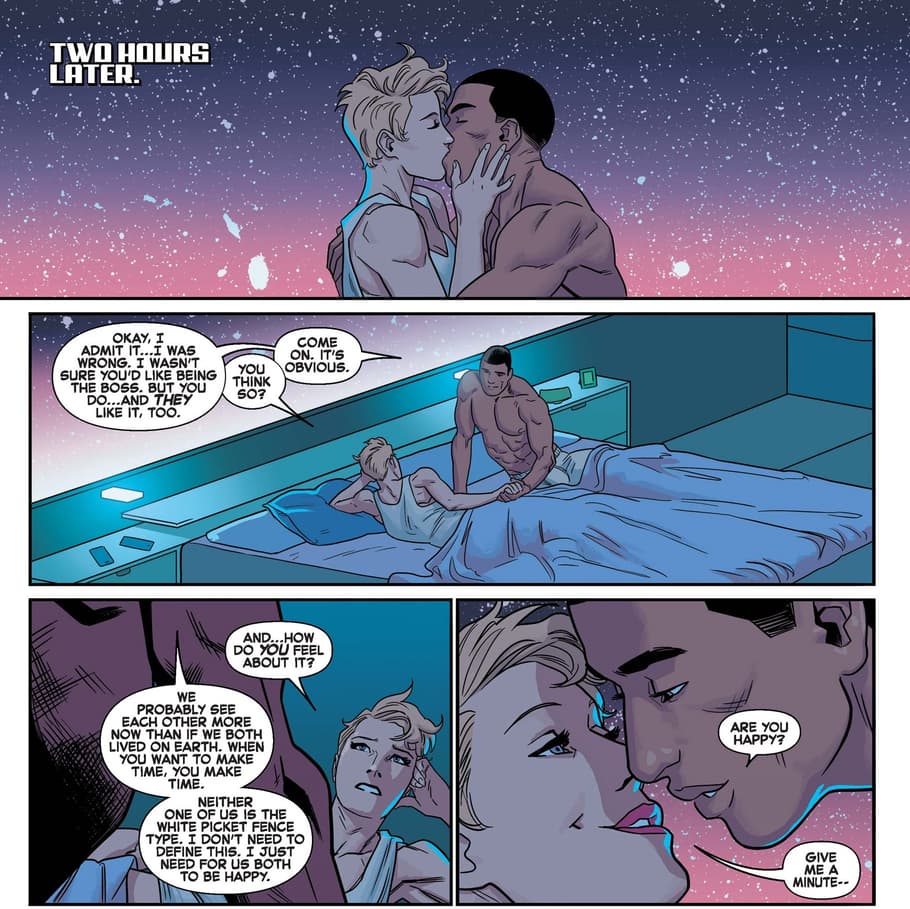 DATING
Unbeknownst to their friends and colleagues, Rhodey and Carol were dating on the sly as of CAPTAIN MARVEL (2014) #1. They were very much an "opposites attract" type of couple and had their minds on different things. Rhodey wanted to go to dinner with Carol and establish their relationship publicly. Carol, on the other hand, "didn't want to make a thing out" of being in a relationship, as she was not completely sure about it herself. Her mind was on space. Literally. She wanted to spend a year in space, and Rhodey didn't stop her. In his words, "I'm never gonna be the one who holds you down." He did not, however, agree to feed Carol's cat in her absence.
They reconnected for a bit in CAPTAIN MARVEL (2016) #1 just as Carol was leaving for another two-year long space mission, but their relationship would come to a screeching halt when Rhodey met his untimely death while fighting Thanos in CIVIL WAR II (2016) #1. And his death actually catalyzed the Second Superhuman Civil War.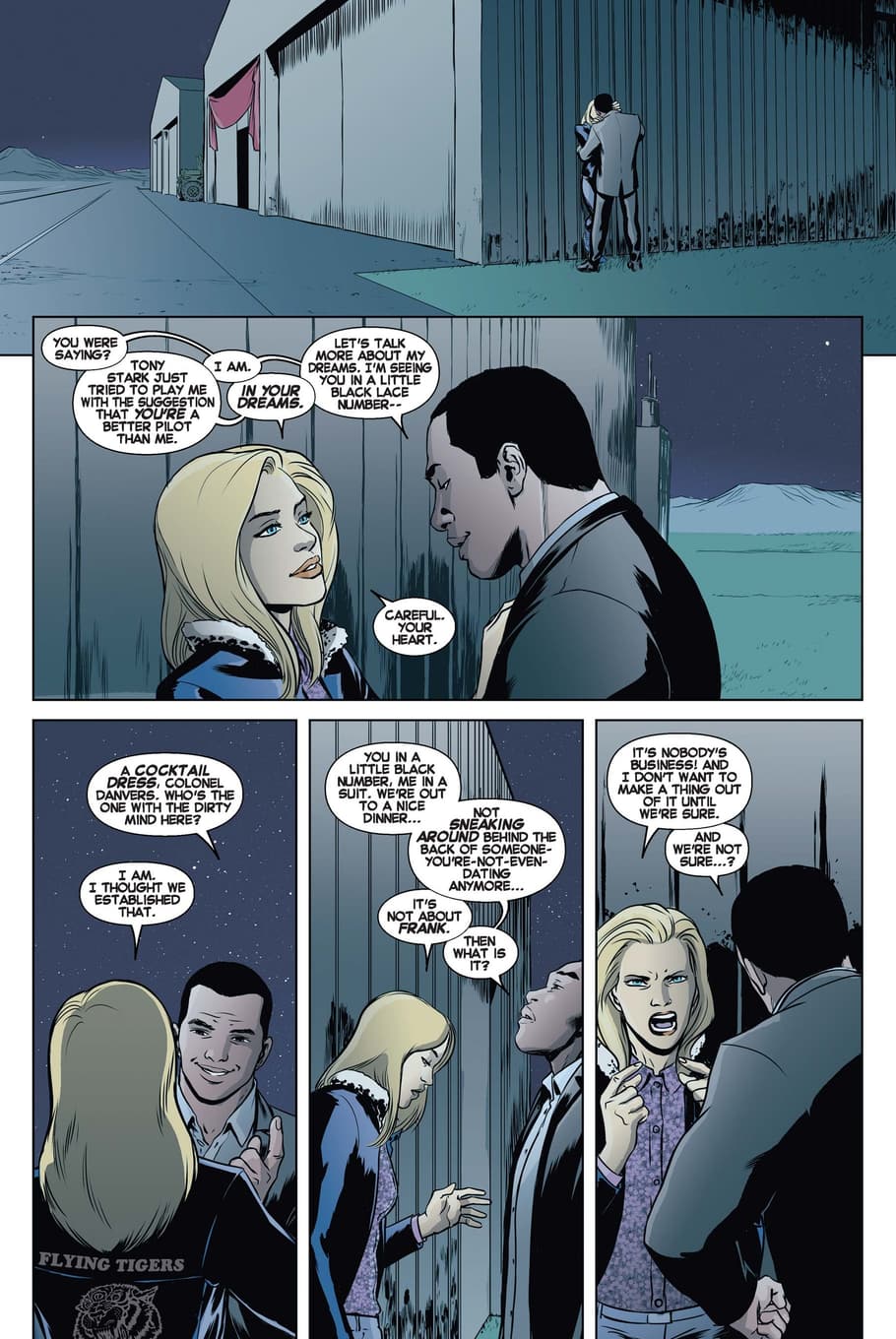 However, Rhodey was resurrected by his best bud, Tony Stark, in INVICIBLE IRON MAN (2016) #600. This led to a very awkward moment when he and Carol reunited in CAPTAIN MARVEL (2019) #1. Nothing a good dinner won't solve though, right?
Just as they were rekindling their relationship, Nuclear Man decided to ruin the mood and kidnap a reporter. Carol pursued him to Roosevelt Island, which was trapped within a barrier. After beating Nuclear Man and disarming the barrier, she and Rhodey restarted their relationship—with a kiss!—in CAPTAIN MARVEL (2019) #5.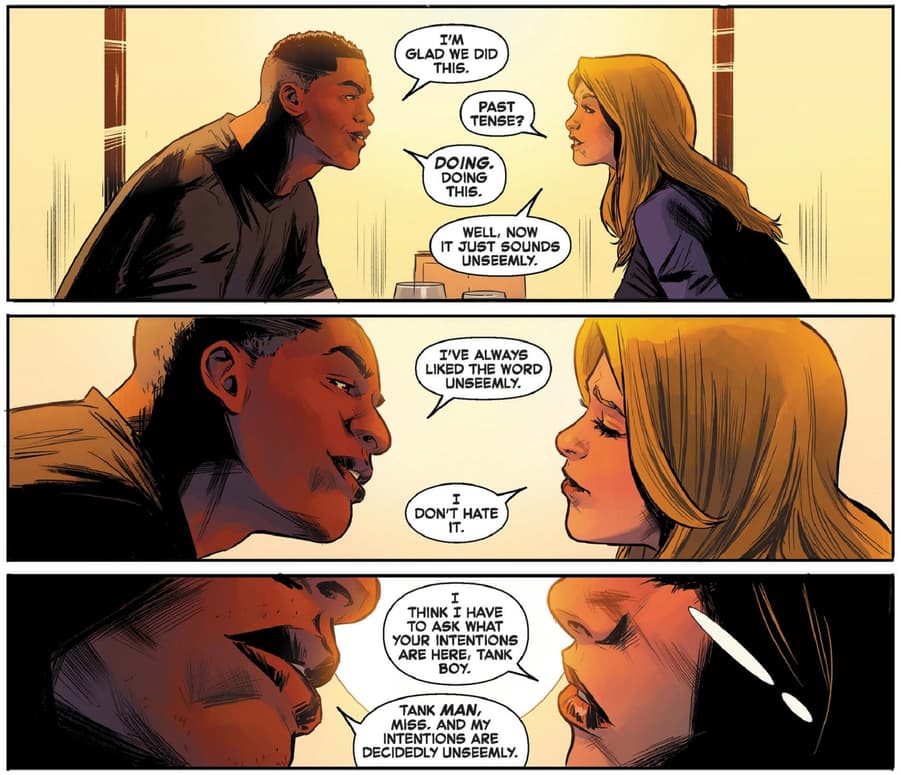 THE BREAK-UP
Carol and Rhodey were planning to go on a "long overdue vacation," but during a mission in CAPTAIN MARVEL (2019) #22, she was flung into the year 2052, a dystopic Manhattan ruled by Ove, the son of Namor and the Enchantress. While displaced in time, she met Carol Rhodes, Rhodey's daughter. Carol shockingly discovered that she was not Rhodes' mom and that Rhodey (and several other heroes) died in the "Second Last War." When Carol returned to the present time in issue #26, she admitted to Rhodey that she was "head over heels in love" with him and met his daughter, finishing with five words no one wants to hear: "We need to break up." Carol didn't want to risk Rhodes' future existence, but Rhodey couldn't understand ending their relationship based on a future that might not happen. In the end, the couple went their separate ways.
RECONCILIATION
Learning about the (possible) future greatly consumed Carol to the point that she wanted to learn magic as a means to stop it. Doctor Strange, Carol's rebound fling, believed it was a bad idea and told every other magic user he knew not to teach her. Drastic times called for drastic measures, and Carol reached out to Amora of Asgard, better known as the Enchantress. Double-crossing and fighting ensued in CAPTAIN MARVEL (2019) #30, but the biggest surprise was the return of Rhodey! Carol revealed the true reason why she initiated their break-up (not wanting to inadvertently erase his future daughter from existence). Rhodey, from firsthand experience, told her that it was impossible to predict the future and not to repeat past mistakes. With a recharge from Rhodey, Carol stopped Ove, who had made it to the present. With the battle over (for now), Rhodey wanted to try their relationship again, but there had to be changes, specifically allowing him to be part of the decision-making. Carol agreed. The two would become a couple again, flying into the night.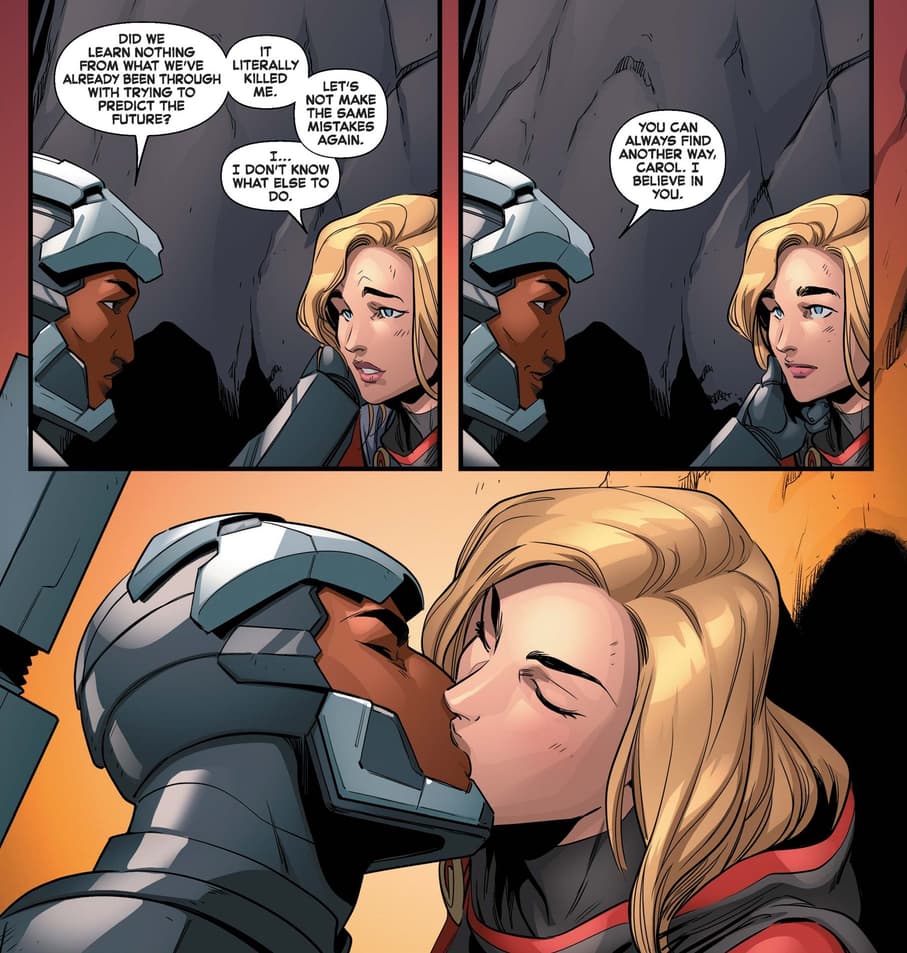 LOVE…UNLIMITED?
Which brings us to the present. Rhodey and Carol are currently vacationing across space (in a Shi'ar jumpship, no less!), but all is not perfect in paradise. A suave alien named Azjahi is putting down moves on Carol, and, on top of that, Rhodey is still dealing with his night terrors, which he hoped the trip might fix. Complicating matters is that a sorceress named Moena is the cause of Rhodey's issues, and she's driving a wedge between the couple in a bid to get him all for herself. Safe to say that this long-awaited trip might be doing the opposite of what Carol and Rhodey want—to get closer to each other.

With only two issues left in their LOVE UNLIMITED arc, will Rhodey and Carol's relationship reignite and soar? Or crash and burn? You'll have to read the rest of the story—plus all comics mentioned—on the Marvel Unlimited app!
Download the Marvel Unlimited app for iOS or Android devices now for more vertical comics starring favorite Marvel characters. You'll also gain instant access to 30,000+ digital issues spanning 80 years of Marvel Comics.
The Hype Box
Can't-miss news and updates from across the Marvel Universe!