Comics
Published June 7, 2023
Kelly Thompson's Collaborators Celebrate 50 Issues of 'Captain Marvel'
David Lopez, Sergio Dávila, Lee Garbett, and more reflect on the joys of working alongside Kelly Thompson on 'Captain Marvel.'
CAPTAIN MARVEL (2019) has left an indelible mark on not just the Marvel Universe, but those who worked alongside Kelly Thompson on her historic journey. As we hurtle towards the conclusion to her character-defining story in CAPTAIN MARVEL #50, Thompson's collaborators shared the joys of making comics with her, from the high-flying thrills of fighting dragons to the rewarding challenge of embodying the very essence of friendship.
"Working with Kelly's scripts is always a lot of fun, because Kelly always offers the reader everything would like to have in a comic. When I read her scripts, I always have very clear [idea of] what I have to do; they are perfectly explained and everything is connected narratively to make it easier for the artist."
"I love to draw the action scenes, and Kelly writes perfect sequences with a lot of action where you can push the character to the limit. I like working with Kelly; she is one of my favorite writers because she gives you freedom to work and that is very important. It has been a real pleasure to have been inside the world of Captain Marvel with Kelly and to be able to draw her stories. I love Captain Marvel and Kelly."
"Wow! What a run!! Kelly has consistently achieved greatness with this series. Her stories always have a wicked high concept element but she never loses sight of the characters."
"With all the epic-scale craziness and chaos, Kelly still nails that perfect emotional beat, that moment of humour—or devastating gut-punch. This is her superpower and what made CAPTAIN MARVEL fly so high. "
"Congratulations to Kelly, Sarah [Brunstad], and all the team—and thank you for letting me be a small part of this adventure. I had the best time."
"Kelly is one of the most talented writers I know. As I write this, I'm a mixed bag of emotions. While saddened that her time on the book has come to an end, I'm filled with joy, knowing that we have this incredible, seminal 50-issue run by her and the rest of the creative team to look back on."
"I had the honor of being the artist on Kelly Thompson's first script for Marvel, CAPTAIN MARVEL AND THE CAROL CORPS (co-written with Kelly Sue DeConnick). I already knew her passion for comics from her critique articles, and I already recognized that we saw comics in the same way."
"Kelly loves Super Hero comics; she loves her characters. There's something pure and almost childlike about all that affection and it shows. Neither as a reader nor as a cartoonist can I help but empathize with her stories, because they always speak to you with a direct sincerity of the best in people, and that disarms me, as a reader and as a contributor."
"Thank you so much Kelly for doing the comics you do, and thank you for allowing me to draw your first CAPTAIN page and the last one."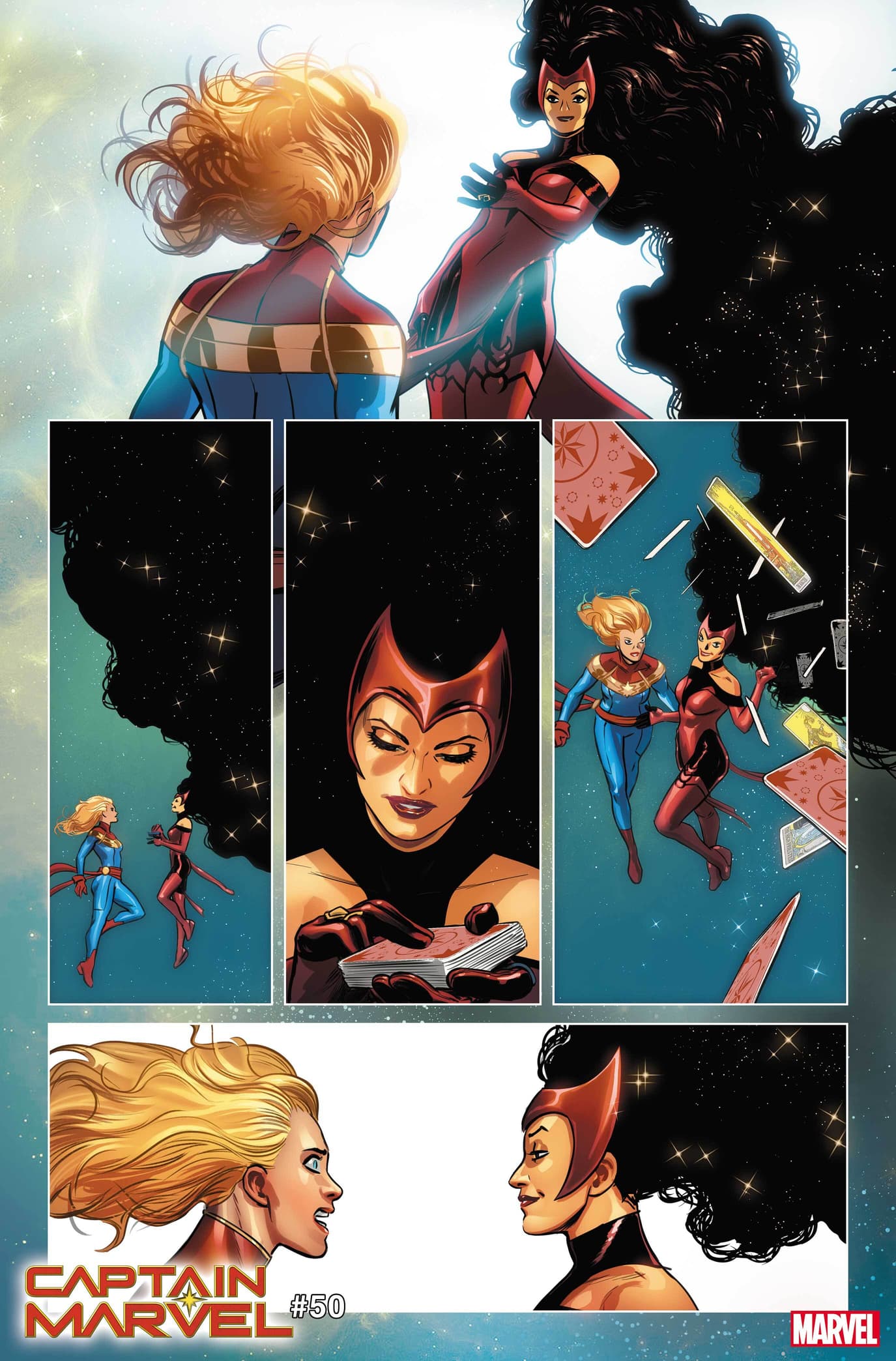 "Huge congrats to Kelly, Sarah, and the entire CAPTAIN MARVEL team on this milestone issue #50! Working with Kelly on our EMPYRE tie-in arc was a big career highlight and I'm honored to have been a small part of this historic run."
"And I'm so proud of our intergalactic-fugitive-turned-Kree-Accuser, Lauri-Ell, and how much of an impact she's had on Carol's world. Kelly's scripts are so full of excitement and energy and HEART, so it's no surprise at all that her CAPTAIN MARVEL connected with readers so strongly. I'm a huge fan and I can't wait to see what Kelly does next!"
"Working with Kelly Thompson on CAPTAIN MARVEL was an amazing experience! Glad to have contributed, even just a little, with her journey in this book. Congratulations on the landmark!"
"Being a part of Kelly's CAPTAIN MARVEL run has been a real honor, but to be handed that particular storyline—Carol's Magic Trial—can only be described as a gift. Captain Marvel stranded on an alien planet, fighting dragons with a giant sword? How fun is that? And that's Kelly for you: not afraid to think out of the box and being able to work a misfit idea into something that not only makes perfect sense, but adds to the character. I guess you need that to get an impressive 50-issue run like this."
 
"But that's there for everyone to see. I'd like to shed some light where usually the reader's eye doesn't reach: behind the scenes. A writer's job doesn't end the moment they send the script, and Kelly's input may have been at times concise, at times vague, but always was on point and insightful. Everything adding to a very clear goal: That You, The Reader, get the most out of the book. Moreover, her interactions with the team throughout the entire process were not just positive, but authentically fun, cheerful and uplifting."
 
"So Kelly, thanks for the Weird Little Ride, and keep working your Magic!"
"I had to do the issues where Binary is in New York learning Super Hero life with Jessica Drew as a mentor/friend. The idea that stays with me the most—in addition to…the fun of drawing dragons, zombie citizens and sorcery stuff—is that I draw 'friendship'... Yes, the concept of it. How is that?"
 
"If someone tells you to draw a 'friendship,' it is something that can be very difficult to represent in a panel. As I drew the issues, it was very easy for me to feel the friendship vibes [between] the characters. Kelly writes them in a way that allows me to participate empathically with how they relate to each other. And it felt very natural to portray... without effort (I hope I have transmitted it successfully to readers), so as the issues passed, I kept with that feeling: 'Kelly, you made me draw Friendship and feel its essence through the panels... and cool dragon scenes too, of course!' ;)"
"Kelly Thompson has the rarest and most important skill a writer can have. She can make you fall in love with the characters she touches. She can pull you into a story and not let you go until she's done with you. Her run on CAPTAIN MARVEL won't just stand as an important one for years; it will be character-defining for generations of fans to come. Kelly and this run are a testament to the fact that without the great creators who tell these stories, we have nothing."
Grab these comics and more at your local comic book shop! Or redeem then read your digital copy on the Marvel Unlimited app by using the code found in your print comic. Find and support your local comic book shop at ComicShopLocator.com.

To read your Marvel comics digitally, download the Marvel Unlimited app for iOS and Android devices. Gain an expansive catalog of 30,000+ comics spanning Marvel Comics history, plus access your entire digital library including comics redeemed from print. 
The Hype Box
Can't-miss news and updates from across the Marvel Universe!