Comics
Published September 14, 2017
Defenders: Deadly Beginnings
Brian Michael Bendis teases a story set to shock the Marvel Universe!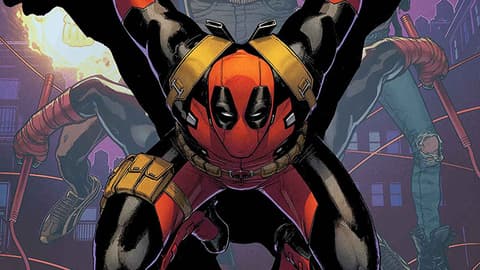 On October 11, the start of Marvel Legacy sees writer Brian Michael Bendis and artist David Marquez add more fuel to the fire burning in the streets of New York.
With a power vacuum left in the wake of Wilson Fisk's quest to go legit and Diamondback now on the loose—and on a rampage—defending New York City has never been more complicated. In response, Luke Cage, Jessica Jones, Iron Fist, and Daredevil join forces with someone who's happy to shoot, slice, and bomb a path to justice. Someone with big guns and an even bigger mouth.
In DEFENDERS #6, the Defenders team up with Deadpool.
We spoke with Brian to learn more about this unlikely collaboration ahead of the new issue.
Marvel.com: Where do we pick up the story in DEFENDERS #6?
Brian Michael Bendis: Jessica Jones, Luke Cage, Iron Fist, and Daredevil have joined forces as the city's defenders. They have done so because lifelong criminal and ex-Luke Cage best friend Diamondback has returned to become the new Kingpin of crime. But there are so many other players vying for the title…Black Cat and Hammerhead among them.
Meanwhile, The Punisher ventures to hunt all of them, Elektra sneaks around, Blade hovers nearby…and Jessica enlists Deadpool. You heard me: Deadpool.
Mavel.com: Can the team manage the streets considering the deadly race to become Kingpin's criminal successor?
Brian Michael Bendis: Its chaos. It's the Wild West. People are being gunned down in the street. Crazy new drugs are out there. The Defenders are fighting back with everything they have.
Marvel.com: What brings Deadpool into the picture?
Brian Michael Bendis: Turns out Deadpool and Jessica Jones have a secret history! Who knew!? Well, okay, I did. The streets are getting so crazy that she calls in a favor and unleashes him into the wild.
Marvel.com: Does Deadpool present trouble or a welcome addition to the fight?
Brian Michael Bendis: Both. It's Deadpool.
[DEADPOOL writer] Gerry Duggan and so many other amazing writers have already established the dynamic set to take place. I will be piggy backing on that. But, yeah, Luke can't stand him.
Marvel.com: What kind of Deadpool antics can we expect?
Brian Michael Bendis: I got 11 jokes in on his first page. Good jokes? We'll see. I love the Deadpool that knows he's in a comic book. So get ready…
Marvel.com: Do you have a favorite scene from issue #6?
Brian Michael Bendis: There's such a unique and intense fight scene between Elektra and Iron Fist. Also, to my shock, Iron Fist and Elektra have never done battle before! That'll change!
Marvel.com: What might be in store for the team moving forward?
Brian Michael Bendis: The new Kingpin—behind all of the chaos on the streets—will send shockwaves across the Marvel Universe. Not just on the streets—everywhere.
We set the stage for a massive battle for the streets. I have been dying to tell this story for years and I am so thrilled that all the pieces finally came together.
And not all the players have revealed themselves yet.
Marvel.com: Anything else you can tease?
Brian Michael Bendis: The reaction to the DEFENDERS comic has been everything I've ever wanted in comics. The readers have been rabid and passionate and we're all just having the best time. The story will continue to unfold. Cameos galore! And a huge surprise coming soon!
DEFENDERS #6, written by Brian Michael Bendis with art by David Marquez, drops on October 11!
The Hype Box
Can't-miss news and updates from across the Marvel Universe!