Comics
Published August 31, 2017
Defenders: Friendly Fire
Brian Michael Bendis pits the Punisher against the Defenders!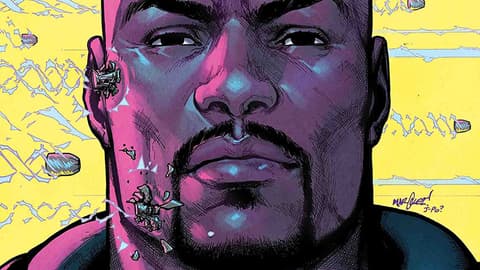 Vigilantes don't play well with others—especially when one of them happens to be a murderer with only bloody revenge on his mind.
That sums up the relationship between the Defenders and The Punisher in DEFENDERS, written by Brian Michael Bendis with art by David Marquez. And on September 13, issue #5 sees Daredevil, Jessica Jones, Luke Cage, and Iron Fist meet up again with Frank Castle—with tensions running high. Both parties may be fighting on the same side, but their disparate methods lead them on an inevitable collision course.
But before these beloved characters clash, we caught up with Brian Michael Bendis to discuss the oncoming showdown of heroes, his thoughts on "Marvel's The Defenders" on Netflix, and more!
Marvel.com: What can you tell us about Frank's motivations as prepares to take on the Defenders? Aren't they all on the same side?
Brian Michael Bendis: They are on the same side, but Frank seems to know something the others don't. Frank seems more focused on who could be pulling Diamondback's strings—and the Defenders are just figuring out that there might be someone pulling the strings. Frank wants the bigger picture and Luke and company just want to shut down Diamondback immediately.
Marvel.com: The guy with no powers takes on a group with three super powered heroes. How does he pose a threat to them?
Brian Michael Bendis: He is a very smart strategist. Now that he knows what he's up against, you can look forward to some interesting Punisher problem-solving.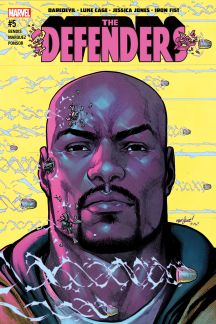 Marvel.com: Can you summarize each Defender's relationship with The Punisher? and what they might have done to get on his bad side?
Brian Michael Bendis: Danny, Luke, and Matt all have a similar relationship to The Punisher. They've all worked the streets for the same amount of time and they've all had run-ins. The moral debate between Matt and Frank is one for the ages and will never be solved. Jessica Jones has not found herself up against The Punisher before—and she's not impressed.
Marvel.com: What your favorite part about pitting all these street-level characters against one another?
Brian Michael Bendis: They all have something very clear that they're trying to accomplish. They have something that they want. And they all have something that they want that the audience can relate to on some level. Everything I'm writing in DEFENDERS is at least loosely based on real life mafia, organized crime, or true crime drama that I've studied over the years. This stuff really happens. This might be the Marvel version of it, but these are loosely based on the stories that have built the foundation of organized crime in this country.
Marvel.com: How would you describe Frank's armed-approach to fighting the team?
Brian Michael Bendis: He's not trying to fight the team. He's trying to immobilize the team so he can finish his task. He has no interest in hurting Daredevil—but he has even less interest in Daredevil getting in his way.
Marvel.com: What's it like to write this comic after the Netflix series just dropped?
Brian Michael Bendis: Surreal doesn't seem to really capture the feeling. There were many years where I sat alone at my computer writing scripts, creating a team dynamic that I always wanted to see. And now millions of people are seeing it. It's crazy. Did I mention that surreal doesn't quite cover it?
Heroes clash in DEFENDERS #5, by Brian Michael Bendis and artist David Marquez, on September 13!
The Hype Box
Can't-miss news and updates from across the Marvel Universe!