Comics
Published November 12, 2020
Don McGregor on Breaking Boundaries with Black Panther
Read Killmonger's first appearance in 'Panther's Rage,' a pivotal Black Panther story that you can read right now on Marvel Unlimited.
Have you tried Marvel Unlimited yet? It's your all-access pass to over 28,000 Marvel comics, available at your fingertips. Sign up now to enjoy your favorite stories sooner, just three months after they're in stores! Start your 7-day free trial on both monthly and annual subscriptions today.
In September 1973, seven years after his introduction in the pages of FANTASTIC FOUR #52 (and a subsequent stint with the Avengers), T'Challa, better known as the Black Panther, had yet to receive a shot at solo glory—until writer Don McGregor amended that in a major way.
Previously an anthology series featuring outdated Atlas Comics reprints, the JUNGLE ACTION ongoing pivoted with issue #5 in the summer of 1973 when it reprinted AVENGERS #62, a spotlight on Black Panther. The next month, writer McGregor teamed with artist Rich Buckler to kick off  "Panther's Rage," a character-defining run that journeyed back to Wakanda and debuted Erik Killmonger as an antagonist, one innovative introduction among many. Artists Gil Kane and Billy Graham would eventually step up to join the author in constructing what many consider Black Panther's star-making turn, including a now-famous storyline that pitted T'Challa against the Ku Klux Klan.
Marvel.com spoke with Don McGregor about his history-making work, including his classic collaborations with artists like Buckler and Graham that helped define Black Panther's legacy.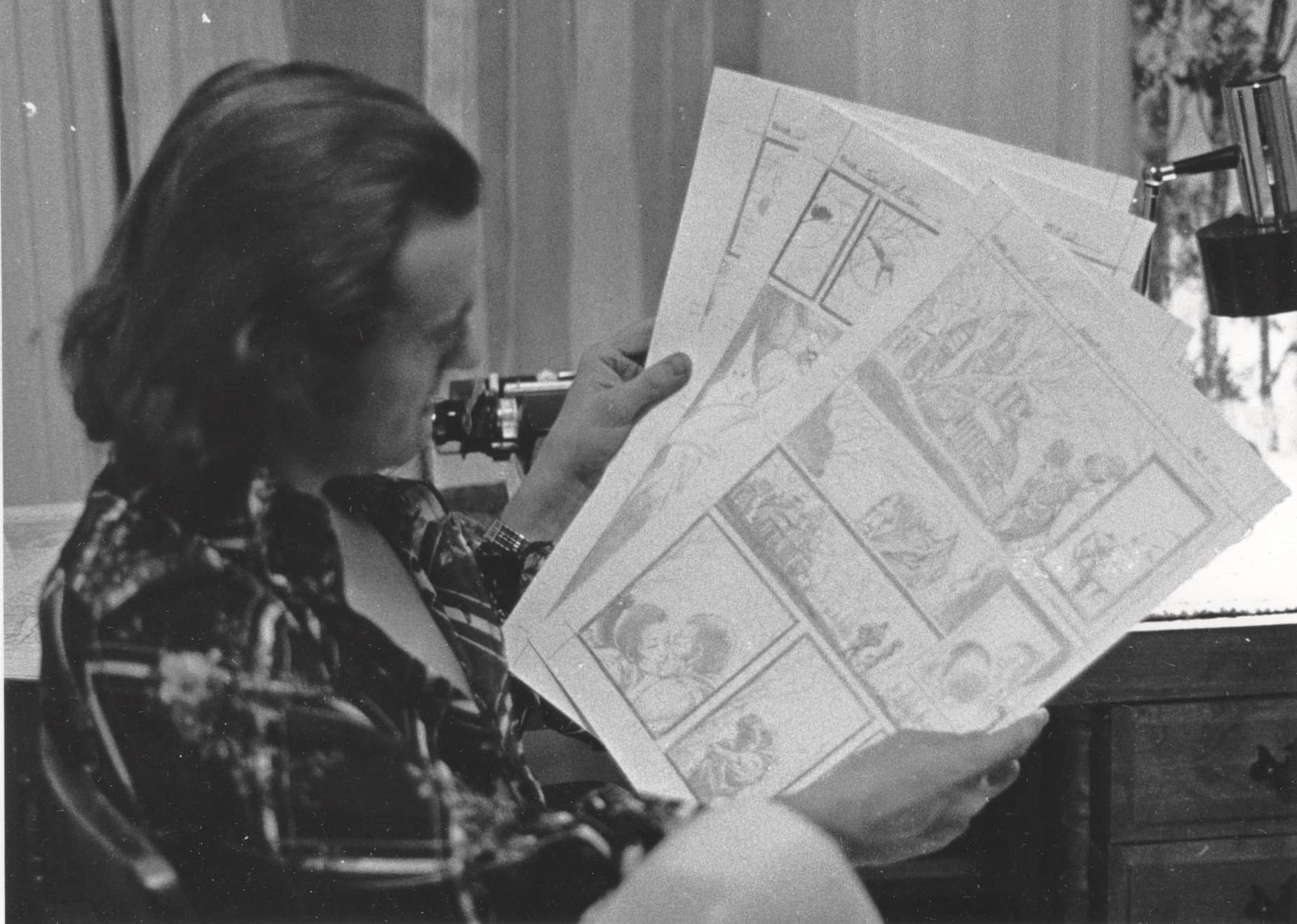 Where were you in your career prior to writing Black Panther in "Panther's Rage," and how did you come to be assigned to this project?
I have never thought of things as stages of my career, not even stages of my life, if I give it thought. There's just what I was doing at any given time. Before I made the move to New York to work at Marvel in Editorial in about '73, I had always been writing stories from the time I was six or seven years old. In my teens, I was writing novels. I was in the midst of one titled Hit, Run and Chase that I abandoned at 250-pages because the story had veered unexpectedly into a courtroom drama, and that wasn't something I wanted to expend so much energy to write. I was also making 8mm and Super 8 films, most with a private eye character of my own, Jim Dancer, and pastiches of James Bond. Later, I created Detectives Inc. as a short movie for [comics creator and actor] Alex Simmons and I. Eventually, before I did my second Phil Seuling Comic Con in New York, I talked with Alex about doing our own comic. That led to working at James Warren's magazines at Warren Publishing—Creepy, Vampirella, etc.—with Archie Goodwin as editor.
When I got the call to work at Marvel for a $125.00 a week job, I left the house I owned with three bedrooms, a fireplace, cellar, garage, and a view out the window of a pond, plus a two block walk to a private stretch of ocean beach. I was proofreading comic books that Marvel was reprinting from various genres, including JUNGLE ACTION. Some of these stories were incredibly racist and I couldn't help saying I could not believe that in the 1970s the company was publishing this stuff. I said something along the way somewhere, "Couldn't you at least have an African character as the hero?" I wasn't even thinking of T'Challa and the Black Panther.
When Marvel began to expand the amount of titles they were doing, JUNGLE ACTION was among the ones they would put [two thirds] new material in and a reprint story in the last [third], to keep the cost down on a title that Editorial did not believe would have great sales. This was a genre that wasn't selling high numbers in that time frame.
It was an unwritten rule that if you were a writer working in Editorial, somewhere along the way you would probably be given something to write. I was told after being there for some time that I would be writing Black Panther, and that it would be thirteen pages every two months. It would be Black Panther in Wakanda too.
What were your thoughts on T'Challa going into "Panther's Rage"? What picture of him had you formed from prior stories and how did that inform what you wanted to do?
Thanks to [Marvel editor] Jim Salicrup, because all my comics were still back in my home state, he leant me all the Black Panther comics so I could read everything. Remember, there weren't five decades of books on a character to go through back then, so that was something feasible to do. In the beginning, it was a lot of research as well as reading the comics.
I know I decided pretty quickly that it was going to be one long story with a lead villain. Among the first thoughts were that virtually all the characters would be Wakandan, because all the mythology that Stan Lee and Jack Kirby established is that it was a super-scientific nation hidden with so much technology that no one could find it—with the exception of some White villain stumbling onto it and discovering vibranium once in a while. How many times could you go to that well in a series starring T'Challa?
Having all the major characters be Wakandan meant all the characters had to be Black. That was the only thing that made sense to me. That became somewhat of a problem for Editorial as the series progressed. I suspect they hadn't thought that through when telling me to set the stories in Wakanda.
I also thought the stories had to be connected. If Black Panther were to come back to Wakanda and every two months for thirteen pages he encountered a new villain, the Wakandans would want to tell him to go back to America, life was much calmer before he came back. But if the story was about the results of his being away, and the idea of revolution led by a strong character came into play, there would be plenty of conflict, plus other themes I could explore as a writer. 
How did Rich Buckler become involved as the initial artist and why was his participation so important?
Rich Buckler and I had met up at Marvel Comics and became friends. Rich had his own little office space and we would discuss our passion for comics and storytelling. When the opportunity came to do Black Panther, Rich said he'd draw it.
Editorial did not want Rich Buckler on a low priority book. They wanted Rich for A-List titles like FANTASTIC FOUR and AVENGERS, the big stars of the line. But Rich was insistent, and I truly believe that it was because of Rich that I was able to do the kind of storytelling that you see throughout "Panther's Rage." I could ask for anything, and Rich never said, "No, that's too difficult." 
Rich found a place for me to live up in the Bronx so I would be near where he lived, and I would go to his place at night after work and pose as Black Panther, trying to give him the essence of how I saw T'Challa.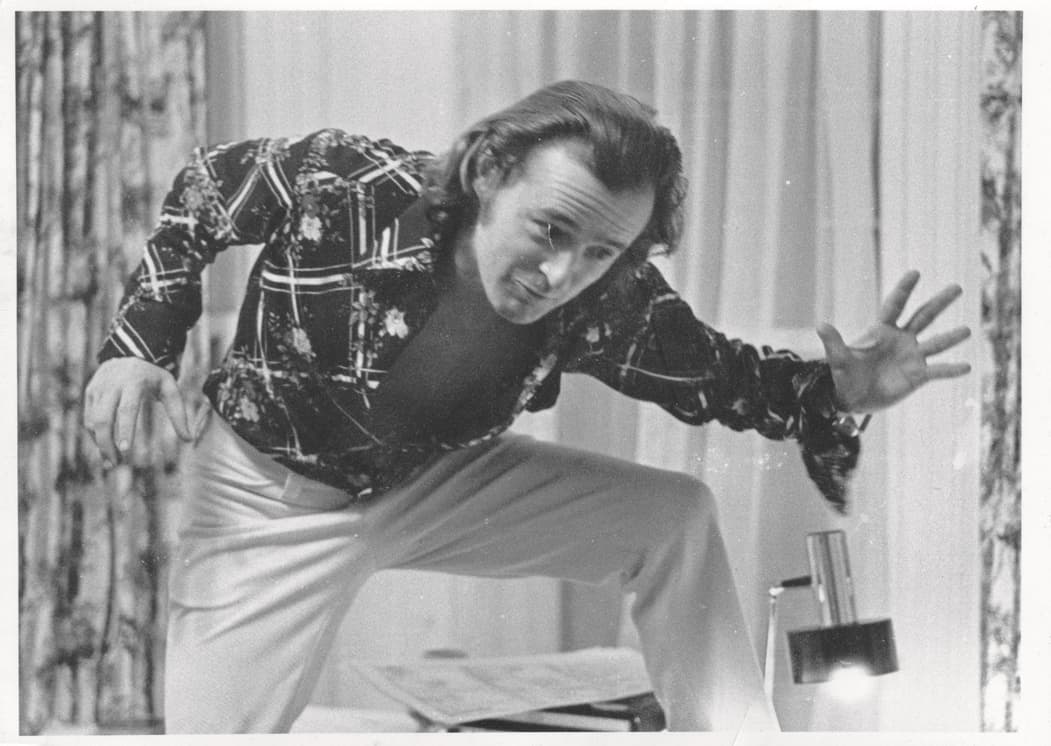 Where did Erik Killmonger come from? How did he grow from a concept to a character?
Black Panther needed a strong villain that was his own antagonist. When I came up with the idea that this would be a [graphic] novel—which I told no one, not even Rich, at first—I needed a threat that could build over the course of each issue, the stakes getting higher all the time. I think I had [chapters] scheduled for ten books at first. I felt each book would have a minor theme I could explore, always amplifying the major theme of the complete story.
The first thing was that when Rich and I did the original portrait for Killmonger, and the art for the first story was seen, I was told by Editorial that Killmonger could not appear on the covers after that initial issue #6. They never stated why.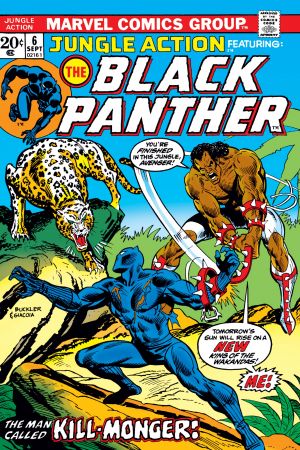 If you don't believe Killmonger wasn't to be used on the covers, just check out all the issue covers. It isn't until the seventh issue of "Panther's Rage," with the ice-wolves attacking Black Panther, that you see Killmonger again. He wasn't on that original cover. I think Editorial felt the wolves tearing Black Panther apart wasn't enough and they added Killmonger, almost as a little action figure in the distance beyond the wolves. I still have a penciled Xerox where Killmonger is not on the cover, only Black Panther and the wolves.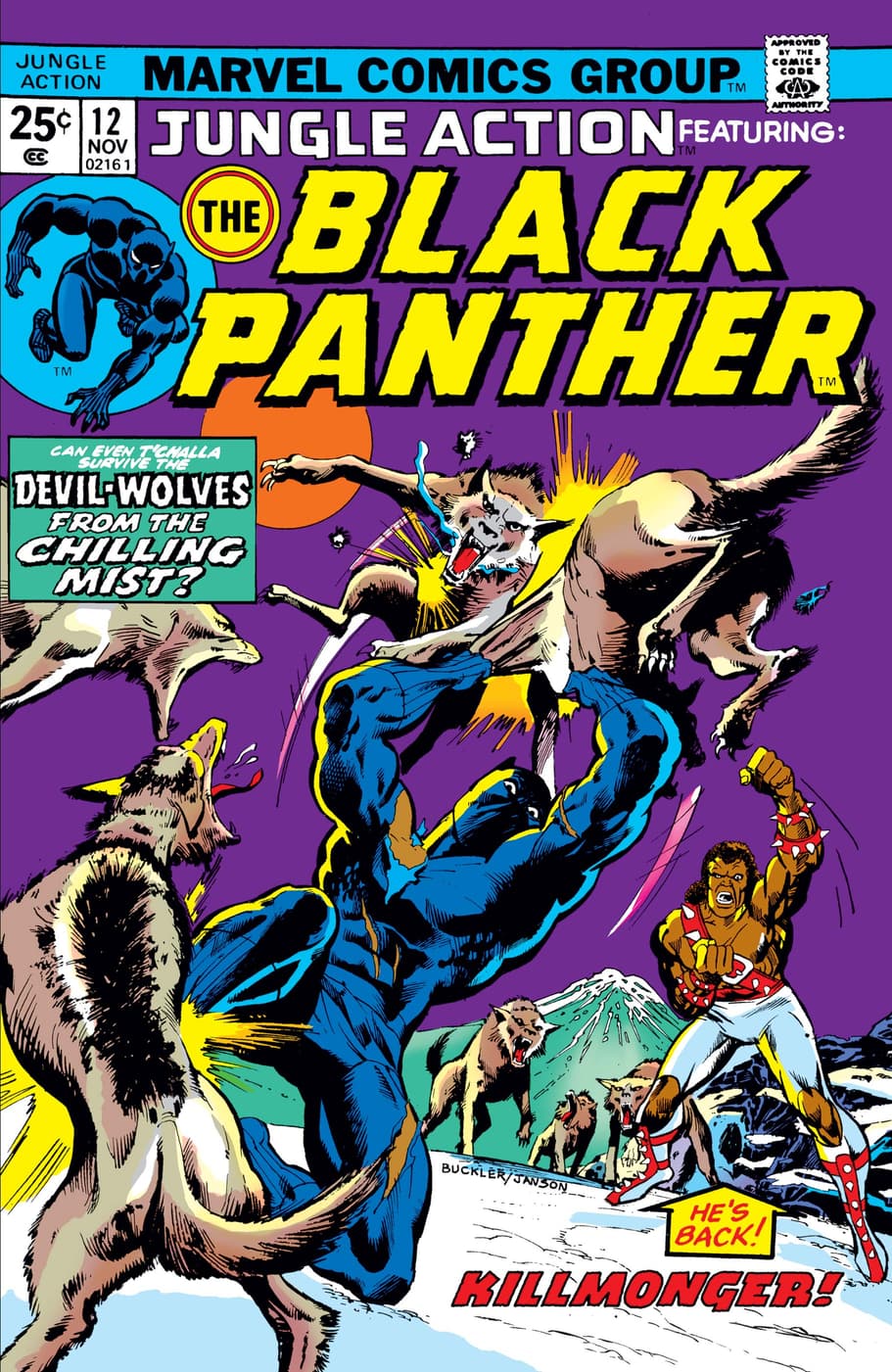 Why did Billy Graham take over from Buckler and what did he bring to the series?
Rich eventually could not hold Editorial off any more on doing a small-selling title, although he did do a KILLRAVEN story and we worked on [VAMPIRE TALES] together. Many people believe I put Billy Graham on the book, but I did not have the power to pick artists for my stories at that time.
I'm sure Billy was put on Black Panther because in that time frame that's kind of what Editorial did. The few Black artists there were, were put on Black characters. They had the same approach with women. They did three titles that were deemed to be aimed at a female audience, and the only titles women got to write then were those books.
What I can't remember is why Billy left LUKE CAGE, HERO FOR HIRE, because he had worked on that series for a long time. But it was to my good fortune because then I had a good friend to work with, who, like Rich, did not mind me designing pages or laying out sequences. Whatever I threw at Billy, he would execute it with such dynamism.
This may be the most noteworthy story in the history of Monica Lynne as a love interest to T'Challa. What appealed to you about Monica and that relationship?
If you examine any series I have ever done, women characters are as important and prevalent to the series as the men. I cannot imagine writing a series month after month, or for any length of time, and not have any women characters in them.
This also allowed me to have a relationship that was important between the two of them, and the sequence where T'Challa and Monica frolic with the giant sea turtles [in issue #16] is one of my favorites in the series. Plus, Billy drew beautiful women!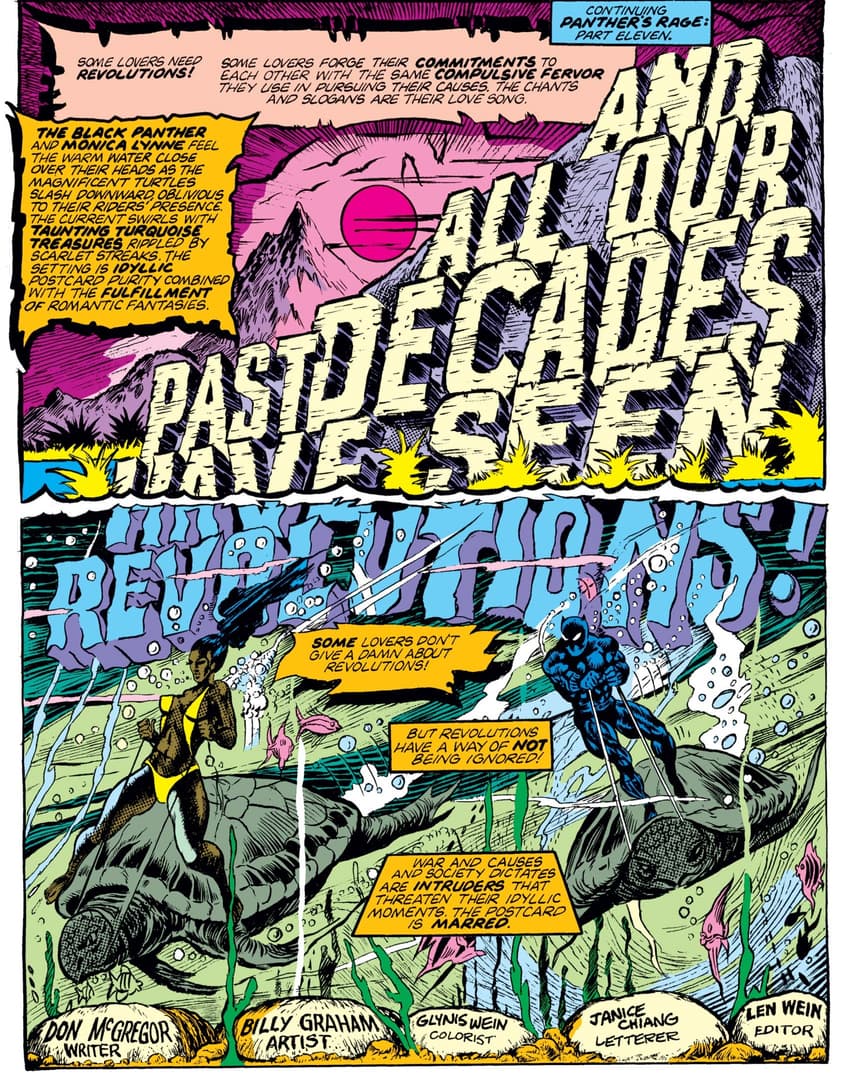 Where did the rest of the supporting cast come from?
Taku and W'Kabi had names from some past Black Panther stories. They had maybe a panel or two where they passed on information that Black Panther needed. I should have used my own names, because it would then be that I was the creator of the characters, because before that they did not have any depth of character. They weren't around long enough. 
Taku and Venomm were the first characters I ever did that were intended to be gay. But after the complications of doing an interracial kiss in KILLRAVEN came about [in AMAZING ADVENTURES #31], I knew that would be my last book if I tried it. And it would never have seen print.
What spurred you to write the Black Panther vs. the Klan story in issues #19-21 following the conclusion of "Panther's Rage"?
I worry about everything when I'm writing. So before I even wrote a finished page of "Panther's Rage," I knew if it lasted, and I was still with the book, I needed something to write about.
But it wasn't the Klan story.
I wanted to write about Black Panther searching for his mother in South Africa against a backdrop of Apartheid. T'Challa's mother was never mentioned in the FANTASTIC FOUR stories Stan and Jack did. I purposefully never mentioned his mother during "Panther's Rage." This would become "Panther's Quest" in [MARVEL COMICS PRESENTS #13-36].
But when the time approached the end of "Panther's Rage," I was going through a divorce, battling in court to see my daughter, and I knew I didn't have the energy or focus to do the kind of research for such an ambitious project. The Klan story came about because it was America's Bicentennial. While not on the scale we see today, I was aware in 1976 that the Klan was becoming more active, and there were a number of extremist groups growing in number, and I thought that was something I should write about.
When Billy saw the first script he called me. "Are you sure you want to do this, Don?"
"Yeah. Why?"
"I'm living in Harlem, the Klan isn't going to come up here and get me? You're in Queens now."
"Ah, come on, Billy. They can take a joke, right?"
And I can still hear the exact tone of Billy's voice. 
"No, they can't, Don. No, they can't."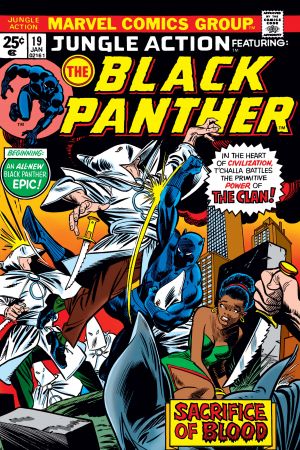 Jungle Action (1972) #19
published

added to marvel unlimited

penciler (cover)

penciler

colorist

letterer

inker

writer
What is Marvel Unlimited?
Read the groundbreaking "Panther's Rage" arc on Marvel Unlimited today. For more backstory on this landmark run, pick up BLACK PANTHER EPIC COLLECTION: PANTHER'S RAGE digitally or at your local comic shop.
Marvel Unlimited, Marvel's digital comics subscription service, offers members unlimited access to over 28,000 issues of Marvel's classic and newer titles, delivered digitally through your desktop web browser and the award-winning Marvel Unlimited mobile app.
Follow Marvel Unlimited on Twitter and Facebook to stay tuned in to weekly announcements, articles, and more, all at @MarvelUnlimited. Follow us today to join the conversation with thousands of fellow fans, and let us know what you're reading!
The Hype Box
Can't-miss news and updates from across the Marvel Universe!