Comics
Published August 3, 2020
'Empyre' Co-Writer Al Ewing Reveals Where the Intergalactic Conflict Goes from Here
As Marvel's latest cosmic event reaches its halfway point, Ewing says the conflict is far from over…
Warning! This article contains spoilers for EMPYRE #1-3, so read on at your own risk, True Believers!
Marvel has just reached the halfway point with its epic comic event, EMPYRE! What readers thought was going to be an invasion of Earth by the Kree/Skrull alliance turned into a mission to save the planet and the rest of the universe.
Hulkling didn't turn on his adopted planet and his friends. It was Quoi, the son of Mantis and Swordsman, who turned on his. As the leader of the Cotati, the plant-based race living on the Blue Area of the Moon, Quoi has his sights set on wiping all "animal life" from the universe. However, the combined forces of the Avengers and Fantastic Four stand in his way.
Marvel.com checked in with EMPYRE co-writer Al Ewing to discuss what we've learned so far and what's coming soon!
Quoi and his father Swordsman showed their exact plan after EMPYRE #1, putting them at odds with their longtime friends and allies the Avengers.
"We absolutely will see inner conflict," Ewing said when asked about whether this betrayal will weigh on either of them. "Quoi's very gung-ho, but he's also young, and a little high on his myth - as fed to him by the Cotati Swordsman, who seems to be the power behind the throne.
"If you want to learn more, the two upcoming LORDS OF EMPYRE specials will give you a little more on what makes both of them tick."
Since INCOMING! #1 this past December, many speculated that Hulkling's turn as the ruler of the Kree/Skrull alliance meant peril for the planet Earth. It did, but not in the way initially thought.
"Well, there were a lot of people out there worried that Hulkling was about to turn heel on us, and I'm glad that their fears have been laid to rest – at least for now," Ewing said. "Personally, this is something I've been working up to for a while – since NEW AVENGERS #3, on and off – the moment where Hulkling takes the mantle and does it his way. So, it's nice to see that story tree bearing fruit."
Since DAWN OF X began, Marvel's mutants have been "staying in their lane" over on Krakoa, with only a few exceptions integrating back with the rest of the Marvel Universe. Considering the task given to Jonathan Hickman and crew, it's not surprising. Ewing discussed just how EMPYRE: X-MEN works with the rest of the story.
"Their story certainly doesn't contradict any of the things going on in EMPYRE, and it's a heck of a lot of fun, especially for X-readers. We do refer to it in the main book – but more as a pointer in that direction if people want to check out how Marvel's merry mutants are weathering the crisis. I think people who like their X-books self-contained will still get a kick out of this tie-in. It's a wild ride!"
Carol Danvers AKA Captain Marvel has also taken on many roles throughout her tenure as a Super Hero. Now she can add Accuser to her resume.
"As long as Hulkling's one of the good guys, I don't think she needs to worry about conflicts with her role as an Avenger… Wait, that sounds subtly ominous, now I read it back. Hmm…" said Ewing.
When it comes to pure power, Captain Marvel's rival on the Avengers is the God of Thunder, Thor. However, when it comes to great one-liners, Thor is unstoppable. In EMPYRE #2, he added another to his laundry list with "Verily, I say thee yea."
"It's very kind to have it in such company!" Ewing said, when we compared this line to the classic "ULTRON, we would have WORDS with thee" from Kurt Busiek and George Perez's AVENGERS: ULTRON UNLIMITED 2001 graphic novel.
"Really, I just wanted to a do a classic "eeeeee-THAP!" moment, because I always love that, when the hammer slaps into his palm, it's such a tactile sound effect. I did that a couple of times in THOR & LOKI: THE TEN REALMS, and I really wanted to do it again. (I know he could have called down the lightning at any time, but he probably wanted to hear the monologue.) Anyway, he needed something cool to say afterward – so it's just an Asgardian version of a classic, cheesy action-movie line, really."
When we last spoke to Ewing and co-writer Slott, we asked them to summarize EMPYRE in one emotion. We asked Ewing the same question, but replaced it with the Marvel Universe post-EMPYRE.
"What's the emotion when you're just stunned at the breadth and scope of something? Let's go with 'wonder' to begin with," said Ewing. "And then, in 2021, 'stunned at the sheer audacity.' That's an emotion, right?"
You can find the first three issues of EMPYRE at your local comic shop or digitally now – pick up EMPYRE #4, written by Al Ewing and Dan Slott with art by Valerio Schiti, on Wednesday, August 5! Be sure to ask your local comic book shop about their current business policies to observe social distancing or other services they may offer, including holding or creating pull lists, curbside pick-ups, special deliveries and other options to accommodate. Find and support your local comic book shop at http://comicshoplocator.com or by visiting http://marvel.com/lovecomicshops.
For digital comics, all purchases in the Marvel Comics app can be read on iPhone®, iPad® and select Android™ devices! Our smart-paneling feature provides an intuitive reader experience, ideal for all types of mobile device and tablet users!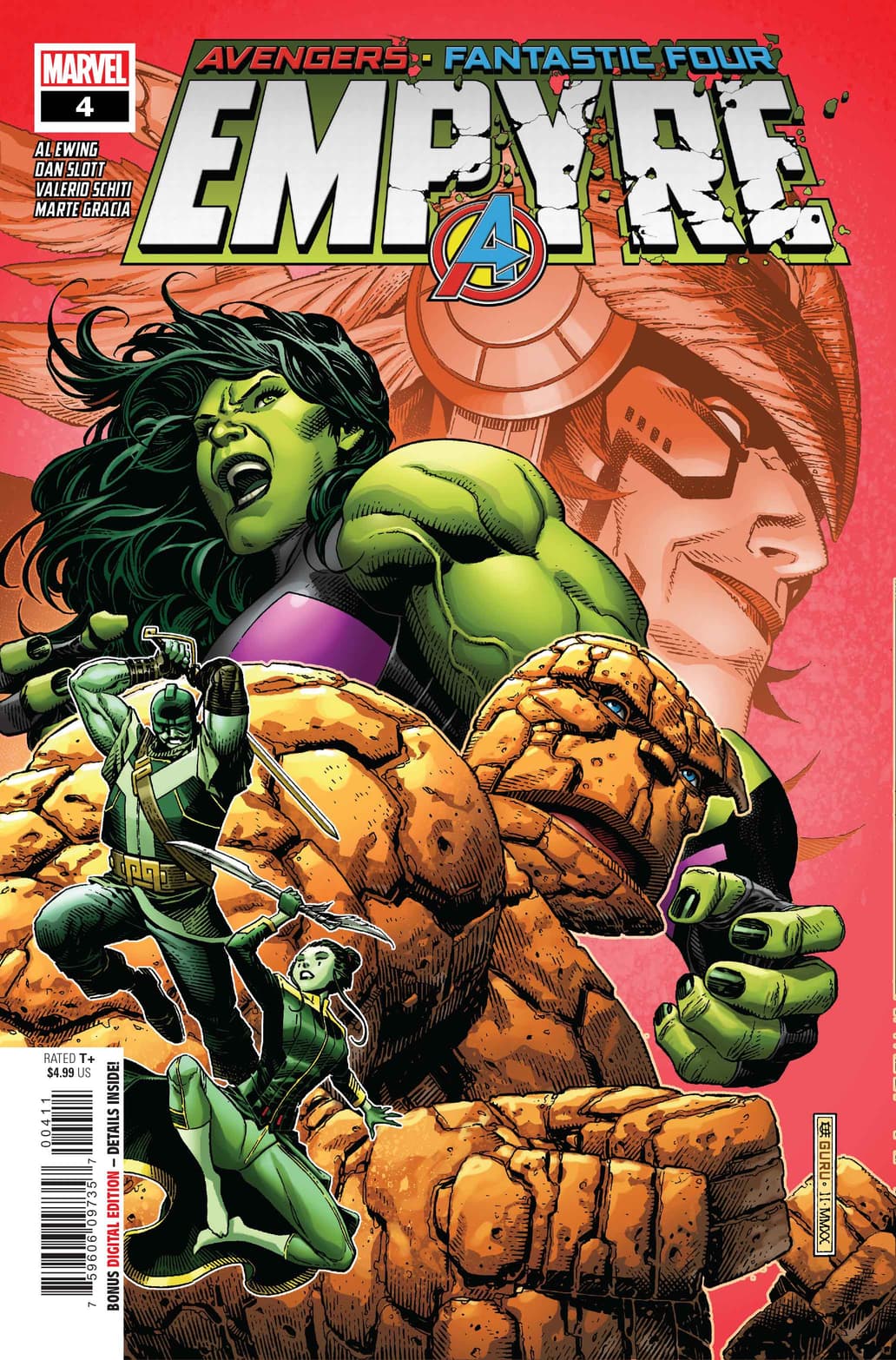 The Hype Box
Can't-miss news and updates from across the Marvel Universe!