Comics
Published June 2, 2021
A Complete Guide to the X-Men Hellfire Gala
Prepare with an issue-by-issue breakdown of the mutant event of the year!
The mutant nation of Krakoa faced its first real test last year in X OF SWORDS. But now that the battle is over, new challenges lie ahead. For Emma Frost and the Hellfire Trading Company, it's an opportunity to show off the newfound power for both herself and for Krakoa as a nation.
That's why the Hellfire Gala is unfolding now on Marvel Unlimited across a range of X-Men books. This is where the heroes of Earth, and a selection of villains as well, will see first-hand what the mutants of Krakoa have planned. It's going to be a party for the ages. It may also uncover hidden dangers as well.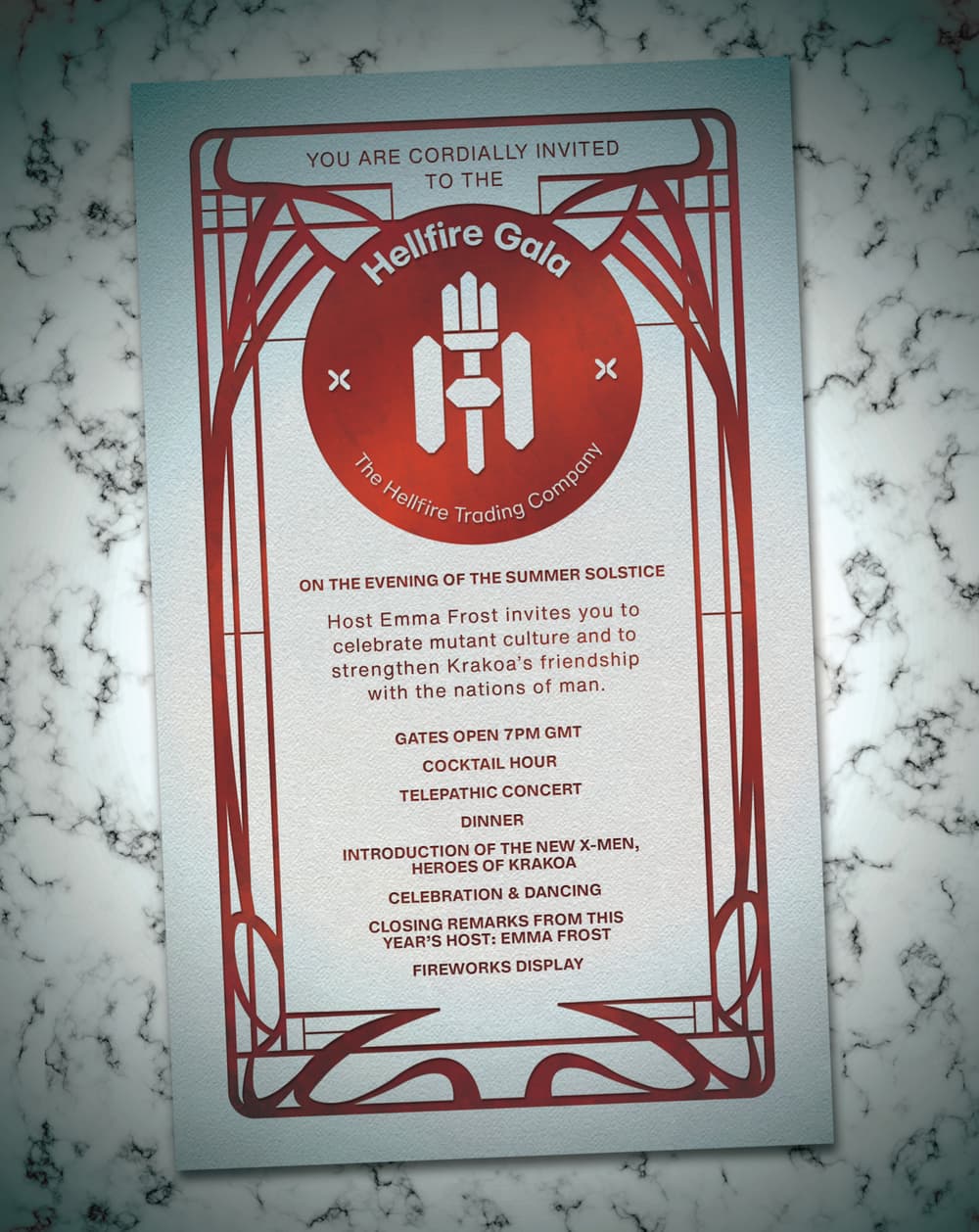 Here's the full lineup, in order of recommended reading, for the Hellfire Gala...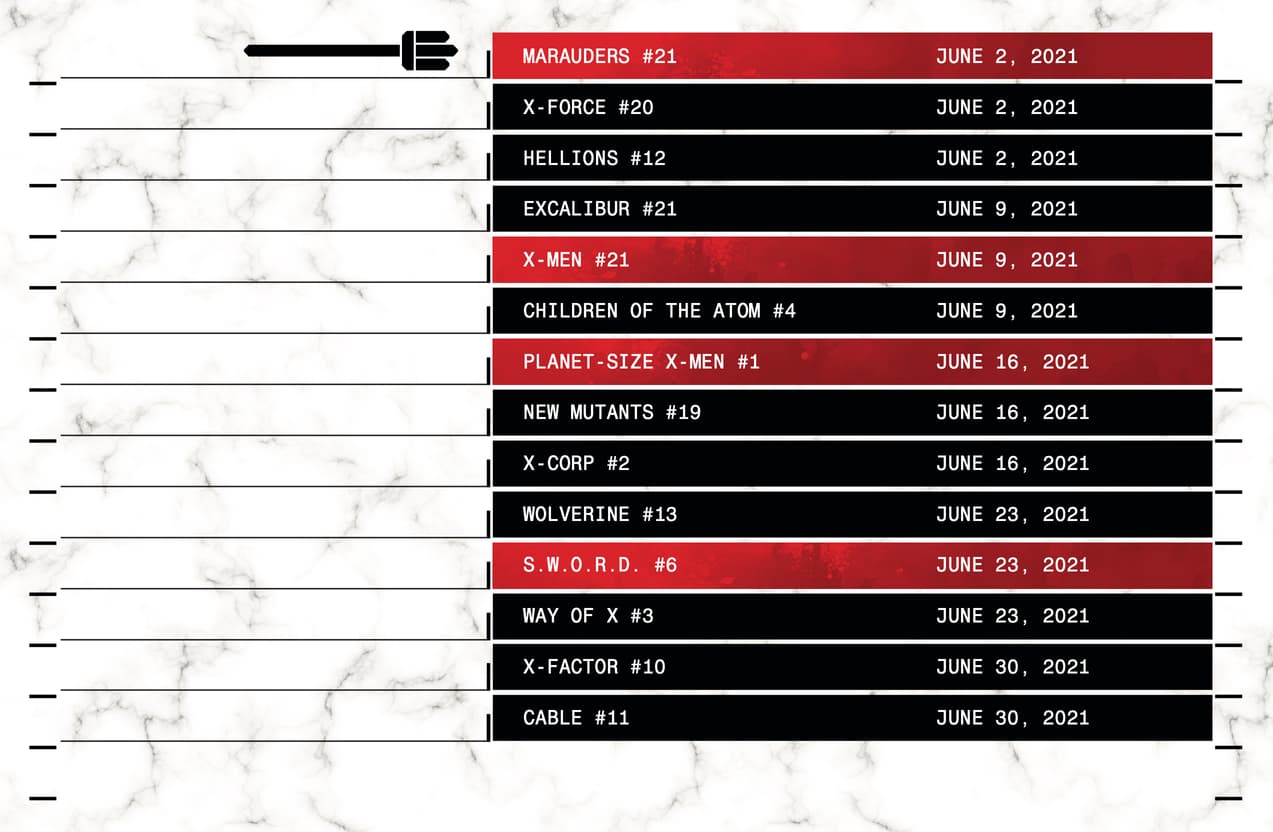 Beginning this week with MARAUDERS, X-FORCE, and HELLIONS, the festivities are taking place on Marvel Unlimited throughout the entire month. Grab the complete reading order right here:
To get everyone ready for the event, we're breaking it down on a week-by-week basis. And while we won't spoil the big surprises, we can offer a few hints about what to expect.
Week 1
MARAUDERS #21 is one of the key issues in this crossover, simply because it's Emma Frost's home title. Writer Gerry Duggan and artist Matteo Lolli will show us the fusion of human and mutant fashion as the party begins. Emma will also command the spotlight with several costume changes while hosting the unfolding festivities. This is also where we'll see a glimpse of how the party ends...and what that may mean for mutants across the world.
Wolverine and his teammates are working security for the event in X-FORCE #20. Writer Benjamin Percy and artist Joshua Cassara are keeping it an invite-only affair by putting the team to work while the rest of the nation enjoys the party. Yes, there will be party-crashers. But the biggest threat may come from one of X-Force's recent cases; something horrible could be coming back to haunt them.
Nobody invited the misfits of the Hellions to the Hellfire Gala. Too bad there's no keeping them out in HELLIONS #12. Sinister is all too happy to bring Havok and Psylocke to the party, because they look good and wear the fashions well. Unfortunately for Sinister, writer Zeb Wells and artist Stephen Segovia are going to show us that leaving the remaining Hellions to their own devices was a terrible idea. They're coming to the party, like it or not!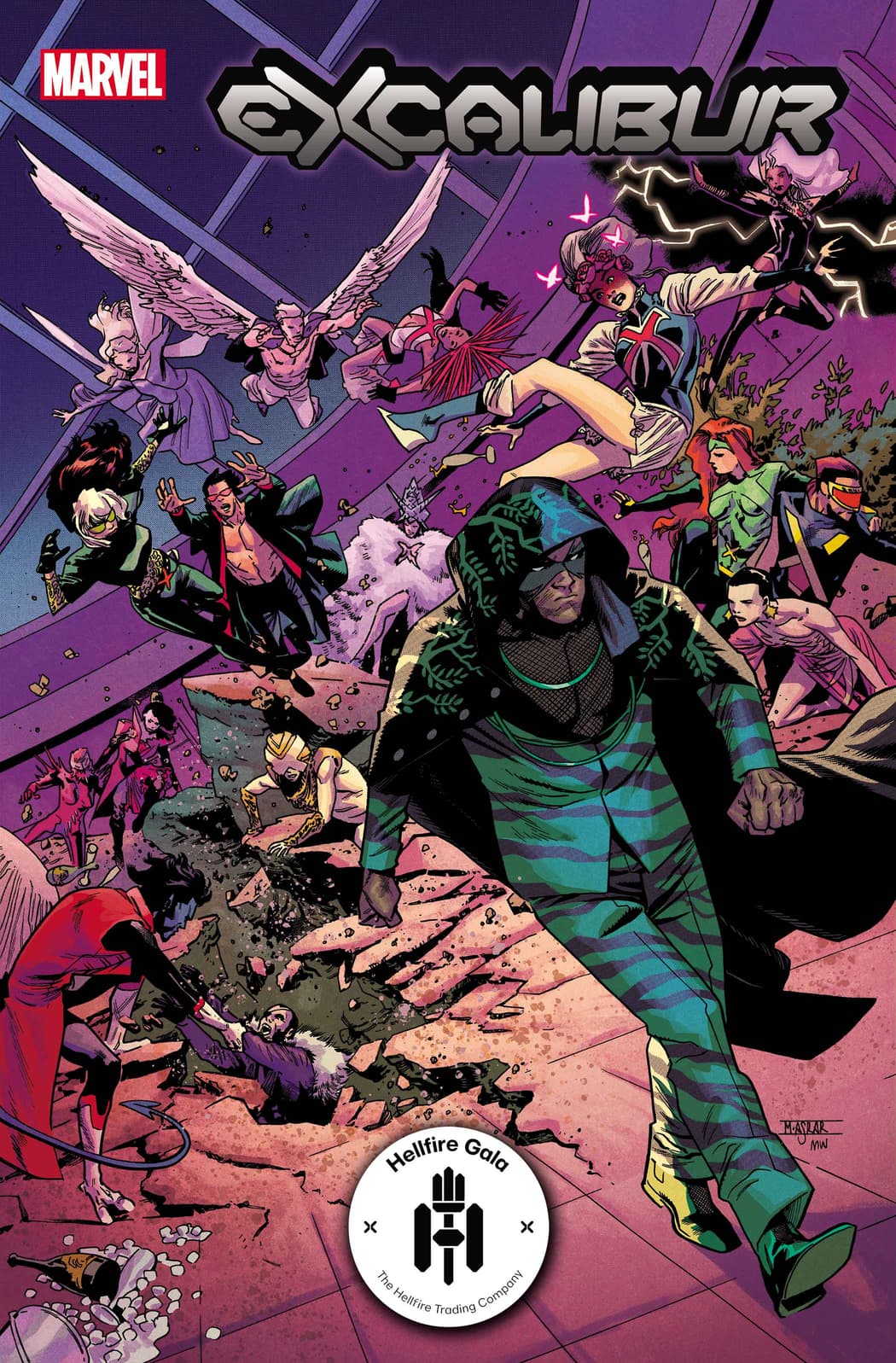 Week 2
"Rictor hates parties." And he may find good reasons to hate this one as well when EXCALIBUR #21 kicks off the second week. Writer Tini Howard and artist Marcus To have some rather rude surprises in store for Captain Britain/Betsy Braddock and her team. Perhaps it was a mistake to invite so many of mutantkind's enemies to one place. Because they're going to take the opportunity to act, and this issue will have some of the most significant events since EXCALIBUR (2019) began. The fallout begins here.
A new team is born in X-MEN #21. For his final issue on this series, Jonathan Hickman will be joined by artists Nick Dragotta, Russell Dauterman, Sara Pichelli, and Lucas Werneck as the heroes of Krakoa are officially unveiled. Cyclops and Jean Grey have hand-picked a team that includes Rogue, Synch, Wolverine (Laura Kinney), and Sunfire. Additionally, Polaris won the election to join the team as well. It's a powerful lineup, and they'll need all of their abilities to face the challenges ahead after the Hellfire Gala ends.
Week 3
What are Krakoa's plans for the universe? Let's just say that PLANET-SIZE X-MEN #1 is not a misnomer. Major developments are underway as incoming X-MEN creative team Gerry Duggan and artist Pepe Larraz unveil a huge step forward for mutants. More than anything else that came before, this will demonstrate what the mutants of Earth can do when they combine their powers towards a singular purpose. But how will the rest of the world react to such a bold move? Even the universal powers may take notice after this.
There's something rotten in the state of Krakoa, and it's happening with the youth of the nation. Writer Vita Ayala and artist Alex Lins are shaping the future in NEW MUTANTS #19. But someone close to the team has gone missing without a trace. We have a few theories about who that person may be, and it seems likely that the Shadow King is responsible. For months, the Shadow King has influenced several of Krakoa's outcasts to experiment with their powers for his own ends. But why? What does he want from them?
Meanwhile, Angel and Penance are putting their best faces forward in X-CORP #2 by Tini Howard and artist Alberto Foche. They are the mutant ambassadors and the co-CEOs of X-Corp. The debut of their new company has already caused excitement in the financial markets, especially if they plan to unveil mutant technology for the masses. But just because these corporate raiders are a sensation doesn't mean that their enemies can't prey upon them, even within the sanctuary of Krakoa.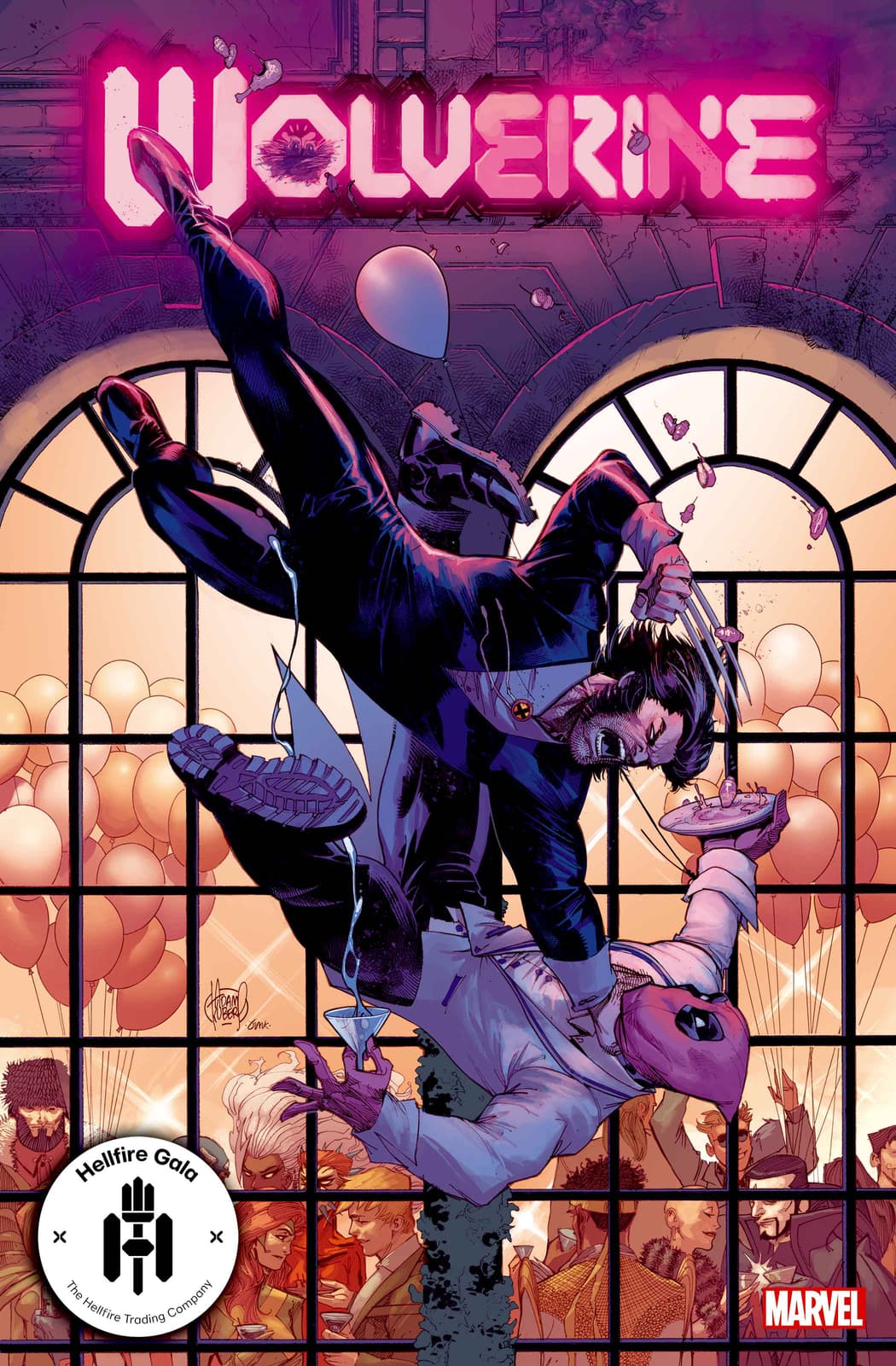 Week 4
In WOLVERINE #13, Benjamin Percy and artist Scot Eaton will pick up directly from the events of X-FORCE #20. Deadpool is on the cover, so it's not a spoiler to say that Wolverine's occasional ally will be causing all sorts of headaches. However, Deadpool is the least of X-Force's problems. For all of his faults, Deadpool is not actually out to hurt them. The same can't be said for the real threat waiting in the wings.
If there's anyone with "plant-size" ambition, it's Abigail Brand. Writer Al Ewing and artist Valerio Schiti will catch up with Brand's team in S.W.O.R.D. #6, as she unveils her own plans for the future of mutants and humanity. Months ago, Brand's new team discovered the otherworldly metal, Mysterium. Now, it's time for a demonstration of what Mysterium can do, and its implications for the world of tomorrow.
Poor Nightcrawler is having a crisis of faith in WAY OF X #3. Thanks to writer Si Spurrier and artist Bob Quinn, Nightcrawler's quest for a religious experience has given way to one hell of a hangover. Fortunately, Nightcrawler has made an unexpected new friend: David Haller, AKA Legion. Professor Charles Xavier's estranged son is back from the dead, and he's not the only one. David has already warned Nightcrawler that the so-called mutant boogeyman haunting Krakoa's shores is none other than Onslaught, the evil fusion of Magneto and Xavier's personas. But is Onslaught responsible for the creeping darkness in Krakoa? Or do the problems run even deeper than Nightcrawler believes?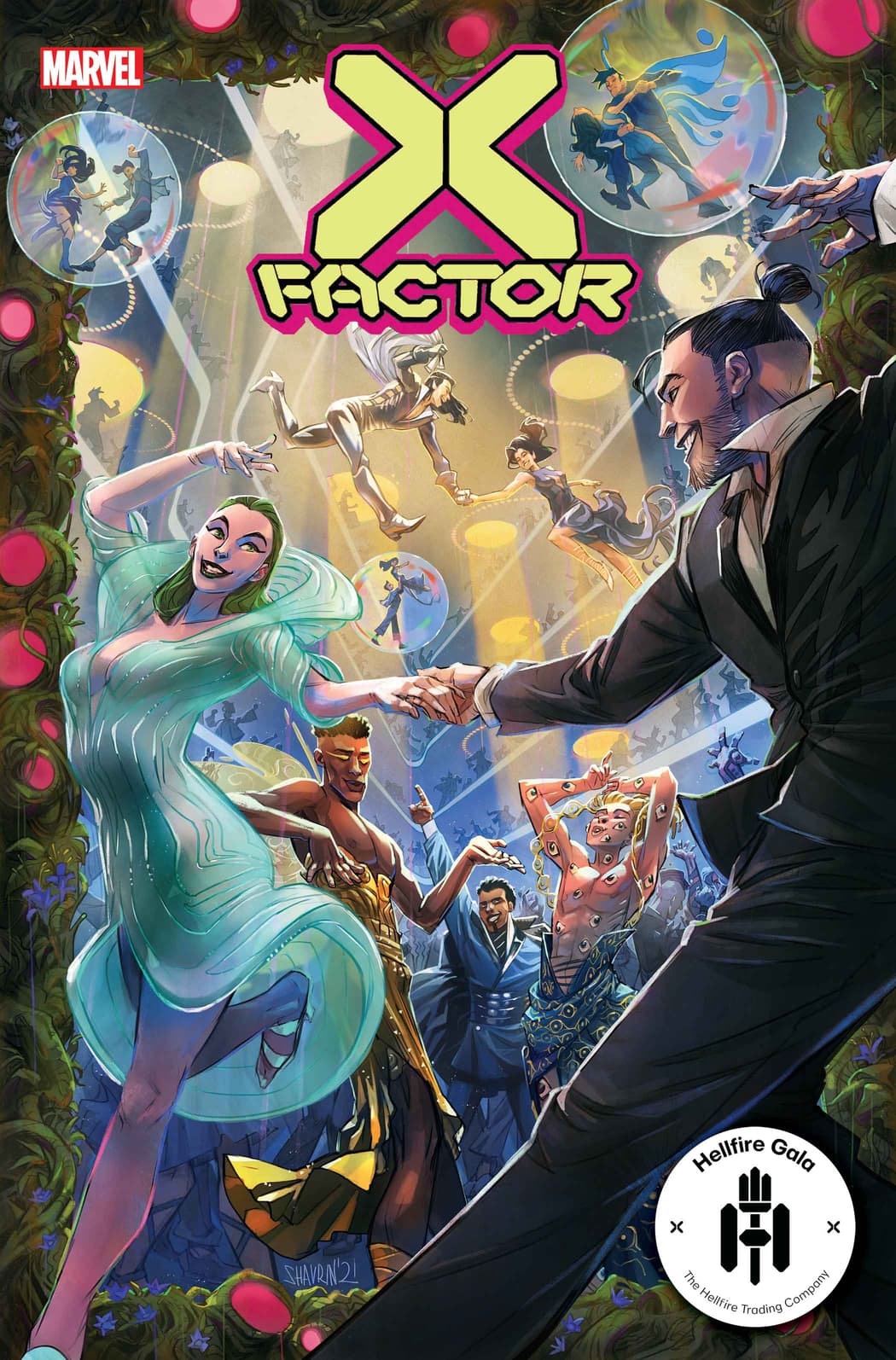 Week 5
Is there time for one last song? Writer Leah Williams and artist David Baldeón are closing out the Hellfire Gala in X-FACTOR #10. This is where the final secrets of the Hellfire Gala will be revealed. It may also lead to a murder. All we know for sure is that someone's number is up. And the X-Factor team may soon have their hands full as their focus shifts to an important new investigation.
The Hellfire Gala is unfolding now on Marvel Unlimited. See you on the dancefloor.
Intensify your involvement at your local comic shop! Pax et Justitia!
The Hype Box
Can't-miss news and updates from across the Marvel Universe!