Comics
Published May 23, 2022
'Iron Fist' #1 Introduces a New Protector of K'un-Lun
Series writer Alyssa Wong spoke to us about who is taking over Danny Rand's longtime title as the all-new Iron Fist.
For centuries the mystical city of K'un-Lun has made their contribution to the world at large by passing down the immortal mantle of the Iron Fist, the living weapon and protector of all things good. Until recently, Danny Rand wielded this awesome station, but recent events have seen his stepping down and the appointment of a new hero.
Where did the latest Iron Fist come from? What's his connection to K'un-Lun? How will he serve the Marvel Universe? Danny Rand wants to know, and so do we, so we went ahead and asked IRON FIST (2022) writer Alyssa Wong all about it and picked up valuable intel on their own journey along the way!
Going way back, how were you first exposed to Marvel Comics? What were your favorite characters and books growing up?
ALYSSA WONG: When I was a kid, I had this Spider-Man encyclopedia that I used to read all the time. My favorite character was Venom, followed by Carnage (AKA "Evil Strawberry Venom" to my 8-year-old self). I've always loved symbiotes and weird biology, and I wanted nothing more than to befriend a Venom of my own.
How did you break into writing? From there, how did you get involved with comics?
ALYSSA WONG: My first published short story, "The Fisher Queen," came out in 2014 and was nominated for several science fiction and fantasy awards, including the Nebula Award, Hugo Award, Bram Stoker Award, and World Fantasy Award. After that, my story "Hungry Daughters of Starving Mothers" won the 2015 Nebula and World Fantasy Awards, and "You'll Surely Drown Here If You Stay" won the Locus Award the following year.
I was working on Overwatch at Blizzard Entertainment in 2019 when Greg Pak (who I adore) called me. He'd read some of my work and was looking for a co-writer for some short Wave and Aero comics. That's how I started writing comics for Marvel!
My first Marvel stories were those Wave and Aero 10-page backups co-written with Greg. After that, I wrote a little 3-page teenage dirtbag Jubilee and Wolverine story for FEARLESS (2019) #3. My first solo full 20-page comic, though, was FUTURE FIGHT FIRSTS: WHITE FOX (2019) #1, where I got to explore White Fox's origin story. In a lot of ways, she was my first. White Fox is always going to hold a special place in my heart.
[RELATED: White Fox Becomes a Supernatural Detective in Her New Infinity Series]
So, what's your history with Iron Fist as both a fan and a professional?
ALYSSA WONG: I first learned about Iron Fist in college, but I didn't really get into it until about a year or two ago. Matt Fraction, Ed Brubaker, and David Aja's IMMORTAL IRON FIST (2006) was my introduction to the comics. That, and Kaare Andrews and Afu Chan's IMMORTAL IRON FISTS (2017), which is more of a classic Young Adult story about a teenage Pei and her surrogate parent Danny Rand. Those are two of my touchstone Iron Fist stories.
How were you approached to work on this project?
ALYSSA WONG: My editors, Mark Paniccia and Tom Groneman, asked me if I'd be interested in writing Iron Fist—specifically, if I'd be interested in writing Lin Lie, AKA Sword Master, as the brand-new Iron Fist. I've loved hot-headed Lin Lie since reading Greg Pak and Gang Hyuk Lim's WAR OF THE REALMS: NEW AGENTS OF ATLAS (2019), so I was immediately intrigued.
At the end of Larry Hama and Dave Wachter's IRON FIST: HEART OF THE DRAGON (2021), Danny Rand chooses to give up his Iron Fist powers to save the world. In doing so, he opens the door for a new Iron Fist to take up the mantle. We'd been discussing who would be a fun new Iron Fist, and Sword Master's name came up. Mark and Tom asked me to come up with a pitch, and the rest is history.
I came up with a bunch of ideas and we workshopped the story from there. The most important thing on my mind was that I knew we had to shatter Lin Lie's sword for him to start his journey as Iron Fist. Lin Lie losing his identity and dealing with grief while struggling to fit into the role of Iron Fist was a big impetus for this story.
What are the advantages and challenges of introducing a new character to the role of Iron Fist?
ALYSSA WONG: There are always challenges that come with introducing a new person taking on a classic mantle. People bring a lot of preconceptions and expectations to the table, and they don't always like change. I knew that Lin Lie couldn't just replace Danny. It wouldn't make sense; they're entirely different people, with entirely different backgrounds, baggage, and motivations. (Also, it would make for a really boring story.) In order for this to work, Lin Lie had to become an entirely new kind of Iron Fist.
But that's the exciting part! There's so much potential in creating something new and taking a character in an unexpected direction. I got to play with Iron Fist lore and Sword Master lore. Where could I draw connections that felt organic? What did I like about each one, and how did I want to build on it while subverting expectations? And most importantly, how do I make it fun? It's like solving and building a puzzle at the same time. That exploration is one of my favorite parts of the writing process.
What do we need to know about Lin Lie and his previous identity as Sword Master?
ALYSSA WONG: I'd recommend reading the DEATH OF DOCTOR STRANGE: WHITE FOX #1 one-shot as a prequel to this IRON FIST run. It introduces Lin Lie, his background, and his emotional stakes to new readers, and it sets up the first issue of IRON FIST (2022) #1. You don't have to read it to understand issue #1, but I think it's helpful and a lot of fun!
The quick and dirty on Lin Lie is that as Sword Master, he wielded the Sacred Sword of Fu Xi, a magical, semi-sentient ancestral blade. The Sword of Fu Xi was one of three sacred weapons that kept an evil god, Chiyou the Dark Destroyer, sealed away. It was also Lin Lie's last connection to his missing father and Lin Lie's older brother, Lin Feng.
Before becoming Sword Master, Lin Lie was just a normal Shanghainese dude. Suddenly, he found himself saddled with a magical familial legacy and world-saving responsibility. That's a lot of pressure!
In DEATH OF DOCTOR STRANGE: WHITE FOX, Lin Lie protected White Fox from a fatal blow. In doing so, his Sacred Sword shattered and he was hurled off a cliff to his apparent death. Now everyone thinks he's dead... and there's a new Iron Fist in town whose fists shine the same bright green color as the Sword of Fu Xi.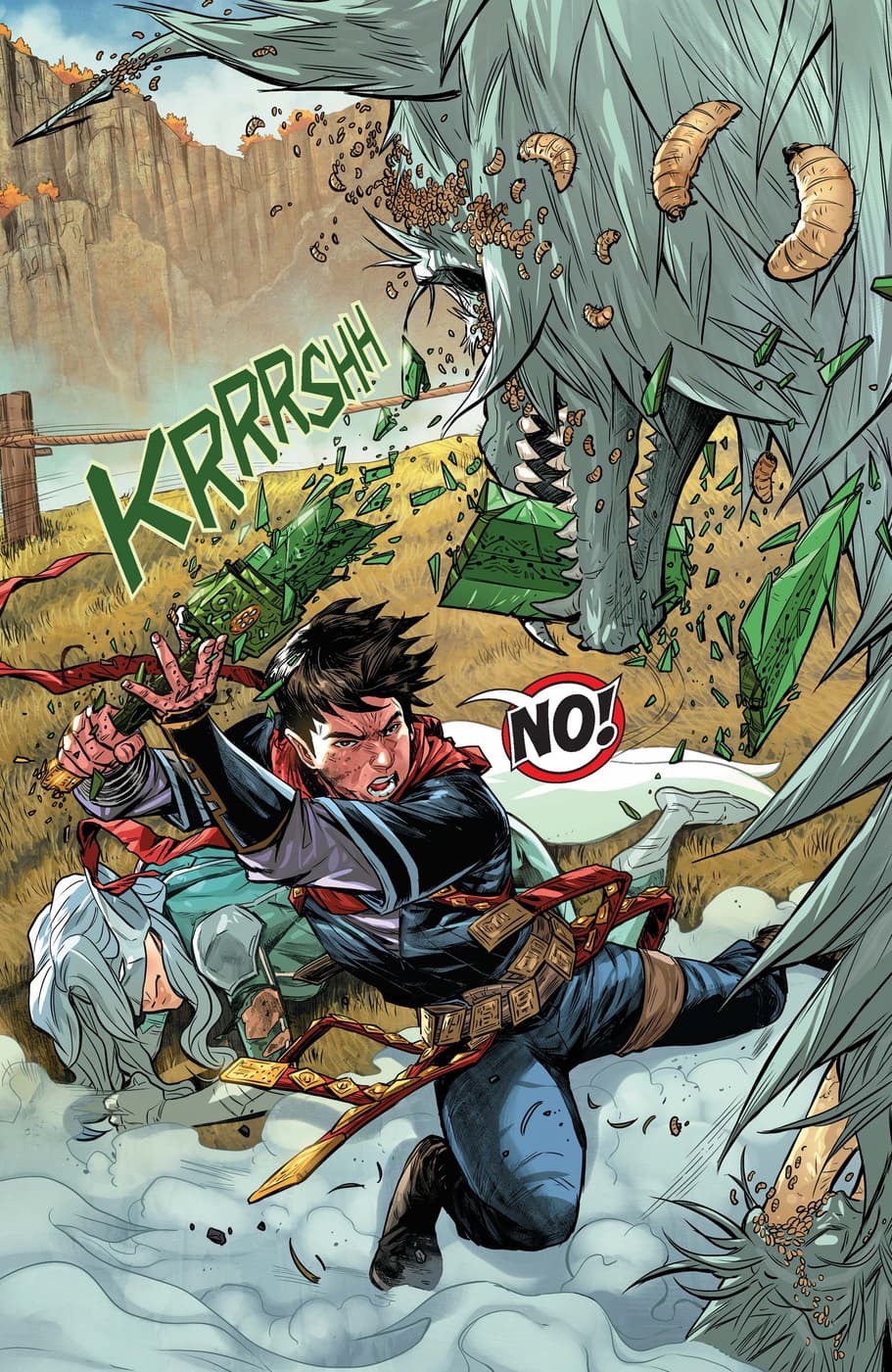 What part will Danny Rand and past elements of Iron Fist play in this new series?
ALYSSA WONG: Although this is Lin Lie's story, Danny does play a supporting role. He's currently enjoying his retirement from Iron Fist duty, having lunch with Luke Cage and Pei, relaxing, and indulging in just being a normal(ish) guy for once. But a chance encounter with a mysterious new Iron Fist is about to pique his interest...
Will we see some of Lin's old allies like White Fox or the Agents of Atlas in this book?
ALYSSA WONG: That's a good question. I can't give away all my secrets!
What kinds of threats is our new Iron Fist up against?
ALYSSA WONG: Demons! So many demons. They're the same minions of Chiyou that featured in the SWORD MASTER (2019) series. However, with the Sacred Sword shattered, Chiyou's power is growing.
As if that wasn't enough, someone's after the sword shards. And they seem to wield a lot of Chiyou's power. Uh oh!
What level of research is required for a book steeped in Marvel mythology like this?
ALYSSA WONG: I read a ton of Iron Fist comics as research for this series. I think I mainlined around 3,000 pages in two days while I was in the pitching stage? It felt like I had Iron Fist leaking out of my eyes. I also read every comic where Sword Master appears, no matter how briefly. I keep them all bookmarked for easy reference.
I wanted to know what made an Iron Fist story specifically an Iron Fist story, and that meant sinking deep into the text and looking at it with a critical eye. Picking up the pieces I really liked, putting aside the ones that didn't resonate with me, figuring out what I wanted to address and how to integrate those elements into Lin Lie's story. I made a chart to compare different Iron Fist series and track my thoughts about them. It's all handy reference.
How has the experience been working with artist Michael Yg as well as the editorial team?
ALYSSA WONG: Michael Yg is fantastic. I love the energy, enthusiasm, and dynamism he brings to the team. It's so inspiring. And I love feeling like we're growing together as we continue to work on this series. Yifan Jiang is our translator and also worked on the original SWORD MASTER comic. Yifan's an incredible resource for Sword Master lore and is also just a delight. We also got the chance to work with Sean Chen, whose work is incredibly thoughtful and gorgeous.
I feel so lucky to work with our editorial team. Mark Paniccia, Danny Khazem, and Tom Groneman have all helped shape this story. Their notes are always insightful, and they're such an encouraging presence throughout the process.
What can we expect in upcoming issues of IRON FIST?
ALYSSA WONG: Lin Lie is dealing with three big problems: the loss of his identity as Sword Master, struggling to adapt to his new role as Iron Fist, and the whole Chiyou-attempting-to-return-from-the-grave thing. Also, the shards of his sword are embedded in his hands, causing him constant agony. Delightful!
All of these things are going to come into play throughout the series. They're connected in ways that Lin Lie is about to discover. And someone from his past is after the shards of his sword... and Lin Lie himself. There's a lot in store for our new Iron Fist!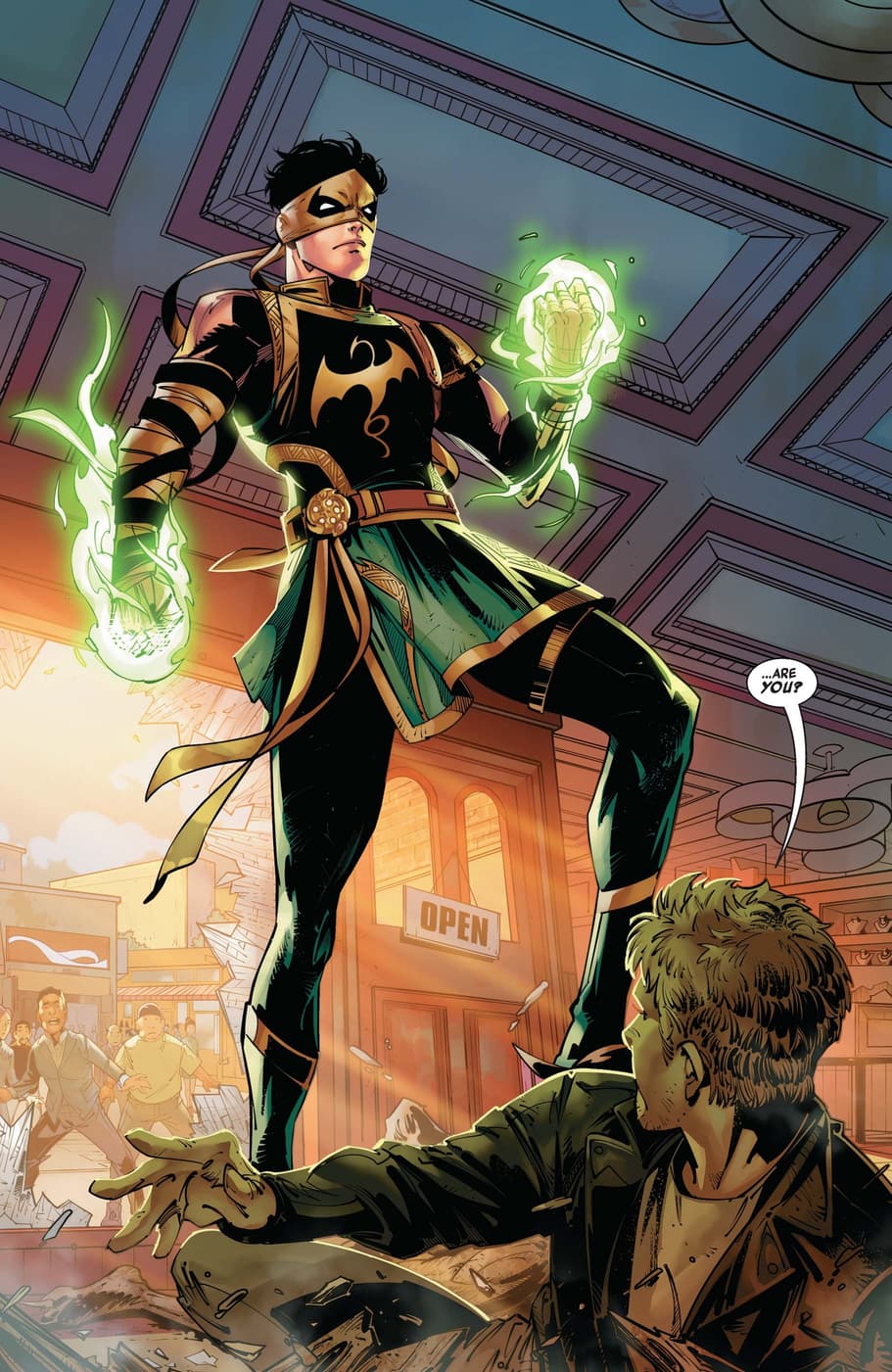 Follow Lin Lie's attempts to deal with these challenges in IRON FIST (2022), with the first three issues currently available and issue #4 touching down on June 15 in print and digital comic shops. And, read issue #1 on Marvel Unlimited now!
The Hype Box
Can't-miss news and updates from across the Marvel Universe!